Contributed by Paul Henrickson, Salem, VA
Warm-up Questions
What if Jesus prayed for you?
Would it be the same as the prayer in John 17 which he prayed for his disciples?
Would he pray that you would be "sanctified?"
Would Jesus pray for your PROTECTION or for your PURIFICATION or both?
Caps and Frowns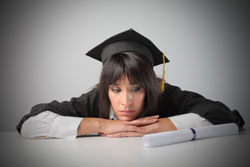 Begin by reading following online articles about job prospects for new graduates.  Note the chart "Caps and Frowns:  Job prospects for the class of 2012."
http://www.decisionsonevidence.com/2012/02/limited-job-prospects-and-earnings-for-high-school-diploma-only-workers/
http://online.wsj.com/article/SB10001424052702304020104577384410323391198.html?mod=WSJ_hp_LEFTTopStories
Whether you're in high school or college, the employment outlook is not encouraging.  This raises some important questions for people of faith.
Would God really call us to be unemployed?
Do we need a broader understanding of "calling?"
How do faithful people respond to the "new economic reality?"
What is our true "vocation?"
Discussion Questions
What do you envision as your future?
What is your dream?
What are you planning to do after graduation from High School/College?
What is your calling?
Are you looking for security or meaning?
Do you want to be Protected or Purified?
Scripture Texts (NRSV) for Sunday, May 20, 2012 (Seventh Sunday of Easter)
(Text links are to Oremus Bible Browser. Oremus Bible Browser is not affiliated with or supported by the Evangelical Lutheran Church in America. You can find the calendar of readings for Year C at Lectionary Readings.)
For lectionary humor and insight, check the weekly comic Agnus Day.
Gospel Reflection
This is part of the "Priestly Prayer" of Jesus in the 17th Chapter of John.  These four verses seem to sum up the core of the prayer of Jesus for his disciples – for Jesus' disciples today:
I have given them your word, and the world has hated them because they do not belong to the world, just as I do not belong to the world.I am not asking you to take them out of the world, but I ask you to protect them from the evil one.*  They do not belong to the world, just as I do not belong to the world.Sanctify them in the truth; your word is truth
There are three points worth noting:
We are IN the world, not OF the world.
We have been claimed by Christ to be those redeemed.
We are no longer under Satan's rule (this world), but God's rule.
We are protected.
"Lead us not into temptation, but deliver us from evil."
 The power of evil gets too little attention from today's Christian.
From Luther's Large Catechism: "If you could see how many daggers, spears, and  arrows are at every moment aimed at you, you would be glad to come to  the sacrament as often as possible."
We are being "made holy."
We have been "sanctified – made holy"  from Late Latin sanctificāre, from Latin sanctus holy + facere to make
Discussion Questions
 How would you live your life today if you really believed that God was doing His work on you to "make you holy?"
What does it mean for you to be IN the world not OF the world?
Activity Suggestions
 Write a prayer that Jesus might pray for you.
Imagine a day in your life where your sanctification was a 24 hour activity.
Read the newspaper and find places where sanctification is required.
Closing Prayer
There is no better prayer for protection and sanctification than Psalm 141.  In your group, slowly read the psalm together as a prayer, perhaps pausing briefly after each verse.  As you read, think of those who are in particular need of God's care, and pray for them.