Contributed by Dennis Sepper, Tacoma, WA
Warm-up Question
Have you ever seen a miracle happen?  What was it and how did it change you or your view of God and/or the world?
Was Blind But Now I See
At 14 years old, Lisa Reid and her family had a hard decision to make.  Lisa had a cancerous brain tumor that was causing her headaches, vomiting and loss of coordination.  Her only choice was a delicate operation to remove the tumor and save her life.  However, as a consequence of the surgery Lisa's optic nerves were damaged and she became blind.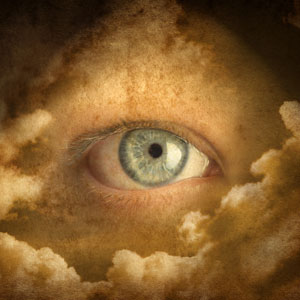 Deciding not to let her blindness hold her down, Lisa became a poster child for children with cancer.  She appeared on television shows and in documentaries across New Zealand.  She also made promotional appearances to help raise money for the organization that trained her seeing-eye dog, Amy.
Ten years after her sight was taken away by cancer, Lisa tripped and fell hitting her head on a coffee table and on the floor.  She got up, as she had done before, and went to bed.  The next morning when she opened her eyes she could see the white of her ceiling.  Looking around she saw light shining through the curtains and then she looked and saw her beloved dog Amy.  Lisa's sight had come back, not perfectly, but it was back.
The doctors were skeptical.  There was no medical explanation for how Lisa regained her sight.  Her optic nerves, which have no power to regenerate themselves, were still damaged.  The doctors tried to explain her sight by saying that Lisa may have recovered from a blindness that had been more psychological rather than physical from the start.  "I don't believe in miracles," said Dr. Ross McKay.  That doesn't matter to Lisa, all she knows is that once she was blind but now she sees.
In this week's gospel text we meet a man blind from birth who is given back his sight by Jesus.  The religious leaders are skeptical and try to find excuses for the healing.  However, the man knows that it was Jesus who healed him and he knows, like Lisa, that once he was blind but now he sees.  His only response is to worship Jesus.
Discussion Questions
What do you think of Lisa's story?  Was it a miracle?  Why or why not?
Do you think people are open to miracles or are they skeptical like Dr. Ross?
Some would say that miracles are in the "eye of the beholder".  What do you think that means? Do you agree with that statement?
Scripture Texts (NRSV) for Sunday, March 30, 2014 (Fourth Sunday in Lent)
(Text links are to Oremus Bible Browser. Oremus Bible Browser is not affiliated with or supported by the Evangelical Lutheran Church in America. You can find the calendar of readings for Year C at Lectionary Readings.)
For lectionary humor and insight, check the weekly comic Agnus Day.
Gospel Reflection
The Gospel writer John is a great storyteller.  In this story of the encounter of Jesus and the man blind from birth, John's major point is that Jesus is the "Light of the World" and the Messiah (here noted as the "Son of Man").  In order to make his point, John uses a storytelling trick whereby the blind man gains his physical sight and then as the story progresses his eyes of faith become more and more clear until he sees Jesus as the Messiah and worships Jesus.  At the same time, the spiritual eyes of the religious leaders are beginning to dim and finally Jesus hints that the Pharisees are blind to God's work in the world.
Along the way in this story there are several things that are unique to John and John's gospel which speak to us today.  Among them are the following:
Notice that Jesus was walking along, saw the blind man and went over to heal him.  In the other Gospels people need to have at least a little faith for the miracle to happen.  In John the miracles happen first and then people are moved to faith.  At first all the blind man knew was that "some guy by the name of Jesus put mud on my eyes and now I see."  The good news here is that God comes to people even if they do not, at first, have any faith.  God's love touches all people not just those who are with the "in" crowd.
Next, the blind man's faith grows as a result of being questioned by the religious leaders (he "sees" even more clearly).  In this story the man goes from calling Jesus just "some guy" to calling him a prophet and then finally seeing Jesus as the Messiah and worshiping Jesus.  There are some Christians in our day who see questions as a bad thing.  However, I would note that Jesus never scolded anyone for asking a question…even when the question seemed to signify that the person did not understand what Jesus was saying.
As Lutherans we welcome questions and discussions and even debates as a way of searching for the truth and growing our faith.  Also note that the man's faith grew slowly as he came to understand who Jesus really was and what that meant for his life and for the world.  We have to respect the fact that we and others can be at different places along the line of gaining faith and an understanding of Jesus.  Some might say Jesus is person, others that he is a good teacher, some that he is a prophet and then others who say "You are the Christ, the Son of the living God."  It's okay to have your faith in Jesus grow slowly.
Finally in John's gospel miracles are called "signs".  In John's gospel the miracles are never an end to themselves but point to something beyond the miracle itself.  Here the healing of the blind man is a sign that points to Jesus as the Light of the World.  Today Jesus is still the Light of the World shining into the dark places of our lives, the lives of those we love and into the life of the world.  By faith we can clearly catch a glimpse of God's reign and of Jesus' presence in the world today.
Discussion Questions
We often see the Lenten season as a journey of faith.  Given the story of the man born blind where do you see yourself on this journey?  Who is Jesus to you?
Do you think questions about faith and religion are a good thing or not?  Why?
I did not mention it in the Gospel Reflection but as noted in verse 16 Jesus must have done this miracle or sign on the Sabbath and the Pharisees were not happy about it.  What is your opinion?  Was it okay for Jesus to heal on the Sabbath even though there were rules about working on the Sabbath day (healing would be considered work)?  Why or why not?
Since Jesus is the Light of the World, what are some ways we can reflect that light of Jesus into the lives of our friends and neighbors?
Activity Suggestions
If you have midweek Lenten services and maybe soup suppers before worship, take a moment to interview an older adult.  Ask them about their faith journey, how did they come to believe that Jesus is the Messiah and the Light of the World.  Then, next time your youth group or bible study meets, compare notes.  What are the similarities?  Are all of the faith journeys alike?  What do the different stories tell you about how we come to faith in God and Jesus?
Closing Prayer
Amazing God, open the eyes of our faith so that we may come to see clearly that Jesus is the Christ and the Light of the World.  May the light of Christ shine brightly into our darkness and the darkness of the world.  Strengthen and empower our faith so that we might serve you and our neighbors in need by reflecting the light of your Chosen One, Jesus the Christ.  Amen.