Contributed by Jocelyn Breeland , Fairfax, VA
Warm-up Question
Is there a cause so important to you that you would risk arrest to defend it?
Occupation Nation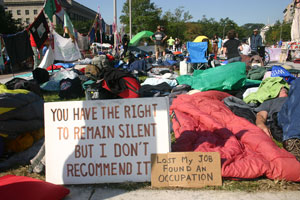 Since September 17, hundreds of protesters have congregated at Zuccotti Park in New York City, holding an ongoing series of demonstrations known as "Occupy Wall Street."  The protesters are speaking out against economic and social inequality and against corporate greed. Some have called for raising taxes on the rich, ending corporate welfare, protecting Medicare and Social Security, and an audit of the Federal Reserve or its elimination. Their rallying cry, "We are the 99%!" refers to the vast income and influence disparity between the top 1% of wealthiest Americans and everyone else. They say it is time for the 99% to inspire change.    (photo by L Kragt Bakker / Shutterstock.com)
The protesters are largely peaceful, although there have been isolated skirmishes with police. Hundreds of protesters have been arrested. The movement has spread from New York City to more than 70 other cities in the U.S. and abroad.
Politicians and pundits from all parts of the ideological spectrum have commented on the situation. President Obama said the protests reflected frustration that the same people whose irresponsibility caused the financial collapse are fighting efforts to "crack down on the abusive practices that got us into this crisis in the first place." Republican presidential hopeful Herman Cain responded to the protests saying, "Don't blame Wall Street; don't blame the big banks. If you don't have a job and you're not rich, blame yourself!"
At the time of this writing, protesters have avoided an attempt by the owner of Zucotti Park to remove them, ostensibly to clean the park, and the protests continue to spread.
Discussion Questions
Do you support the justification offered by the organizers of Occupy Wall Street, that the vast majority of Americans – the 99% – need to be heard regarding solutions to the economic crisis?
Do you think Occupy Wall Street can be effective in shaping government or corporate policies?
How do you think Jesus would respond to the protests? Would he be in Zuccotti Park with the protesters or do you imagine he would have some other response?
Scripture Texts (NRSV) for Sunday, October 30, 2011 (Reformation Sunday)
(Text links are to Oremus Bible Browser. Oremus Bible Browser is not affiliated with or supported by the Evangelical Lutheran Church in America. You can find the calendar of readings for Year C at Lectionary Readings.)
For lectionary humor and insight, check the weekly comic Agnus Day.
Gospel Reflection
It seems everywhere we turn we're bombarded with sharply divided opinions. Each side appears earnest and is backed up with research, expert opinion, and statistics. In the face of this information overload, how are we supposed to decide who is telling the truth? Is government spending the best way to fix the economy, or is lowering taxes the answer. Is that egg you had for breakfast an excellent, low-fat source of protein or a dangerous dose of cholesterol? How are we supposed to sort out answers to complex questions?
Unlike these topics, the truth that Jesus offers in today's gospel is unambiguous. If we are really his disciples, he says, we will know the truth and that truth will set us free.
Despite this assurance, the rigors of discipleship can sometimes feel more like a burden than the freedom we're promised. Discipleship comes with the responsibility to read and understand God's word, to pray and worship regularly, to show compassion and care for our fellow humans, to forgive our enemies. Add these to all the other claims on our time and attention, and it can be tempting to see discipleship as just one more demand.
But if we live in the word as Jesus suggests, it's easy to see that discipleship is not the burden. Rather, our burden is a whole host of human ideas and emotions that are binding us like slaves and keeping us from living God's truth–fear, laziness, apathy, hatred, and peer pressure.
The truth is as simple as it is challenging. As we study God's word, humbly seeking there the answers to our questions ("How can I serve God?" "What should I do?"), we begin to discover the path of righteousness and know the freedom that Christ's sacrifice purchased for each of us.
Discussion Questions
What does it mean to be a slave to sin?
What are the things that keep you from living fully in God's word?
What is this truth that will set you free?
We say that America is a free country, but are there aspects of American culture that can enslave a Christian?
Activity Suggestions
 In Alexandria, VA, there is a church with a sign out front that reads "Occupy King Street."  (King Street is the "main drag" in town.) Imagine your congregation decided to occupy a street or square in your community. What would be the focus of your occupation?  What would be your demands? How would your behavior reflect a distinctively Christian vision? Who would speak at your rally? How many people would attend? How would the community in which you live respond to such a public witness?
Now consider completing your plans and making your occupation a reality. What would it take to make your occupation happen?  In your group discuss whether this is the most effective way to work for justice; are there alternatives?  When is such direct action demanded of a Christian?  Perhaps this path seems very difficult or radical. Before you dismiss the idea of such action, try to discern whether Jesus is indeed calling you to a new path of discipleship and freedom in pursuing your cause.
Closing Prayer
Most kind and compassionate Father, who anticipates all our needs, thank you for your Word, revealed in scripture and embodied in Christ. Release us from the bondage of sin. Help us to shake off the fear and complacency that makes it difficult for us to act according to your will. Always lead us in your way. We ask this in the name of Jesus, who is the truth and the way of everlasting life. Amen