Contributed by Scott Moore, Erfurt, Germany
Warm-up Question
When have you misunderstood someone to the point where it was either funny or embarrassing?
Messed Up Message?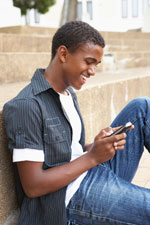 On a cell phone anywhere, U.S.A.— As cell phone technology improves and the phones themselves getting "smarter" with every new version, one thing seems to be struggling more than in the past: text messaging. Newer auto correct features now allow the phone to decide how the word should be finished based on the first few letters and based on entries from previous text messages. The advent of such smart technology and the "failtexts" it brings with it is causing everything from a good chuckle to more serious relationship crises. Without the advantage of someone's voice to help interpret the meaning of text messages, it seems that communication is more challenging now than ever. "Well, you need a sense of humor, I guess," said one seventeen-year old. Another user mused, "I don't use the feature. I don't want the phone messing up my messages. It's crazy."
Needless to say, not only do the texters themselves have to pay closer attention to what they write before they hit "send", but the readers have to try to be open and forgiving of miscommunications. But only if they can tell it's a fail message.
Discussion Questions
Survey: (please raise your hand) Do you use your text function throughout the day 5 times or less?…..6-10?…..11-25?…..26-50?…..More than 50?   What does that number say about the you, if anything?
 What are the advantages of texting over other forms of communicating?  What are the disadvantages?
When have you ever missed out on something "important" to you where you were because you were texting and not able to pay attention?
When has texting helped you be more present in someone's life?
Scripture Texts (NRSV) for Sunday, December 18, 2011 (Fourth Sunday of Advent
Luke 1:26-38
(Text links are to Oremus Bible Browser. Oremus Bible Browser is not affiliated with or supported by the Evangelical Lutheran Church in America. You can find the calendar of readings for Year C at Lectionary Readings.)
For lectionary humor and insight, check the weekly comic Agnus Day.
Gospel Reflection
An intimidating angel comes out of nowhere with a message for a woman on the verge of adulthood. "God really likes you. God thinks you're great." That's what it means to find favor with God. Somehow this young person got on God's radar screen. Or rather, God simply put her on the radar screen. God chose her. God's love makes her special. But somehow she didn't know it yet. Here she was going about her business of getting ready to settle down with a nice guy from her home-town and maybe start a family and make a go at this thing called life. Now this angel—which comes from the Greek word for bringer of news or messenger—is throwing a wrench into all their plans. A son? How? We're not trying to have kids yet. Pregnant you say? By the Holy Spirit? Uh huh.
This is a strange beginning to a strange and overwhelming conversation with an angel of the Lord. Mary started out "perplexed", out of sorts. As the story gets more surreal, she seems to get calmer. It would be easy to think that the average person would just have shut down after that kind of communication at the start. We might even respond with a polite, "Well, thanks for stopping by, here's the door." But that's not what happens here. Before she finds out she will bear Jesus, the Son of the Most High God, Mary has been prepared through God's loving favor.  God's loving favor for her precedes her being made ready for the eternal Word of God, Jesus.
Mary is the prototypical (the first example) Christian. She is the first one to be prepared to bear Christ. In fact, she is called that in the Orthodox tradition—theotokos, which means "God bearer". It is a special term for Mary as the one who bore God, in this case Jesus the Christ. But just as Mary was loved into readiness, we too are loved first by God and drawn into the message of good news of Jesus. For some that comes later in life when we are consciously aware of the message, for others that happens very early on, first in the waters of baptism, with learning about the message of Christ afterwards.
Mary seems a little confused about the message Gabriel passes on to her from God. But Gabriel is able to clear things up. Mary gets it. Not only does she understand clearly what the message actually is but she also accepts it in faith. She offers herself to be an instrument of God's will, even though this may have meant shame and ridicule among family, friends, and neighbors. The clarity of the messenger and the message reach someone who is open for God's word. God's love, Mary's response. This is certainly something to rejoice about. And, in the next story (Luke 1:39-56), that is exactly what Mary does—sings a song of praise to God for loving her and choosing her to work great things in the world.
Discussion Questions
When have you been perplexed by a message someone passed on to you?
When has someone dear to you entrusted you with an important task?
When have you been willing to change something about your life in order to do something good for others?
What kind of message from God would you find "perplexing?"
If the word angel simply means 'messenger' in Greek (the language of the New Testament), what do you think angels look like?
Activity Suggestions
Playing Gabriel:
Participants create messages (either on paper, or spoken, or sent as text messages) of God's love and favor and speak them or hand them out to members of the congregation, strangers, family or friends. Some example messages: (Feel free to create your own in the same style but your own words!)
"Greetings, Child of God. You are special. God loves you and wants to do great things with you."
"Hey there! You know what? God thinks you're alright. Keep it up. God has big plans for you."
"Hi, friend. You may not know this but God is with you. All the time. And God wants you to pass that message on."
"God wants you to know something. Ready? You are so loved! And, you are important."
Closing Prayer
O God who shows favor to the young, make your love and favor known to us. Empower us to turn and open our hearts and minds to you. Guide us to be faithful servants, like your servant Mary. Let us bear Christ in the world. We ask this in the name of the Word made flesh, Jesus Christ our Lord. Amen