Contributed by Jocelyn  Breeland, Farifax, VA
Warm-up Question
What are you looking forward to doing or being in your life?
Hope For Youth Without Hope
At W.T. Woodson High School in Fairfax, VA, six students have committed suicide in the last three years. Students there, along with school officials, parents and others from the community, have gathered together in recent weeks to grieve, to raise awareness, and to learn about resources to prevent suicides.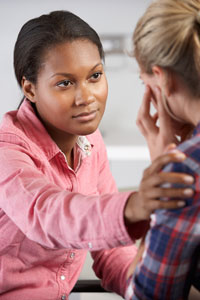 The numbers at Woodson are unusual, but the CDC reports that suicide is the third leading cause of death for youth between the ages of 10 and 24. It results in roughly 4,600 deaths per year; approximately 157,000 in this age bracket receive medical care each year for self-inflicted injuries.
Why do teenagers, who seemingly have everything to live for, take their own lives? According to the healthychildren.org website of the American Academy of Pediatrics, at least 90% of teens who kill themselves have some type of mental health problem or are dealing with some type of substance. They may also have problems at school, with friends, with family or a combination. Some may have been victims of abuse. Others are struggling with issues related to sexual identity.
Efforts to address the problem of teen suicide include programs to make school officials, parents and teenagers aware of the warning signs and resources for suicide prevention; increasing access to mental health resources and removing the stigma associated with asking for help, and programs to end bullying and other actions that make teenagers feel hurt and isolated. There is no one solution.
One novel approach that has shown results is being offered by ReachOut.com, which connects teens and young adults with each other and with trained professionals via social media to discuss the stressful issues in their lives, increase understanding of mental health issues, and develop resilience and coping skills. For young people who feel alone, as if no one understands or cares about their problems, ReachOut.com can be the antidote.
Other projects, like It Gets Better, which targets LGBT young people, have inspired people across the country with their messages of hope and community.
Resources:
National Suicide Prevention Hotline 1-800-273-TALK (1-800-273-8255)
National Suicide Prevention Lifeline www.suicidepreventionlifeline.org
Learn the warning signs for suicide prevention at www.suicidology.org
Discussion Questions
It would be wrong to suggest that any one individual causes another to contemplate suicide, but what are some things you and your peers do that might make a young person feel isolated and hopeless?
Why is it so difficult for young people to seek help from parents, friends and mental health professionals?
What would you say to a friend who felt isolated and helpless?
How would your faith color that conversation?
Scripture Texts (NRSV) for Sunday, April 13, 2014, Sunday of the Passion/Palm Sunday
(Text links are to Oremus Bible Browser. Oremus Bible Browser is not affiliated with or supported by the Evangelical Lutheran Church in America. You can find the calendar of readings for Year C at Lectionary Readings.)
For lectionary humor and insight, check the weekly comic Agnus Day.
Gospel Reflection
As we endeavor to live Christ-like lives, few passages in scripture can be more challenging than today's Gospel selection. Jesus was brought up on trumped up charges (with no way to really refute his accusers), tortured, and executed – all for the salvation of sinners who cannot and do not deserve it. We hear stories of extreme courage, in wartime for example, when brave men and women sacrifice their lives for those of their comrades, but we are blessed that most of us never have to face such a situation.
Still, it is an enormous blessing to have someone make such a monumental sacrifice for us, and Christ's suffering and death are definitely good news for humanity. In fact, this story presents double good news. First, Christ's death bought us salvation, freedom from sin, and victory over death. Second, this whole episode is an indication of God's great love for us. As John 3:16 reminds us, "For God so loved the world that he gave his one and only Son, that whoever believes in him shall not perish but have eternal life."
We can all count many blessings we've received in our lives; this is one more piece of evidence which shows how precious we are in God's eyes. We are all, like Barabbas, guilty; but we gain our freedom through Christ's sacrifice.
The thought of Jesus' suffering is sobering, but we rejoice in the knowledge that it has won us forgiveness for our sins and eternal life.
Discussion Questions
In verses 11 – 14, why doesn't Jesus answer the governor?
What can we learn from Jesus' example about how to respond when we are mocked or falsely accused of doing something wrong?
In verse 46, Jesus cries out, "My God, my God, why have you forsaken me?" Do you believe God had really forsaken Jesus?
What message does this scripture hold for people who feel hopeless and alone?
Activity Suggestions
Ask each person in the group to write down two or three blessings for which he/she is grateful. Then, one at a time, ask each one to read his or her items. When each person finishes, the entire group says together, "[Name], God has blessed you and you are a blessing to us."  Continue until everyone's blessings have been shared.
Closing Prayer
Merciful Father, thank you for sending your son, Jesus, as a sacrifice for our sins. Help us to remember to count this among our many blessings and give you thanks for it. In the name of our savior who is and was and is to come.  Amen.