Contributed by Jack Saarela, Lutheran Campus Ministry, Yale University
Warm-up Question
Look at the picture below.  What would you substitute for "especially bookstores"?
Lead Us Not Into Temptation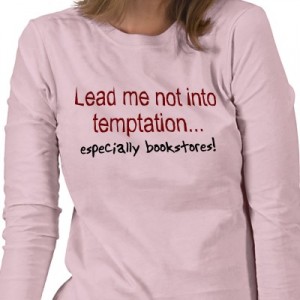 In seeking a thought-provoking picture about temptation to kick off this devotion, I noted that they were almost all one of two general types: (a) photos of women being tempted by food, especially chocolate; and (b) seductive, revealing photos of young, buxom female beauties, presumably representing the most common and compelling temptation for men.
But there are temptations other than overindulging in rich food or engaging in illicit, casual, uncommitted sex. I should wear a shirt like the one in this photo. No matter how many unread books are already on my shelf, no matter the state of our family budget, lure me into a bookstore, and you can be sure I won't walk out without at least one more book to add to my library.  It's not exactly "shop 'til you drop", but more like, "There's always room for one more on my shelf", and "I'll read it later."
Discussion Questions
We pray, "Lead us not into temptation." What do you think of when you hear that phrase?
What are the temptations that follow you around like your shadow which you can only acknowledge to yourself?
Scripture Texts (NRSV) for Sunday, March 13, 201 (First Sunday in Lent)
(Text links are to Oremus Bible Browser. Oremus Bible Browser is not affiliated with or supported by the Evangelical Lutheran Church in America. You can find the calendar of readings for Year C at Lectionary Readings.)
For lectionary humor and insight, check the weekly comic Agnus Day.
Gospel Reflection
Matthew tells us that "Jesus was led up by the Spirit into the wilderness to be tempted by the devil." Don't you think that rather strange? The same Spirit that descended and alighted on him in his baptism just a few verses earlier, now seemingly leading Jesus into temptation? What happened to "Lead us not into temptation"?
It's interesting that the Greek word used by Matthew can mean either "temptation" or "test". One commentator remarks, "Apparently, Satan tempts, but God tests."
About what is Jesus being tested by God? God's voice had been heard at Jesus' baptism saying, "This is My Son, the Beloved . . ." In announcing Jesus' birth, the angel had quoted the prophet who said the name of the young woman would be "Emmanuel, which means God with us." So, how ready is Jesus to be God's Beloved, to take on the mission given to him of being the very presence of God in the world? What means would he use to fulfill that mission?
Satan prefaced each temptation with, "If you are the Son of God . . ." How much would Jesus really trust the voice from heaven that proclaimed him the Son? Would he base his life on his God-given identity as the Beloved, or would he try to forge his own identity as a wonder-worker or oriental despot?
Matthew doesn't describe the struggle that Jesus surely must have experienced in hearing Satan's temptations. Is something really a temptation if it isn't somehow within our grasp for the taking, and if it doesn't involve a sacrifice to deny it?
But in the end, Jesus turned Satan down. He would live out his identity as the Beloved and fulfill his mission, not by pulling out the "God card" as Satan counseled. Instead, he would do the opposite. To be God with us, he had to become human before God, just like us. Paul writes to the Philippians that "though he was in the form of God, he did not regard equality with God a something to be exploited, but emptied himself, taking the form of a servant, being born in human likeness." He wasn't going to jump from the parapet of the temple, because flesh and blood doesn't survive such a jump.
Don't you find hope in Jesus' victory over temptation and his passing God's test? Son of God though he was, Jesus was no different in this respect from you and me. Temptation was as strong, as real, for him as for anyone of us. And being in human form, his power to resist was no greater than ours. Temptation strips all, including even Jesus, of any power of our own to save ourselves. Why else would Jesus teach us to pray for God to deliver us from evil?
Jesus relied on his God-given identity as the Beloved, and on all of God's promises in Scripture, to pass the test and resist Satan's tempting offers. All alone out there in the wilderness with Satan, that's all Jesus had to rely on.
When we face our own temptations, whatever they are, that's all we have to rely on too. But it will be enough.
Discussion Questions
High school students interviewed in an episode of Real Faith TV list drinking, drugs, sex before you're ready, and cheating on test as the Big Four temptations in their lives, and the lives of their peers (http://realfaithtv.com/realfaithtv/09-10_episodes.html) Do you agree?
Do you think there's always something deeper going on when we are tempted? That is, some dissatisfaction with out lives as they are that makes us particularly vulnerable to temptation?
Not many of us consider ourselves "rich". But by the standards of our world, most of us are quite comfortable. I would argue that the greatest temptation for us in our society is to rely on our affluence for our security. See I Timothy 6:6-10.  What do you think?
Activity Suggestions
Watch the "Marshmallow Test" and have a good laugh! See yourself in it!
http://www.youtube.com/watch?v=rMkn4J_l9uU
Participants might also discuss whether they would eat or wait–and why.
Closing Prayer
Loving God, in the desert you called our Lord to the way of trust and service, rather than of presumption and power.  You  promised Him your sustaining presence.  Strengthen us in all our temptations, preserving us most of all from despair.  You, who know our weakness, forgive our failings and renew us daily, that our lives may be signs of your care for all creation.  We make our prayer in the name of Him who has walked the way of temptation before us, Jesus Christ our Lord, amen.