Contributed by John Hougen, Melrose Park, PA
Warm-up Question
Think of times when you felt great. What caused your positive feelings about yourself and your situation?
Self-Esteem
As the boxer Muhammad Ali was rising through the ranks toward becoming heavyweight champion of the world, he was famous for strutting proudly, speaking about himself in laudatory poetry (long before hip hop), and proclaiming, "I am the greatest." He did not have problems with low self-esteem.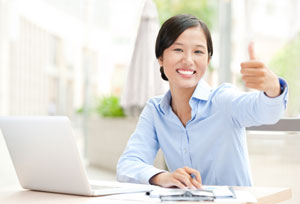 Not many of us have the supreme self-confidence of Muhammad Ali. Most of us struggle with low self-esteem for one reason or another. There are under-achievers who think they are unable to succeed and sabotage their own efforts. There are over-achievers who are always disappointed because they fall short of perfection. There are those who buy into cultural stereotypes of inferiority (of race, social status, economic class). There are those who, in childhood, come to believe discouraging messages from critical parents, teachers, or peers. There are those who start out with confidence, but have it shattered by failures in the "real world." There are pious Christians who believe that the Bible's emphases on sinfulness and "humility and meekness" mean that we should not love ourselves.
In our culture, where so many struggle with low self-esteem, there are both unhealthy and healthy ways to come by a positive self-image. One example of an unhealthy way to improve one's self-image is through drugs and alcohol. Drugs and alcohol promise "good feelings," but their effects are short-lived and usually are followed by a crash into lower self-esteem. Another unhealthy road to high self-esteem is to seek fame at any cost. Cravings for "fame" and "celebrity" can lead people to do stupid and self-destructive things just to get noticed by their peers or claim a few moments on TV.
On the other hand, there are many healthy ways to foster positive self-esteem. Loving, affirming parents and teachers help. Close friends help. Setting and achieving realistic goals helps. Maintaining a balance between work and play helps. Attending to the health of body, mind, and soul helps. And, the Christian faith can help, too. God has affirmed our worth by creating us, watching over us (Psalm 139), by dwelling within us, by forgiving our sins (repeatedly) and giving us fresh starts (repeatedly), by becoming one of us (Jesus Christ "became flesh and lived among us" John 1: 14), by sending the Spirit to love and guide us, and by promising to welcome us into a heavenly home after our life is over. The more intimate our relationship with God, the more we sense that all these teachings apply to us, and the more our faith bolsters our self-esteem.
Discussion Questions
Can you identify the factors in your life that have helped your self-esteem and those that have hurt it? What are they?
Has your experience as a Christian been that Christian faith makes you feel worse about yourself or better?
How do you cope with the temptations to bolster your self-esteem with dangerous, stupid, or self-destructive behavior?
Scripture Texts (NRSV) for Sunday, September 23, 2012 (Seventeenth Sunday after Pentecost)
(Text links are to Oremus Bible Browser. Oremus Bible Browser is not affiliated with or supported by the Evangelical Lutheran Church in America. You can find the calendar of readings for Year C at Lectionary Readings.)
For lectionary humor and insight, check the weekly comic Agnus Day.
Gospel Reflection
Jesus and his disciples walked wherever they went. In Mark 9: 30 – 37, they are walking to the fishing village of Capernaum, located on the northern shore of the Sea of Galilee. They talk as they walk. Jesus is trying to tell his disciples that trouble is ahead. He will be betrayed and killed; human depravity in the form of disloyalty, lying, false accusation, and murder will end his ministry and his life. However, Jesus adds a note of hope, saying that after he is killed, he will rise again in three days.
The disciples don't understand what Jesus is saying and "are afraid to ask." (Verse 32) Perhaps it is impossible for the disciples to imagine such betrayal and violence while walking together on a scenic road to the seashore. Perhaps they had been expecting a triumphant Messiah and cannot wrap their heads around the idea that the Messiah will be killed.
When they reach Capernaum, Jesus asks his disciples what they were arguing about on the way. It turns out they were arguing about who was the greatest. Jesus responds by teaching them about the source of true greatness: "Whoever wants to be first must be last of all and servant of all." In other words, to be great and have substantive, authentic, positive self-esteem; you must give up other ideas about how to be great, and see greatness in service.
Then, Jesus illustrates what he means. He lifts up a little child, and holds the child in his arms. In Bible times, children were of "low status in society," and considered "weak and insignificant." (Quotations from the marginal note to Mark 9: 36-37 in the Lutheran Study Bible.) Jesus teaches that to serve all, one must be willing to serve those of the lowest status, such as the child he is holding.
Jesus also uses the child to teach his disciples that he and the one who sent him (God) are in solidarity with those who are weak and insignificant. They are united in spirit with the weak. They dwell in the hearts of the insignificant. Their unity with the weak is so profound that Jesus claims, "Whoever welcomes one such child in my name welcomes me, and whoever welcomes me welcomes not me but the one who sent me." (Mark 9: 37) (See also Matthew 25: 31 – 40) True greatness and authentic, positive self-esteem come from serving; and they also come from welcoming God into our lives. As noted above, the more intimate our relationship with God, the more our faith bolsters our self-esteem.
At the same time Jesus teaches his disciples that true greatness comes from being close to God and serving those of low status in society, he is preparing his disciples for the future: the future he predicted on the road to Capernaum. To continue to worship and serve Jesus as he suffers and dies, and to continue being in relationship through Jesus with the One who sent him, the disciples will have to ignore public judgments about who is the greatest. For, as a criminal on the cross, Jesus – the one they consider great enough to worship and follow – will occupy an even lower status in society than the child Jesus holds as he teaches. (See Philippians 2: 3 – 8). The disciples will have to see greatness in one who serves until it hurts, who serves the weak and insignificant until death stops him, who serves until his only hope for future service is placed in hands of a God who will raise him from the dead. And, the disciples will have to learn that if they want to remain Jesus' disciples, they too will be called to follow Jesus' path, and to serve the weak and insignificant until their only hope is in a God who promises to raise them from the dead.
Discussion Questions
Are you willing to be a disciple, to worship Jesus and practice his way of serving? What exactly does that mean?
Before you encountered this text, what was it about Jesus that made him great in your eyes? Was it his miracles or his being raised from the dead? Was it because prayers in the name of Jesus have helped you? Was it his teachings or the fact that Christianity claims more believers than any other religion? Was it his sinless life or his ability to forgive his enemies? Did you ever think Jesus was great because of his unity with God and his solidarity with those who are weak and insignificant?
Do you think it is possible to raise your self-esteem by serving others? Why or why not?
Have you had experiences in which you felt God's presence while serving people in need? Describe the experiences and the feelings.
Activity Suggestions
 Children are valued much more in our society than they were in the Roman Empire of Jesus' day. If Jesus were telling us we must be the servant of all in our society, who or what would he bring into our midst in order to illustrate what he meant when he said we should be the servant of all! Make a list of those of "low status" in our society. Include those who are considered "weak and /or insignificant." (Are any of those on your list mentioned in Matthew 25: 31 – 40?) Then list the kinds of service needed by the "weak and insignificant" in our society.
Make two more lists: entitle one "Ways I Bolster my Self-esteem" and the other "Opportunities for Service." Choose the least healthy "way" in your first list and the most attractive "opportunity" in your second list. During the month ahead try to replace the least healthy way you bolster your self-esteem by replacing it with the most attractive service opportunity. Share with your group your progress toward becoming great in service.
Closing Prayer
Gracious God, help us to see that those who serve are the greatest among us. Give us the courage to be different from all who seek greatness in power, fame, wealth, and prestige. Guide us into lives of service for those who need it the most, and help us to discern your presence within them.  Amen.