Contributed by Seth Moland-Kovash, All Saints Lutheran Church, Palatine, IL
Warm-up Question
Do you know why your parents chose the name that you have?
Speaking Up
The New Year is a time when we get inundated with lists. You've probably seen lots of them: best/worst dressed of 2011; the most influential people of 2011; the best books/movies/sons of 2011. You can even find lists where experts predict the most influential people or best books of 2012. Lists are a way we look back and remember what has happened in the past year. While the turning of one calendar year to another may seem arbitrary, it's good to take stock and look back.
One of the lists you'll often find is a list of the most popular baby names for any given year. According to babycenter.com (http://www.babycenter.com/top-baby-names-2011) the most popular boys' name of 2011 was Aiden and the most popular girls name was Sophia. This website and others also have charts available where you can track name choices and popularity over time. You can see spikes where children were named after fictional characters, celebrities, or world leaders. The names we choose can be an interesting window into the lives we live.
Discussion Questions
 Do you know what your name means?
If you could choose, would you want a different name? Would you choose one that is more popular (common) or less popular?
Scripture Texts (NRSV) for Sunday, January 1, 2012 (Name of Jesus)
(Text links are to Oremus Bible Browser. Oremus Bible Browser is not affiliated with or supported by the Evangelical Lutheran Church in America. You can find the calendar of readings for Year C at Lectionary Readings.)
For lectionary humor and insight, check the weekly comic Agnus Day.
Gospel Reflection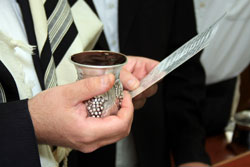 Today is the Christian festival of the Name of Jesus. We celebrate the name that Jesus was given. This date is set because it is the 8th day after Christmas, the date of birth, which is when Jewish male babies are traditionally circumcised. At times, there is a naming ritual that goes along with this. Of course, we don't know historically whether Mary and Joseph did things in exactly that way for their baby. You may recall, they had lots of visitors and fleeing to Egypt to take care of.  But it is good to mark this day anyway.
So today we remember the name of Jesus, and we remember why it was given to this particular baby. We read again the story of the angel Gabriel's visit to Mary before Jesus was born. We remember that this name was chosen not by Mary or Joseph but by God: "And now, you will conceive in your womb and bear a son, and you will name him Jesus." Jesus means "God rescues." Knowing what we know about the rest of Jesus' life, that's a good name for this baby, isn't it?
Discussion Questions
 How and why does Jesus' name matter to you? Would anything be different about the gospel story if he was named Bob or Joe or Sam? What about Helen or Sophia?
Why do we often end prayers "In the name of Jesus, we pray…" What significance does the name have?
Activity Suggestions
Look up the meaning of your name. Ask friends whether they think the meaning fits you or not.
Closing Prayer
Good and gracious God, we thank you for sending Jesus to rescue the entire world. We thank you for his faithful parents, Mary and Joseph. In Jesus' name we pray. Amen.