Contributed by Bryan Jaster, Winchester, VA
Warm-up Question
Have you ever been in an earthquake?  Where were you and what happened?
Quakes of Fear and Joy
On April 1st, 2014, an 8.2 magnitude earthquake off the coast shook Chile.  The next day a 7.6 magnitude struck the region.  Landslides, power outages, collapsed buildings, and people fleeing homes resulted.   Tsunami warnings sprang up and first responders were on high alert.
Almost one million people were evacuated.  About 300 prisoners escaped from a prison in Iquique, a northern port city in Chile.  Traffic clogged the many of northern Chile's streets.  Fear spread as people remembered an 8.8 magnitude quake on February 27, 2010, which killed 500 people and triggered a building toppling tsunami.
In the hours after, a surprising, different story sprang up.  Well planned and executed evacuations saved countless lives.  Most homes and skyscrapers survived unscathed due to well followed building codes developed in response to past earthquakes.  Most of the escaped inmates turned themselves in a week after the quakes.  People have returned home thankful for life.  While the quakes struck fear, the community is now moved by joy and thanksgiving for new life.
Discussion Questions
If you had been in the earthquake in Chile, how do you think you would have acted?  Are you surprised the prisoners returned to jail?
Should Chile be afraid of future earthquakes?  What have they learned?
When has your fear turned into joy?
Scripture Texts (NRSV) for Sunday, April 20, 2014 (Resurrection of our Lord, Easter Sunday)
(Text links are to Oremus Bible Browser. Oremus Bible Browser is not affiliated with or supported by the Evangelical Lutheran Church in America. You can find the calendar of readings for Year C at Lectionary Readings.)
For lectionary humor and insight, check the weekly comic Agnus Day.
Gospel Reflection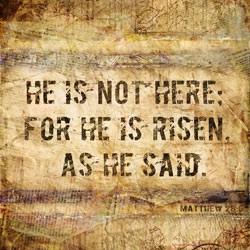 Today is Easter.  There are flowers, bunnies, chocolate, fancy clothes and joyous songs.  Families gather; crowds worship; good food is eaten and familiar stories are told.
Let's look more closely at the Easter story from Matthew.  It begins with an earthquake and in fear.
Fear:  The One who they thought might be the messiah may be yet another failure and is gone.
Fear:  When the angel rolled away the stone.  Read again:  "the guards shook and became like dead men."
Fear:  It was beating in the hearts of the two women named Mary who rushed from the tomb to tell the disciples.
Fear:  When the risen Jesus appeared to the disciples.
And yet, in the Easter story with earthquakes there is joy.  
Joy:  When the women receive the message that indeed Jesus is no longer dead, but risen.
Joy:  The angel beckons the women to tell the disciples he is alive and you will see him in Galilee. They run to tell this news.
Joy: Jesus' presence and greeting moves the disciples to worship.
Joy:  Jesus gives the disciples a new mission to go and tell.
Easter has quakes of fear and joy present together.  As much as we see the happy, bright side of Easter when we gather today, remember this: The risen Jesus brings both quakes of holy fear and joy into the world.  On this first day of a new week, hear the news that Jesus comes into the world's quakes, inviting you to witness to resurrection in the middle of both fear and joy. 
Discussion Questions
Why do you think the soldiers were afraid of the angel?  Why were the two women named Mary afraid?   Why were the disciples afraid?  Would you have responded as they did?  Why or why not?
When has your life been shaken?  How did you get through it?   Why were you afraid?  Did you find joy?
As you celebrate Easter, what message do you tell to others?  What does the risen Jesus want you to do?
Activity Suggestions
Think of a way you as a group can tell and show the Good News of Christ's resurrection in your home or in your community.  Do it.
Make a plan to visit someone whose life has been filled with fear.  Bring that person food, balloons, cards, candy, tell jokes, and do whatever might bring joy.  Consider a mini parade.
Travel to a neighboring town.  Listen and look for ways that Jesus is alive in that community.
Closing Prayer
God of the empty tomb, help us to see you in all of life's fears and joys.  As earthquakes come, may our fears be transformed into the joy of knowing you.  Help us to go and tell the news that you are alive in our homes, streets, schools and world.  Thank you for the death and resurrection of your Son today.  Amen.