Contributed by Scott Moore, Erfurt, Germany
Warm-up Question
What would you undo in your life if you could?
De-baptism?
Rene LeBouvier (71) has become the symbol for a number of dissatisfied Christians throughout Europe, Great Britain, and North America. LeBouvier has one seemingly simple request: he would like to have his baptism undone. He wants to be de-baptized.
As a young man, LeBouvier found himself and his beliefs to be further and further away from that of his Christian upbringing as a Roman Catholic in rural France. In 2000, he asked the Catholic Church to be "un-baptized". He was informed that his request to leave the church had been noted but he could not be de-baptized. A few years later, he tried again only to be informed that a de-baptism was not possible. So, he took the church to court.
In October, 2011, the French court in Normandy ruled in his favor citing any person's rights to revoke his or her membership from any organization. The Catholic church has appealed the decision on the grounds that baptism cannot be undone in God's eyes as well as the church's. The case has yet to be finally decided.
Discussion Questions
When do you think a de-baptism might be necessary?
What should the requirements be for someone to be de-baptized, in such a case?
What effect would there be on someone if they could be de-baptized?
What would a de-baptism look like?
If someone said, they had been de-baptized and wanted to participate in a congregation's life (worship, Communion, etc.) should they be re-baptized?
What should the Church do/say to people who request this? (In 2010 there were a reported 2,000 requests for de-baptism in Belgium).
Scripture Texts (NRSV) for Sunday, February 26, 2012 (First Sunday in Lent)
Mark 1:9-15
(Text links are to Oremus Bible Browser. Oremus Bible Browser is not affiliated with or supported by the Evangelical Lutheran Church in America. You can find the calendar of readings for Year C at Lectionary Readings.)
For lectionary humor and insight, check the weekly comic Agnus Day.
Gospel Reflection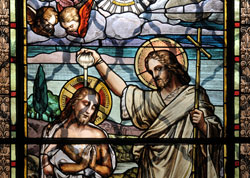 This Sunday's Gospel text has three parts: The baptism of Jesus, Jesus' time in the wilderness, and the beginning of Jesus' ministry in Galilee. Looking closely at the flow of these events in Jesus life, it seems to be a pretty tough life to be loved by God in the way that Jesus is loved. (This goes for those of us who are baptized, too.) Jesus comes and does what many others were doing. They were responding to the preaching of John the Baptizer to repent and think again about their lives. He called them to be washed anew in the Jordan River. He called them to a new life. Jesus gets baptized, Jesus gets a heavenly show, Jesus gets the Holy Spirit as a dove coming down on him, and Jesus gets the voice of God saying, "You are my beloved Son. With you I am well pleased." Now one would think that everything gets better after that. Well, think again.
Immediately, Jesus is driven out into the desert—by the Holy Spirit! Forty days and forty nights. Satan, wild beasts, angels. After he survives that, Jesus returns to Galilee and picks up where John the Baptizer left off. "The time is fulfilled and the kingdom of God has come near; Repent, and believe in the good news." Certain people didn't like John's message. He ended up with his head on a platter. Certain people didn't like Jesus' message either. Jesus ended up on the cross. Jesus died and was buried. And…and this is a big "and." And, Jesus was raised again.
Holy Baptism joins us to Jesus' destiny—to his life, death, and resurrection. In this seemingly simple bath, we are made a part of the mystical Body of Christ. We are united with Christ. We are made one with him. That's serious business.
This first Sunday of Lent is the beginning of a time in the church year that was originally created as an intensive time of preparation for those who were going to be baptized at Easter. It was the final stretch of a longer process where the seriousness of baptism into Christ starts to sink in. It was a time of deep questioning of the baptismal candidates, a time of uncovering all that needs spiritual healing.
The gift of Holy Baptism is a powerful one. It is a mystical and mysterious one. It is about membership, but not membership in a club or organization. It is membership in the Body of Christ. It is here that we hear in a particular way, "We are God's beloved. In us God is well pleased."
Discussion Questions
Share with the group the particulars of your baptism:
Where? When? Who was the pastor that baptized you?
Who were your sponsors/Godparents?
What do you remember?
Are there any special stories?
Did you get a baptismal verse?  What was it?  What does it mean to you?
How do you celebrate your baptismal birthday?
What are the pros and cons of being baptized as a baby versus being baptized at an age where you remember it?
What are the implications of being united with Christ in baptism? What does that mean for you?
Activity Suggestions
As a devotional exercise use "Thanksgiving for Baptism" in Evangelical Lutheran Worship, p. 97 or the order below.  This can be done either in the worship space of your congregation or in your classroom. If you do it in your classroom, you will want to make sure you have things you need for the rite (bowl with water, ELWs, etc).
Evangelical Lutheran Worship–Thanksgiving for Baptism
Those present may make the sign of the cross, the sign marked at baptism, as the leader begins.
In the name of the Father, and of the + Son, and of the Holy Spirit.
Amen.
or
Blessed be the holy Trinity, + one God, the fountain of living water, the rock who gave us birth, our light and our salvation.
Amen.
One of the following or another appropriate scripture passage is read.
A reading from the Psalms: The voice of the LORD is upon the waters; the God of glory thunders; the LORD is upon the mighty waters. O LORD, give strength to your people; give them, O LORD, the blessings of peace.  (Psalm 29:3, 11)
A reading from the Psalms: Let the sea roar, and all that fills it, the world and those who dwell therein. Let the rivers clap their hands, and let the hills ring out with joy before the LORD. (Psalm 98:7-8)
A reading from Romans: Do you not know that all of us who have been baptized into Christ Jesus were baptized into his death? Therefore we have been buried with him by baptism into death, so that, just as Christ was raised from the dead by the glory of the Father, so we too might walk in newness of life. For if we have been united with him in a death like his, we will certainly be united with him in a resurrection like his.  (Romans 6:3-5)
A reading from Second Corinthians: If anyone is in Christ, there is a new creation: everything old has passed away; see, everything has become new!  (2 Corinthians 5:17)
A reading from Revelation: Then the angel showed me the river of the water of life, bright as crystal, flowing from the throne of God and of the Lamb through the middle of the street of the city. On either side of the river is the tree of life with its twelve kinds of fruit, producing its fruit each month; and the leaves of the tree are for the healing of the nations. (Revelation 22:1-2)
The leader addresses those who are gathered.
Joined to Christ in the waters of baptism, we are clothed with God's mercy and forgiveness. Let us give thanks for the gift of baptism.
The leader gives thanks with these or similar words.
Holy God, holy and merciful, holy and mighty, you are the river of life, you are the everlasting wellspring, you are the fire of rebirth.
Glory to you for oceans and lakes, for rivers and streams.
Here particular bodies or sources of water may be named.
Honor to you for cloud and rain, for dew and snow. Your waters are below us, around us, above us: our life is born in you. You are the fountain of resurrection.
Praise to you for your saving waters: Noah and the animals survive the flood, Hagar discovers your well. The Israelites escape through the sea, and they drink from your gushing rock. Naaman washes his leprosy away, and the Samaritan woman will never be thirsty again.
Praise to you for the water of baptism and for your Word that saves us in this sacrament. Breathe your Spirit into all who are gathered here and into all creation. Illumine our days. Enliven our bones. Dry our tears. Wash away the sin within us, and drown the evil around us.
Satisfy all our thirst with your living water, Jesus Christ, our Savior, who lives and reigns with you and the Holy Spirit, one God, now and forever.
Amen.
Assembly singing may follow, especially song related to baptism. As a reminder of the gift of baptism, those present may be sprinkled with water during this time.
The order concludes with this or another suitable blessing.
Almighty God, who gives us a new birth by water and the Holy Spirit and forgives us all our sins, strengthen us in all goodness and by the power of the Holy Spirit keep us in eternal life through Jesus Christ our Lord.
Amen.
Thanksgiving for Baptism from Evangelical Lutheran Worship copyright © 2006 Evangelical Lutheran Church in America admin Augsburg Fortress. Reproduced by permission. All rights reserved. May not be reproduced without the written permission of the Publisher.
If you prefer, consider composing your own brief liturgy to remember and give thanks for baptism.
Closing Prayer
Almighty God, by our baptism into the death and resurrection of your Son, Jesus Christ, you turn us from the old life of sin. Grant that we who are reborn to new life in him may live in righteousness and holiness all our days, through your Son, Jesus Christ our Lord. Amen. ("Daily Renewal," Evangelical Lutheran Worship, p.86)