Contributed by Angie Larson, Clive, Iowa
Warm-up Question
What does it feel like to be protected?
Protector and Defender
On January 12, 2010 a 7.0 magnitude earthquake shook the small country of Haiti. Among the stories of devastation are stories of hope. 
Frank and June Williams and their three daughters, Angie, Dawn and Pria; and two sons, Trevor and Mike, are Haitian residents.  Frank is one of the directors of World Vision in Haiti.  The apartment in which his family lived in Port-au-Prince collapsed, leaving June, Dawn and Pria trapped inside. Frank, who was outside, used a flashlight to frantically search for his family within the rubble.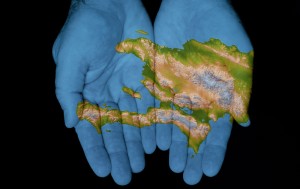 June recounts the earthquake this way in an e-mail to a friend, "There was a loud, deep rumble and the earth shook and shifted.  I couldn't move my feet, I could only throw the girls down under me and under the archway.  Five stories of concrete and tile came down on us.  I looked at my hands that were covering the girl's heads. My hands couldn't protect them from anything. Yet, we were not crushed.  Five foot ceiling slabs came down.  Our heads were embedded with concrete. It was an absolute miracle.  I've determined that there must have been a great big, strong angel standing over us, and smaller pieces of rubble were being sifted through his wings and landed on us."
June, Dawn, and Pria survived.  When the quake stopped they quickly ran from the apartment building through an opening in the outer wall.  A second tremor brought down the rest of the building as they were running for a mountainside. They took refuge under a tree.  A Canadian man helped them down and took them to his house, where he cared for them with a first-aid kit.  The three settled their thoughts on hope until they were reunited with their father, older brothers and sister.
Discussion Questions
Would you lean towards hope or despair in this situation?
Do you consider June a heroine?  Why or why not?
How were June and her daughters protected?
What would you say to the families of those who did not survive the earthquake?
Scripture Texts (NRSV) for Sunday, April 25, 2010 (Fourth Sunday of Easter)
(Text links are to Oremus Bible Browser. Oremus Bible Browser is not affiliated with or supported by the Evangelical Lutheran Church in America. You can find the calendar of readings for Year C at Lectionary Readings.)
For lectionary humor and insight, check the weekly comic Agnus Day.
Gospel Reflection
In the gospel lesson for this week Jesus is defending his identity.  The Pharisees gather around Jesus like journalists trying to entrap a corrupt senator.  They question who he is, hoping that he will claim his identity as the Messiah. If Jesus claims this identity, they will likely stone him for blasphemy.  They desire to accuse and discredit him and also incriminate his disciples.  They have seen his miraculous actions but still refuse to believe who he is.
Jesus says his disciples are different.  In contrast to the Pharisees, who are trying to avoid the evidence in front of their eyes, Jesus' followers enjoy a special and blessed relationship to God. He gives them a sense of belonging and identity.  They are his and he knows them intimately.  Not only does he know them, but he gives them protection and eternal life.  In me, says Jesus, my disciples know the love and care of the Father.
This gift is for us too.  Tragedy will come and shake our lives. We will lose people we love.  We will be tempted to despair.  Some days the challenges will seem overwhelming. Jesus tells us that no one will snatch us out of his hand.  He gives us his protection and defense.  His actions are even louder than his words.  June Williams placed her body over her daughters during the Haitian earthquake.  With her parental love, she protected her daughters.  So too did Jesus offer his body as a sign of his love for us.  Jesus assures us that he will hold us in his hands.  Following Jesus doesn't mean difficulty won't befall us, but it does mean God will hold us when it does.
Discussion Questions
How does Jesus' protection give you hope?
What are some ways that Jesus' actions spoke louder than his words?
Jesus keeps his followers from being snatched up.  What in our world can snatch up people?  How can Jesus protect us from those things?  What can we do to follow him?
Activity Suggestions
Do a fundraiser for Haitian relief. 
Look on the ELCA website for stories of Haitian relief effort. www.elca.org/Our-Faith-In-Action.aspx
Draw a bulls-eye for the students:  five concentric circles, each bigger than the previous one.  Ask them to label the center circle with someone whom they protect, (for example, children they care for or the homeless). Ask them to label the next circle with their name.  Ask them to think of someone who protects them to label in the third circle, (for example, parents or teachers).  In the final circle ask them to write in "Jesus."  Have them process what it means to be a protector and to be protected.
Closing Prayer
Blessed Savior, thank you for knowing and choosing us.   It feels so good to be chosen, Lord.  Thank you for your protection.  Please help us to protect those people whom you have entrusted to our care that, through our actions, they may see you.  Open our eyes to see the ways we question your claim on our lives and help us to remember that you have chosen as your beloved children and disciples.  In your name we pray, Amen.