Contributed by Jen Krausz, Bethelem, PA
Warm-up Question
How do you react when you see someone you know finds faith or grows in their faith? What feelings come up for you at those times?
Rally to Return to God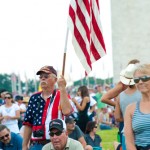 On August 28, 2010, talk show host Glenn Beck hosted a rally, drawing over half a million people to Washington D.C. But although Beck is a conservative talk show host who often discusses politics, he claimed the reason for this rally was something very different.
The rally was held to benefit the Special Operations Warrior Foundation, which provides college scholarships to children of special operations military personnel killed in the line of duty. 5.1 million dollars has been raised so far.
Beck called his rally "Restoring Honor," and focused on inspiring those in attendance to turn back to God, to live their lives honorably, and to encourage our country to turn back to God as a whole. In addition to honoring veterans, the rally featured a gospel choir and several pastors who spoke and offered prayers. Awards were given for faith, hope and charity, echoing 1 Corinthians 13. During Beck's speech, he said that the country had been "in darkness for too long," and that only with God's help could we move back in the right direction again. 
According to reporters, the crowd was very polite, waiting nicely for others to disperse and not leaving "a scrap of trash anywhere."
Critics have accused Beck of using the rally to revive the culture wars.
Discussion Questions
Do you think our country has turned away from God? What things tell you that this is or is not true?  Has the United States ever been a "Christian nation"?
Even if the country hasn't turned away from God, what might be some positive effects of people examining their faith and beliefs?
Do you think we are in a "culture war" over issues like abortion, gay marriage and immigration?
What can we, as Christians and as the church, do to bring people of opposing viewpoints together?
Critics suggest that, far from embodying Christian attitudes, Beck uses "traditional values" as code language to oppose much of the progress won by the marginalized through the Civil Rights struggle.  What core values do you think a follower of Jesus should have?
Scripture Texts (NRSV) for Sunday, September 12, 2010 (Sixteenth Sunday after Pentecost)
(Text links are to Oremus Bible Browser. Oremus Bible Browser is not affiliated with or supported by the Evangelical Lutheran Church in America. You can find the calendar of readings for Year C at Lectionary Readings.)
For lectionary humor and insight, check the weekly comic Agnus Day.
Gospel Reflection
The Pharisees had good reasons for everything they did. They formed all kinds of rules to keep themselves from breaking any of God's commandments. They wanted to be righteous before God. But their rules and ways of living were sometimes  based on man's logic and reason. Somehow, in the process of making all these rules and keeping them, they neglected their hearts. They made God into some faraway being, too great and above them to have a friendship with. One of Jesus' main teachings was that God wants to have a relationship with the people. God is at the same time "out there," beyond all human understanding and right here, wanting to be personally involved in our lives.
God wants our hearts to be engaged, because God's own heart is engaged. God loves us—that's as simple as it gets, but how important and profound! In today's scripture, God rejoices when one lost person finds faith. It gives God joy to have a relationship with us.
It is impossible for us to be one of the 99 "righteous" persons referenced in these verses without Jesus, no matter what we do or how hard we try. Jesus knew that; it's the reason why he came. His sacrifice makes our righteousness possible. But that whole process involves our minds and our hearts. It requires us to engage God, to get personal. When we get personally involved with God, amazing things happen. A talk show host might even hold a rally dedicated to making people aware of their (and their country's) need for God!
We might not always understand it, but our lives are changed; we become a part of what God is doing in the world. Who wouldn't want that?
Discussion Questions
What makes someone a "righteous" person? Do you think you are "righteous?"
 How can we have a relationship with God that is personal?  What things can we do to start or maintain such a relationship?
Why do you think it makes God so happy when people find faith?
Would you want to "welcome sinners and eat with them" like Jesus did? What would that look like in your life?
 Activity Suggestions
One part of our relationship with God is prayer. Start a prayer journal to write down what you pray about on a daily basis. Leave blank space to record answers to your prayers. Over time  such a journal can be a powerful record and reminder of God's involvement in your life.
Closing Prayer
Dear Lord, thank you that because of Jesus we can be righteous in your eyes. Thank you that for wanting to have a relationship with us finding joy when we reach out to you. Help us to keep remembering to reach out to you for guidance in our lives. In Jesus' name, Amen.