Contributed by Brian Hiortdahl, Chicago, IL
Warm-up Question
Who do you admire and why?
What Makes Success?
The recent death of visionary Apple, Inc. co-founder, chairman and CEO Steve Jobs has spawned a national wave of mourning and reflection, not to mention iPhone sales. Consultant Carmine Gallo has identified "seven secrets" to Jobs' success, summarized in an article from ABC News:
http://abcnews.go.com/Technology/steve-jobs-secrets-success/story?id=14692969
Do what you love no matter what it happens to be.
Put a dent in the universe.
Say no to 1000 things.
Kick start your brain by doing something new.
Sell dreams not products
Create insanely great experiences
Master the message.
It is natural and common for us as mortal human beings to reflect at times of death on the significance and meaning of life, whether one individual's story or the collective experience.  Deaths of public figures enlarge the conversation, especially figures who are young and creative–who appear full of life, making their death feel like a surprise, even though we know that, ready or not, death will come at an undisclosed time for us all.   For some, the dread and certainty of death provides motivation for living life to its fullest and/or chasing after success while there is still time.
Discussion Questions
How do you define success?
Which of Jobs' "seven secrets" most resonates with you?  Which one would you like to emulate more, and why?
Have you experienced the death of someone significant in your life?  How did you and others react?  What meaning did you make of their life?
What do you hope will be written about you after you die?
Scripture Texts (NRSV) for Sunday, November 6, 2011 (Twenty-First Sunday After Pentecost)
(Text links are to Oremus Bible Browser. Oremus Bible Browser is not affiliated with or supported by the Evangelical Lutheran Church in America. You can find the calendar of readings for Year C at Lectionary Readings.)
For lectionary humor and insight, check the weekly comic Agnus Day.
Gospel Reflection
The parable in this week's gospel looks forward to a decisive ending.  Jesus changes his standard introduction "the kingdom of heaven is like…" to "then the kingdom of heaven will be like…" so that the disciples gathered around him will know that now he is talking future, not present.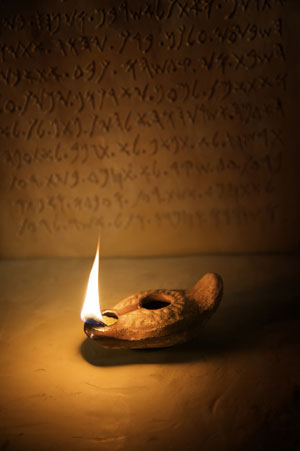 The story focuses on readiness for the coming of the bridegroom, which the disciples would recognize as a symbol for God's Messiah, the one for whose arrival Israel waited eagerly.  By presenting ten bridesmaids instead of one, Jesus shifts the focus from the community as a whole to individuals, who might (and do) prepare and respond differently.  Five bring extra oil along with their lamps, five do not.  The bridegroom is so delayed that all of them fall asleep.  A shout comes at midnight that the bridegroom is coming, so everyone scurries to light their lamps.  The five without oil ask for help from the five with oil, but all they get is bad advice:  "go to the dealers and buy some for yourselves."  In the frenzy of excitement, nobody stops to consider that the streets are dark and the dealers are probably closed, so the five "foolish" bridesmaids miss the bridegroom on their frantic wild goose chase for unavailable oil.
The first three of Steve Jobs' seven secrets give us an interesting lens through which to look at the success or failure of our bridesmaids.  A heart (and a vision) clearly set on the bridegroom, even if not prepared with extra oil, would not settle for chasing after supplies or anything else when what it most truly wants is at hand.  And it is the wise bridesmaids, not the foolish ones, who say, "no."  They are the ones who are ready for the "insanely great experience" of the wedding banquet, the kingdom come.
Yet this story doesn't only teach us about ourselves, but also about the bridegroom for whom we wait and hope.  For one thing, our bridegroom doesn't come on our terms or timetable.  Jesus is certainly taking his sweet time to return and end the human story, and most Christians in history will see death before they see Him.  With such a long wait, even the wisest of us fall asleep.  The story ends with a true warning that "you know neither the day nor the hour" (there are so many things we don't get to know!), but it does give us a valuable clue about Jesus' arrival.  The bridegroom comes at midnight, an hour of darkness when it is nearly impossible to see.  Two weeks from now, we will experience another story from Matthew 25 in which Jesus is hidden from view, and neither of its two groups (sheep nor goats) see him hidden in "the least of these."  Could it be that the bridesmaids need the oil not so that they will see him, because they won't, but so that he will see them?  (Notice how the foolish bridesmaids know the bridegroom, but he says he doesn't know them…even though they were invited!)  Could it be that our hope is ultimately not in our hands, but in Christ's eyes?
Discussion Questions
 Where, when, and how do you see Christ?  How does Christ see you?
Do you see other connections between Steve Jobs' secrets for success and the behavior of the ten bridesmaids?
To what requests and suggestions should you say "no"?
 How does thinking about the fact that life and history will have an end make a difference for your life in the world right now?
Activity Suggestions
 Ask a signficant, trusted older adult in your life (a parent, a grandparent, etc.) to share with you about preparations they have made for their death.  Have they written a will?  Have they made arrangements for a funeral?  Who and what have they identified as important after they die, and why?
Write your own epitaph.  Assume that your gravestone is small, so your epitaph will have to fit in a Twitter post!
Closing Prayer
Come, Lord Jesus.  Focus us on what is most important, prepare us for your appearance, find us wherever we are, look upon us with compassion and understanding, and bring us at last into your joy.  Amen