Contributed by Paul Henrickson, Salem, VA
[Editor's note:  This week's Faith Lens is in a slightly different format than usual, but you will find the same opportunities for reflection and discussion]
Warm-up Question
What event has most impacted your life?
Why Aren't We Gasping (or Laughing)?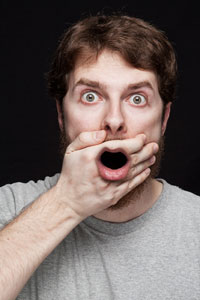 I am writing this on November 22, 2011.  Like everyone over the age of 54, I remember exactly where I was at 1:30 pm 48 years ago.  The assassination of President Kennedy is etched in my memory.  When I watch this YouTube video, I still gasp at the harsh reality.  http://www.youtube.com/watch?v=cP-YKYBfLuU
What makes you gasp today?  What event, idea, or proposal takes your breath away?  I am not a social-psychologist, but I have a hunch that, because we have instant access to so many events, there are fewer things that truly amaze us.  We may be entertained or even embarrassed, but are we left breathless with the surprise of real life?
Mark 1:1 is an incomplete sentence that simply blurts out a truth that is breathlessly remarkable: "The beginning of the good news of Jesus Christ, the Son of God…"  Listen!  Good News, Jesus, the Christ, Son of God; these words are like a prelude that we need a few moments to digest.
What might come next?  Are we prepared for an Old Testament reference, a "Wilderness Man" preaching a baptism of repentance, a promise of one even more powerful yet to come?  Compare this story with the accounts in Matthew and Luke and you will find that Mark gives the polite version of events.  In Mark there is no "brood of vipers," no clearing of the threshing floor; no burning of chaff with unquenchable fire.  It is straight forward proclamation of the Good News.  Are you gasping yet?  Do we need disastrous consequences or is the simple declaration of Mark sufficient.
Below are 6 "P" words to help you work through this text.  Once you are finished, try telling the story to another person in your group with amazed excitement.
Scripture Texts (NRSV) for Sunday, December 4, 2011 (Second Sunday of Advent)
(Text links are to Oremus Bible Browser. Oremus Bible Browser is not affiliated with or supported by the Evangelical Lutheran Church in America. You can find the calendar of readings for Year C at Lectionary Readings.)
For lectionary humor and insight, check the weekly comic Agnus Day.
Gospel Reflection
Prelude
The beginning of the good news of Jesus Christ, the Son of God.
+ begin a conversation with these words of verse 1, what would you say next?
Preparation
2 As it is written in the prophet Isaiah,
'See, I am sending my messenger ahead of you,
who will prepare your way;
3 the voice of one crying out in the wilderness:
"Prepare the way of the Lord,
make his paths straight" ',
+ why is the voice crying in the wilderness?
+ what wilderness of the spirit do you know?
Proclamation
4John the baptizer appeared in the wilderness, proclaiming a baptism of repentance for the forgiveness of sins.
+ Again, Baptism takes place in the wilderness.  Why?
People
5And people from the whole Judean countryside and all the people of Jerusalem were going out to him, and were baptized by him in the river Jordan, confessing their sins.
+ Can you imagine "all" the people of a city showing up for baptism?
+ What people might show up today?
Preposterous
6Now John was clothed with camel's hair, with a leather belt around his waist, and he ate locusts and wild honey.
+ John is truly a "Wilderness Man."  Why is that important?
Powerful
7He proclaimed, 'The one who is more powerful than I is coming after me; I am not worthy to stoop down and untie the thong of his sandals. 8I have baptized you with water; but he will baptize you with the Holy Spirit.'
+ How would you share with another person, the power of your baptism?
Activity Suggestions
Role Play the situation in the text.  Assign persons to be John, some hearers, persons who are offended by him–and a news crew covering the event.  Have the crew interview folks to get their reaction.  Pay special attention to what would be "newsworthy."  What would excite people and get them talking?
Closing Prayer
God of Grace and Glory, forgive us when we are not amazed at the in-breaking of your kingdom; forgives us when we are complacent with the sacred presence of your Son.  Strengthen our faith so that we may receive Him with Joy and Thanksgiving.  Amen