Contributed by Jay McDivitt, Grace Lutheran Church, Thiensville, WI
Warm-up Question
Have you ever owed someone something? Has anyone every owed you? How does it change a relationship when people owe each other?
Debts Forgiven
The International Monetary Fund and the World Bank agreed on June 29 to back $4.6 billion in debt relief for the country of Liberia. On June 30, Haiti received word that they had fulfilled obligations under the "Heavily Indebted Poor Countries" (HIPC)  program, and $1.2 billion in debt has been forgiven there.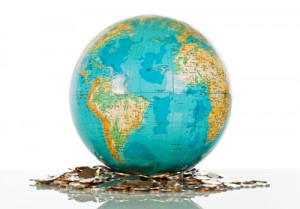 For years, churches (including the ELCA) and other groups have urged wealthy countries and international banks to forgive debts that cripple the economies of emerging/developing nations. Large debts, often built up by oppressive past regimes, saddle countries like Haiti, Liberia, Kenya, Ethiopia, and others, with large interest payments. In Honduras, for example, an estimated 12.3% of the total value of exports goes to service the interest payments on their $5.1 billion in debts.
Debt relief in Liberia frees up resources to rebuild the country from years of conflict; in Haiti, forgiven debt frees up $20 million in interest payments for 2010 alone, which will help that country rebuild after the horrific January 12 earthquake.
Although there has been some progress on debt relief in recent years, there are still many heavily indebted poor countries in the world. In Haiti, for example, the $1.2 billion that was just forgiven is just over half of what they owe – the country still has $1.051 billion in outstanding debt.
Under HIPC, indebted countries have to show that they are creating stable economic growth and establishing sustainable programs to reduce poverty. Several nations continue to work toward these goals and having their debts reduced or forgiven. Activists and churches continue to work with them and to lobby wealthy governments and banks to make faster progress on eliminating these heavy debt loads.
For further information consult these sources:
(http://af.reuters.com/article/topNews/idAFJOE65T09220100630)
Discussion Questions
Why do you think churches such as the ELCA are interested in forgiving poorer countries' debts? Can you think of a reason why not to forgive debt?
Do you know anyone who has had a debt forgiven?   (Currently, there are lots of people attempting to renegotiate mortgage or credit card debt.)  How would it feel to have a debt canceled?
How much do you know about things like debt and interest?  How much do you talk at home about finances – savings, mortgage, charity, credit cards, etc?  Why is it important to know about things like that?  Who could teach you?
Scripture Texts (NRSV) for Sunday, July 20, 2010 (Ninth Sunday after Pentecost)
(Text links are to Oremus Bible Browser. Oremus Bible Browser is not affiliated with or supported by the Evangelical Lutheran Church in America. You can find the calendar of readings for Year C at Lectionary Readings.)
For lectionary humor and insight, check the weekly comic Agnus Day.
Gospel Reflection
You probably noticed that the version of the Lord's Prayer that Jesus taught the disciples that day is a little different from the one you normally pray during worship. (There's a long reason for that; ask your pastor about it sometime!) It's also a bit different from the other place where Jesus teaches people how to pray (Matthew 6:9-13 – check it out). One interesting place where they differ is in the part about forgiveness:
            Matthew: "And forgive us our debts, as we also have forgiven our debtors."
            Luke: "And forgive us our sins, for we ourselves forgive everyone indebted to us."
 Debt was a big deal in Jesus' day. It was very easy to fall into debt – crop failure, bad business, death of a husband/father – and very hard to get out of it. When you owed someone something, that gave them control over your life and your future – which was, of course, a huge distraction. More than that, it could lead to becoming a slave or prisoner. It's not surprising, then, that one of the first things that happened when some Jews in Jerusalem attempted to overthrow the Romans was to burn all the records of debts.
It's interesting that Luke uses "sins" instead of "debts" in his version of Jesus' prayer – but when talking about our relationship to others, they both agree that forgiving debt is the primary way that we practice forgiveness with our neighbors. There may be many reasons for that – here's one guess:
Since God gives us daily bread – whether we deserve it or not – it is strange to think about us "owing" God, at least not the way we "owe" the bank or our neighbor. God gives and gives – and we could never begin to pay it back. Instead, God asks that we live our lives in a loving relationship with God and with our neighbors.
 Unfortunately, we aren't always good at loving God or our neighbors. That's sin – a broken relationship with God and others. And in this prayer, we ask God to heal that relationship – to forgive the ways that we fail to respond lovingly to God's grace.
And when that relationship is healed, it puts our other relationships into perspective.  We realize that we have a role to play in helping clear the way for people to be in relationship with God. One of the biggest distractions that get in the way of our relationship to God and each other is debt,  both literal debt and all the other ways we make people depend on something or someone other than God (grudges, revenge, unhealthy or abusive relationships, and on and on).
So sin (broken relationships) and debt (belonging to someone other than God because of what we owe) are connected. God can't heal our broken relationship with God if we're spending all our energy and time owing and owning each other. And so we pray for the strength to cancel debt – to forgive each other and free each other to be in a relationship with God.
 The writer of Colossians got this, too. To a community that fought about all kinds of silly stuff, the writer tells them to remember who's really in charge – and what really matters: "God made you alive together with him, when he forgave us all our trespasses,  erasing the record that stood against us with its legal demands. He set this aside, nailing it to the cross" (vv 13b-14). In Jesus, all debts are forgiven. All the records of sin and broken relationships have been erased by God's grace – so we are free to set aside all our own grudges and debts and broken histories with each other. And thanks be to God for that.
Discussion Questions
How would you describe the connection between "sin" and "debt"?  How does the meaning of the prayer change when we take the word "debt" out of the version of the Lord's Prayer we pray in church?
What would happen if everyone stopped owing other people anything? How would relationships change if no one had any debts?
Tell a story about a time you've been forgiven – by a parent, teacher, friend, sibling, or someone else. What does it feel like to be forgiven?
Tell a story about a time you've forgiven someone else. What does that feel like?
Activity Suggestions
Check out www.jubileeusa.org. Find the countries listed on that website on a map/globe. Pray for those countries. Use the resources on the website to write letters to government or bank leaders asking for debt relief. Put together a poster or some other project to help educate folks at church about debt relief. (For ELCA resources, check out: https://www.elca.org/Our-Faith-In-Action/Justice/Advocacy/Issues/Global-Poverty-and-Disease/Debt-Relief.aspx)
Draw a line down the middle of a piece of paper. On one side, write the things you "owe" other people (real debt, things you've done to hurt people, etc). On the other side, write the things that other people "owe" you (debts, grudges, payback for helping them out, etc). Nail them to a cross, or pile them up and burn them. Or – add them to a stack of copies of credit card bills or mortgage statements, and run them all through the shredder.
Closing Prayer
God in heaven, your Name is Holy. Build up your power among us, and take us where you want us to go.  Thank you for feeding us  day by day with all that we need – and for forgiving us for all the ways we break your heart by giving our allegiance to people and things other than you.  Help us to forgive people for anything and everything they owe us, and keep our feet on the path of mercy and grace.  Everything we are, and everything we have, belongs to you, O God, forever and ever. Amen.