Contributed by Scott Moore, Erfurt, Germany
Warm-up Question
Would you ever get your head shaved?
Season of the Lamb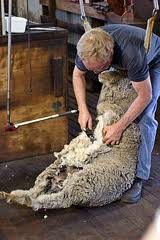 The competition season in lamb and sheep shearing resumes after a six-week break during the heaviest season in wool production. At the time this article appears Cam Ferguson will have already competed in New Zealand's National Lambs Championships and will have tried to break a record by shearing 736 lambs in eight hours. That will be an increase of seven lambs an hour faster than his previous time to date. If he can complete that he will break the record set by Ivan Scott of Ireland two years ago.
Ferguson, who is 27 years old, won the World Championships in Wales last July. He has a lot going on in few days: a national championship, a world record attempt, and a Speedshear (which is a quick version of the sport). Of course he wouldn't think of missing a Speedshear, in which he has won over 60 titles, "I still do the shows. That's what I do."
Aside from this competition, there are two others going on this weekend in a country that loves its lambs and sheep—and loves to shear them, as well.
Not that everyone thinks such competitions are good things. There are many animal rights groups, which complain that the wool industry is not a kind one.  They especially have problems with competitions where the only thing that matters is how fast a human can remove the wool of a sheep or lamb. Those in the wool industry argue that the shearing process does not hurt the animals at all.
Discussion Questions
What do you find intriguing about this kind of competition?
What other competition would you compare this to?
What materials are you wearing right now? Do you know how and where they are made?  What might be their cost to the environment, animals,  and people?
Scripture Texts (NRSV) for Sunday, January 16, 2011 (Second Sunday after Epiphany)
(Text links are to Oremus Bible Browser. Oremus Bible Browser is not affiliated with or supported by the Evangelical Lutheran Church in America. You can find the calendar of readings for Year C at Lectionary Readings.)
For lectionary humor and insight, check the weekly comic Agnus Day.
Gospel Reflection
"Here is the Lamb of God, who takes away the sin of the world." Those are John the Baptist's words when he sees Jesus. The metaphor of all metaphors. I imagine there were faithful Jewish followers of God looking around wondering, "Huh? What does John the Baptist mean? How can this man be the Lamb of God? And, he takes away the sin of the world? Well, then why are we here doing this baptism of repentance thing?"
Jewish believers at that time certainly knew what significance a lamb had. Every year at Passover (see links below), a pure or unblemished lamb was sacrificed in remembrance of God freeing the Children of Israel from slavery in Egypt. At the original Passover, each family slaughtered a lamb and the blood was smeared on the doorposts Exodus 12).  The Angel of Death "passes over" those who have the blood of the lamb on their doorposts. They are saved from death by the blood of the lamb.
Naming Jesus the Lamb of God means God has given this pure lamb as a sacrifice to save the world from sin and death. This is why it is important for John the Gospel writer to share this story with us. Early in John's Gospel we are shown the stakes.  Jesus is revealed not only as the Word made flesh (John chapter 1), but also as the Lamb of God. This helps us see everything Jesus says and does in a particular light.
Jesus is the one who has been sent from above to save the world. Because of the blood of the lamb (Jesus), death will have no power over us. This is pretty heavy stuff, all in one statement by John the Baptist. For two thousand years, people have followed, like those first disciples, wanting to see who this Jesus-Lamb really is. Not only have they followed and seen; they have also dragged others to Jesus saying, "Come and see."
Discussion Questions
Aside from the metaphor of"lamb," what other symbols or metaphors do you know for Jesus? (Way, Truth, Life, Door, etc.)
How does using a symbol or metaphor for Jesus help us understand him better or deeper?
When do we proclaim Jesus as the Lamb of God (hint: think about the communion liturgy)?
How do you understand Jesus as Lamb of God in Holy Communion/Eucharist?
John the Baptist points to Christ and says, "Here is the Lamb of God." In this passage, new followers of Jesus get others and say, "Come and see."  How do you "point" to Christ and say, "Come and see?"
Activity Suggestions
Creating Metaphors for Jesus:
A metaphor is when two things (usually two nouns) are brought together in such a way that new "idea" or "reality" is created. A new way of seeing both things is born. The attributes of each thing are put onto the other.Creating metaphors is not always easy but often challenges us to see things in new and fruitful ways.  Complete the following sentence:
 "Jesus is…"
 Off limits are adjectives (Jesus is nice, strong, good, kind, tall) and similes (Jesus is like something…like a fresh breeze or a loving mother).  Similes are close to metaphors but use "like" or "as" to make the comparison.  They don't create the same interesting tension.   Examples of metaphors:  John is the sunshine in our family. Mary is a bridge between two cultures.
Engaging the Visual Arts
Find pictures of Jesus portrayed as the Lamb of God in art.  Take time to look at the depiction and talk about it. You can also compare and contrast different versions.  Here are two links to begin with (there are many others and these examples carry no thelogical or commercial endorement of the sites):
http://fineartamerica.com/featured/behold-the-lamb-marsha-elliott.html
http://www.jesuswalk.com/lamb/lamb-agnus-dei-artwork.htm
Closing Prayer
God of mercy and life, you saved your chosen people Israel from slavery and death. You sent Jesus to the world so that all might be freed from sin and death and have eternal life. Help us to see Jesus in the world around us so that we can point to him. Give us the courage and the excitement to share what we have seen. We ask this in the name of Jesus, the Lamb of God. Amen