Contributed by Pastor Jay Gamelin
Jay is pastor of Jacob's Porch, an ELCA Campus Mission to The Ohio State University
Warm-up Question:  Do you worry about the end of the world? If so, what's your worry? If not, why not?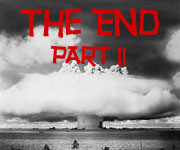 On November 13, movie theaters across the country premiered the film "2012" to fill the eyeballs of theater goers and pockets of the producers.  A big budget eye-candy movie brings to public consciousness the prediction by ancient calendars (or we should say calendar) that the world will come to an end on December 21 or 23 of 2012. Discovered in the Tabasco region of Mexico, the Olmec or Mayan calendar is based on cycles of 5,125 years, the current period to end in 2012.
Most serious scholars give very little credence to the theory, but this has not stopped a burgeoning business based on the 2012 legend. The numbers of books offering proof, theories, research, and even survival guides has exploded. Blogs are now offering proof and advice as well as others critiquing the theories. Some preachers are beginning to preach apocalyptic message and are asking parishioners to prepare for Jesus' second coming.
It seems that the end of the world sells and we all have our theories as to what makes the world end. Apocalypse and post-apocalypse films have always been a popular theme in movie theaters this year. Terminator 4 followed the story of John Connor into an apocalypse by mutant robots. The Road, a Pulitzer Prize winning novel by Cormac McCarthy, follows a man and his son through a post-nuclear holocaust world and is soon to be a motion picture released this winter. Zombieland is a comedy following road-trippers through an apocalyptic world of zombies.
It hasn't been since 1999 and the Y2K worry that we have seen such hype over the purported end of the world. Or 1973 before that. Or 1911. Or 1844. Or 1266… or…
Discussion Questions
Do you think there is validity to the claim that the end comes in 2012? Why or why not?
Why do you think people are so interested in the end of the world? What fascinates us about this subject?
Do you think it is possible to predict the end of the world? Why or why not?
What, if anything, do you think is most likely to create an end of the world scenario? What is not likely, in your opinion, to do this?
Scripture Texts (NRSV) for Sunday, November 22, 2009.
(Text links are to oremus Bible Browser. Oremus Bible Browser is not affiliated with or supported by the Evangelical Lutheran Church in America. You can find the calendar of readings for Year B at Lectionary Readings.)
For lectionary humor and insight, check the weekly comic Agnus Day.
Gospel Reflection
It seems there is always someone predicting the end of the world. If it isn't cataclysmic ice storms suddenly freezing New York then it is a giant meteor flattening New York, or an infectious disease infecting New York, or a giant bomb blowing up in New York. The point is, stay out of New York. (Just kidding!)
Seriously, what people like to deal in is fear. And what is more powerful for creating and stirring up fear than the unknown? It is just like us that we want to have the very date pinned down when the world goes to heck in a handbasket. We want to sell books about it, show movies about it, read about it, convince others about it. Seriously, if the end of the world is coming, why are they selling a survival guide for $49? What are you going to do with the money?
It feels good to be able to stand on a street corner and shout, "the end is near!" and be so sure that all the signs point to biblical codes and secret texts that tell a special truth that others are not aware of. We just want to know.
Many have trusted these prophecies in the past. Over and over again, prognosticators have combed through the Bible and seen the signs in the stars and the current political climate and determined that the time of the end of the world has come. It happened throughout the first 4 centuries of Christianity. It happened after the fall of the Roman Empire. It happened when the year 1000 hit. It happened during the Crusades. It happened in 1844 when William Miller proposed he knew the end of the world, was wrong, and people formed a church about it anyway called the Seventh Day Adventists. (Note: Today's Adventists do not believe this, it is just a part of their history.) It happened during World War 1, World War 2, during the Oil Crisis, during Y2K, and now 2012. We love to fear what we do not know, and thus we try our best to know and predict the future so that we are not caught off guard.
Usually when we read the books of Daniel and Revelation, we instantly turn on our freak-out meter. Both describe crazy animals and demons and destruction and wars. They talk about signs and seasons and desolating sacrileges and numbers and beasts. These "apocalyptic" texts, as they are called (add that to your SAT vocabulary), seem to be about pointing to perfectly knowable and predictable signs that become a road map for our understanding. But is this really what they are about? Is God that easy to understand?
The texts this week seem to be about establishing Jesus as a king. Both point to Jesus as our heavenly ruler, a king who is in charge. And again in John, Jesus continues this prediction with an unusual tete-a-tete with Pilate about kingdoms and rulers. The story here is about establishing who Jesus is and where his authority comes from… and this is good news!
Instead of focusing on trying to decipher the mystical meanings of all the stories in Revelation and Daniel, it is good to focus on the end results — the good news.
No matter what is described, in the end Jesus is king and God is victor. What is described, whether as a historical prediction or a beautiful allegory, is not a thing to be feared but a thing to wonder about and expect and rejoice in. The whole story God shows us from Genesis to Revelation is that God was there in the beginning loving us, God was there throughout history loving us, God sent a Son — Jesus — to show how loved we are, and God will come again to love us still.
We don't need to fear the end, whatever or wherever or whenever that may be. We instead can rejoice that our king is Jesus, a Jesus who loved us while we were yet sinners, who redeemed us not when we deserved but solely out of love and grace, and who is resurrected so that we may live to love and serve God and the world freely.
As the angels said when the disciples saw the tomb rolled away, "fear not", for this is good news.
Activity Suggestion
Surviving the Second Coming
(Note:  This activity is to be done in fun and jest. While it is not my intention to be irreligious, in an effort to shift our hearts and minds from fear of our Lord's coming to joy, we can allow a hint of fun and laughter to dispel what could be a very scary subject. I invite you to let your hair down, or loosen the tie, or perhaps both, and have fun with this activity.)
As a group, work together on a "Surviving the Second Coming of Christ Manual". Some things to consider:
What are the necessary items you want with you at all times, in case Jesus should suddenly pop up? (suggestions: Bibles with every verse underlined to prove you read it, a piece of the true cross, a "Jesus is my homeboy tee", any indulgences previously purchased, and a corroborating receipt, etc.)
What sort of résumé and documents do you need to prove your worthiness? (suggestions: baptismal photos and certificates, confirmation certificates, number of times in church attendance documentation, any extracurricular activities within the church — remember, softball doesn't count… etc.)
What are some important steps to consider in preparation? (suggestions: get a letter of recommendation from a pastor or a high ranking official like a bishop or the head usher or Mel Gibson, destroy all copies of any CD from America Idol Alumni so that "we have no other idols", keep an autotuner ready so that when you sing with the heavenly hosts you'll be in pitch, research angel wing care, etc.)
Process:  Think of all the pictures we have in our heads already about what things "are supposed to look like."
Where do these images come from?
Where do these thoughts come from?
Some images and thoughts are based in scripture, others in legend or fiction. But to be sure, if we can imagine what it will be like, it is likely that description probably still comes up short. No matter what we say or do, it is God who justifies us and makes us whole. So no matter what we do to "prepare", in the end none of it matters to the incomparable love and redemption of Jesus. This is not just good news, it's great news! Thanks for having fun!
Closing Prayer
God, thank you for loving us to the end. Help us to let go of our fear and anxiety and learn to watch and wait with joy. Your kingdom come! Amen.