Contributed by John Hougen, Melrose Park, PA
Warm-up Question
Do you believe political leaders can make a difference in the lives of people who are sick, hungry, homeless, and fearful?
Helping People in Need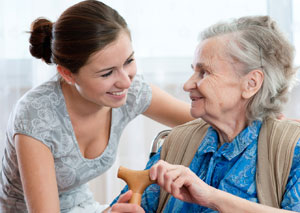 As the Republican Party selects its nominee for President and President Obama makes his case for re-election, many campaign sound-bites are about "creating jobs." We are hearing very different ideas about whether government or the private sector should take the lead. Voters must decide: who has the best ideas and experience that can be used to put people to work.
Candidates say or imply that creating jobs is the best way to help people in need. They want us to share their belief that if jobs are created people will earn salaries and have the means to feed and house their families, pay the doctors' bills, send the kids to college, and take care of other problems.
While the debate about jobs goes on, the rising tide of human needs which will not be solved by job creation gets brief attention from the candidates, and is reported on the inside pages of newspapers, late in newscasts, and below the headlines on the internet. In the state and city where I live, the number of people relying on food banks is dramatically up and food stamp recipients have to meet new and stricter criteria to qualify. The number of people with disabilities who receive Medicaid has been cut, and the waiting list of persons with disabilities who want to be considered for Medicaid has increased by tens of thousands. Too many people are homeless or living in substandard housing. Too many people are trapped in their homes by fear of violence on the streets where they live.
We can hope and pray that new jobs will be created and contribute to helping people in need, but there are people in need who can't wait until new jobs are created; and there are people whose needs cry out for other kinds of help: help that will not come with better employment statistics. People of faith are called to address such problems with thoughts, words, and deeds.
Discussion Questions
What kinds of human needs do you see in your community? To supplement what you know firsthand, search the internet for statistics to discover the scope of the problems you see. For hunger/food insecurity, you might start with elca.org/hunger, and then see what you can find out about hunger in your city, county, or state.
Share stories of how you or people you know respond to hunger, homelessness, and other human needs. From your examples, pick out two or three "best practices," and talk about why these responses are effective.
Have you supplemented personal and congregational responses to human needs with "advocacy?" Within elca.org, search for "Advocacy." You will be led to information that begins: "ADVOCACY is how the ELCA works to overcome the effects and root causes of hunger and poverty through administrative, legislative, and judicial actions in the public sphere, as well as through corporate actions in the private sphere."  Discuss whether you think advocacy will contribute positively to meeting human needs.
Scripture Texts (NRSV) for Sunday, February 5, 2012 (Fifth Sunday After Epiphany)
Mark 1:29-39
(Text links are to Oremus Bible Browser. Oremus Bible Browser is not affiliated with or supported by the Evangelical Lutheran Church in America. You can find the calendar of readings for Year C at Lectionary Readings.)
For lectionary humor and insight, check the weekly comic Agnus Day.
Gospel Reflection
In the Gospel text assigned for last Sunday (January 29: Mark 1: 21 – 28), we heard Mark's report of Jesus' visit to the synagogue in Capernaum. There Jesus taught "with authority" and cast out "unclean spirits" (demons). Onlookers were amazed. Not only did Jesus come across as more authoritative than recognized authorities (the scribes), but an unclean spirit spoke through a man it possessed and said to Jesus, "I know who you are, the Holy One of God." The onlookers believed the testimony of the spirit, for, in those days, people thought one supernatural being – such as an unclean spirit – could recognize another supernatural being – such as "the Holy One of God." Last week's Gospel text prepares us to see the significance of this week's text, which immediately follows. Jesus is authoritative. Jesus is Holy and "of God." We should pay attention.
What Jesus says and does in Mark 1: 29 – 39 provides a good model for helping people in need. He surrounds himself with trusted friends (verse 29 mentions the disciples Simon, Andrew, James, and John). Working with others is almost always more effective in meeting human needs than working alone. Next, Jesus responds to the need that is closest at hand. After Jesus enters Simon's mother-in-law's house, he cures her fever. We also should respond first to those in need who are close at hand. And, Mark's narrative reveals the purpose of all healing and helping: "[Jesus] lifted her up, … and she began to serve them." You and I and all people in need are (in God's intentions) healed, forgiven, and helped so that we may serve others.
After Jesus heals his hostess, word spreads, and others who are sick or possessed are brought to Jesus for healing. Jesus doesn't stop with one act of kindness; he expands his efforts to help others. However, he recognizes that he must have balance in his life, so after curing many, he suspends his helping and healing for a time. He sleeps; and "In the morning, … he went out to a deserted place and there he prayed." He took care of himself, both physically and spiritually. Even though there were still more people to help in Capernaum, Jesus seems to be at peace with not helping everyone. Instead he moves on to other towns and synagogues beyond Capernaum, expanding his efforts to the region (both "proclaiming his message" and healing). We, too, should link proclamation and helping in our efforts. And, we could follow Jesus' example and develop a regional (and even global) approach by cooperating with other houses of worship and participating in advocacy for more compassionate public policies.
To summarize: a good strategy for helping others is provided by Mark 1: 29 – 39:
Surround yourself with trusted friends.
Respond to needs that are close at hand.
Equip those you help so they may serve others.
Expand your efforts, helping people beyond those close at hand.
Practice self-care: enhancing your own physical and spiritual well-being.  
Be at peace with the fact that you cannot help everyone.
Help others both locally and regionally (even globally). 
Discussion Questions
Which steps in this model for helping are you confident you can do? Which steps seem most daunting?
The other texts assigned for Feb. 5, especially Isaiah 40: 21 – 31 and Psalm 147 praise God for acting creatively and compassionately in this world.  Do you think it is possible for people to become God's allies in some of the divine actions mentioned in Isaiah 40 and Psalm 147? Which ones? If people are able to cooperate with God in doing praiseworthy actions, what do God and people need from each other to  make the cooperative effort successful?
Activity Suggestions
Create a scenario or two in which your group (trusted friends) follows the steps outlined above, selecting a specific need close at hand, figuring out how you would help meet it, and how you could move beyond it, practice self care, and so on.
Follow through with one of your scenarios, checking in with the group after each step to see whether you are following the strategy suggested by Mark 1: 29 – 39, or if you have wandered off the path pioneered by Jesus.
Closing Prayer
Open our eyes, Lord, so we may see human needs which are close by. Open our hearts, Lord, so we may be filled with your gift of holy compassion. Open our hands, Lord, so we may be generous, giving of ourselves as we help others. Fill our imaginations with wisdom, and energy, so we can be creative and effective allies for you. With you and others whom you inspire, enable us to serve people in need. Amen.