Contributed by Erik  Ullestad, West Des Moines, IA
Warm-up Question
What's your favorite memory of when you were a child?
Poor Children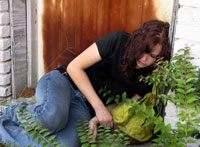 The school bell rings at Sampson Middle School.  Within seconds the campus is flooded with pre-teens who are on their way home.  Their evenings are filled with homework, texting, TV, and web surfing.  Jessica is one of a growing number of children with a slightly different routine.  She walks to the local shopping mall to do her homework in the food court.  When she finishes, Jessica looks around for uneaten food that hadn't yet made it to the garbage.  From there, she heads to the parking lot and enters a rusty old van where her younger brother and parents welcome her "home" for the night.  Most of her classmates don't know it, but Jessica is homeless.
Nearly 1.6 million children are homeless in the United States; approximately 1 of every 45 people under the age of 18.  Schools, churches, and social service agencies have seen needs rise among children and families in recent years.  Youth homelessness has risen 28% since 2007, a trend that doesn't look to taper off any time soon.  Over 25% of children are living in poverty in America.  As their parents bring home smaller paychecks it becomes more difficult to pay the rent or mortgage.
Jessica goes to school early to shower in the locker room and finish her homework.  She gets good grades but she's worried about keeping up, now that some of her teachers are requiring assignments to be turned in online.  She doesn't have regular access to a computer and is afraid of asking to borrow someone else's.  It is likely that her schoolwork will suffer if she remains homeless.  Children in this demographic area are more likely than their peers to suffer from hunger, educational deficiencies, illness, and psychological disorders.
Discussion Questions
Do you know any students in your school who are homeless?
How would your activities change if you had no home?
What would you say to a friend if they told you they are homeless?
Scripture Texts (NRSV) for Sunday, October 7, 2012 (Nineteenth Sunday after Pentecost)
(Text links are to Oremus Bible Browser. Oremus Bible Browser is not affiliated with or supported by the Evangelical Lutheran Church in America. You can find the calendar of readings for Year C at Lectionary Readings.)
For lectionary humor and insight, check the weekly comic Agnus Day.
Gospel Reflection
Jesus had been doing a lot of teaching and healing in recent days.  He took the disciples and went back to the wilderness near Judah.  It didn't take long, however, for the crowds to find him there.  As he was teaching, the religious leaders showed up and tried to trick him.  They asked for Jesus' thoughts on the divorce laws, which was a tricky topic.  The Torah (given to Moses) stated that only a man could initiate a divorce (Deut. 24:1-3).  Roman law, which applied to the land of Judah, permitted a woman to initiate divorce as well.  Ultimately, they were looking for Jesus to make a political statement about his allegiance.  Choosing sides would have had big repercussions for Jesus.
Instead of taking the bait, Jesus brought everything back to Creation.  He isn't interested in splitting hairs over what is lawful.  Jesus reminds the people that the purpose of marriage is to create partnerships.  Marriage is a blessing that is intended to be life giving for both people.  When the relationship fractures and disintegrates, it is because of sin.
Martin Luther reminds us that sin is a condition.  Not only does everyone sin, but everyone is a sinner.  All of us are in need of God's grace to forgive and redeem us.  As fellow sinners, it's unhelpful for us to make a list of people's sins, or presume that some sins are worse than others.  The missteps of ourselves and others reveal communal need of a Savior.
Many interpret Jesus' comments on divorce as seeking to protect innocent people in relationships.  Verses 11-12 can be condensed and nuanced to say, "Whoever divorces their spouse for the purpose of marrying another person commits adultery."  The idea of trading a spouse for a "better" often left the divorced person without a home, food, or family to support her.  As he has done so many times before, Jesus uses this discussion to demonstrate care for those in need.
From there, Jesus continues his advocacy for the helpless in society by chastising the disciples for keeping children from getting near to Jesus.  After all, children in those days were considered slightly more important than stray animals.  Jesus elevates their status by telling the disciples to aspire to being like the children in their attitude toward the kingdom of heaven.  Time after time, it is the least, the last, and the lowly among us that Jesus shows partiality to – and he calls us to do the same.
Discussion Questions
How successful were the Pharisees in tricking Jesus?
What do you think of Jesus' answer about divorce?
How can someone "receive the kingdom of heaven like a child"?
Activity Suggestions
Have each person make a family tree.  Include as many branches as they know of.  Use this as an opportunity to talk about the blessing of family, in all kinds of different configurations.  Affirm God's presence in these relationships, even in the imperfect ones.
Shelters for women and children provide care and safety for vulnerable people in society.  As a class, learn about how you can assist these organizations in your community.  Consider creating care packages or creative artwork for the shelters.
Closing Prayer
God, thank you for the gift of marriage, families, and children.  Help us to see your face in the faces of the people we see every day.  Give us patience when we are frustrated, and hope when we become discouraged.  Amen.