Contributed by David Delaney,  Director of Youth and Young Adult Ministries, Virginia Synod, Salem, VA
Warm-up Question
Think of the most unexpected thing that has ever happened to you.  It could be anything:  a good surprise, a horrible tragedy, school suddenly canceled, a public disaster, a family event – anything.  Were you ready for it when it happened?
Blow Out, Blow Up…Have No Fear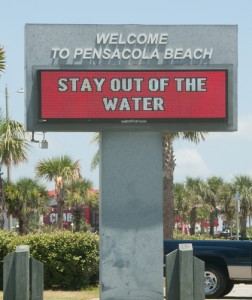 Spring and Summer 2010 have been dominated by one news story more than any other:  the British Petroleum oil spill in the Gulf of Mexico.  It began in April, when a BP oil rig caught fire and collapsed, destroying the pipe that led from the rig on the surface of the water down 5,000 feet to the opening on the sea floor. It produced such a visible and disastrous effect on the environment that it was still a daily headline near the end of July, even when the leak was successfully capped. 
Public accusations, calls for justice, and pleas for help stand alongside a  host of "should haves"– the United States government should have exercised more regulation, British Petroleum should have been more careful, the oil industry should have been less greedy, solutions should have been thought of sooner, everyone should have tried harder, environmentalists should not care so much.  
As soon as the spill happened, everyone had an opinion about what was wrong and how to proceed.  And yet, before the spill, few people outside of the oil and gas industry could have said how much oil drilling goes on in the Gulf of Mexico.  Even fewer could have identified the specific risks associated with deep-water drilling.  The American public has received quite an education during these days, and Christians have been faced with an additional series of questions that derive from our faith and the witness of the scriptures. 
Discussion Questions
What in human nature and need allows a person or company, in the name of profit, to ignore the risks of endangering the environment, workers, and those living near the work area?
Is it right for people to suddenly pile-on to BP about this spill when they have been ignorant and uncaring for decades regarding the risks of deep oil drilling?
What part of the story bothers you the most – The apparent carelessness of BP?  The effect of the spill on sea life in the Gulf?  The effect of the spill on Gulf Coast residents in general and on the fishermen whose very lives depend on the presence of sea life?  The apparent dismissal of the scope of the tragedy and lack of empathy for those affected by BP executives?  The grandstanding and political opportunism practiced by those in the American government as they argue about what action should be taken? Something else?
How (if at all) is the Gulf spill any different from the smaller moral and ethical decisions we make every day?  How prepared are you for a disaster that might strike close to home and affect you? 
Scripture Texts (NRSV) for Sunday, August 8, 2010 (Eleventh Sunday after Pentecost)
(Text links are to Oremus Bible Browser. Oremus Bible Browser is not affiliated with or supported by the Evangelical Lutheran Church in America. You can find the calendar of readings for Year C at Lectionary Readings.)
For lectionary humor and insight, check the weekly comic Agnus Day.
Gospel Reflection
This passage consists of a huge string of wisdom sayings from Jesus – so many that each one by itself would be topic enough for a whole discussion. These sayings, along with those in surrounding passages, are all oriented toward anticipating the future with clear certainty about God's sovereignty over, not only the inhabitants of this world, but the events of history.  Jesus advises us first to know our priorities, making sure those are carefully sorted out, so that being recipients of the grace granted to us by  God holds first place in our lives.  If we have that clarity of orientation, then we will also be ready when Christ returns. 
Jesus does not call us to prepare by focusing on that final event – the return of Christ and judgment of the world – but rather by focusing on him, sent by the Father to bring humankind to faith.  Even today we hear Christian people fret over the second coming of Jesus, proclaiming that they know the date for the so-called "rapture of the church."  This passage rejects such speculation.  We are not to look far into the future, calculating the "profit" we will make in figuring out God's timetable.  Instead, we are to be about our daily work – loving Jesus, sharing the good news with others, and bringing whatever gift we have been given to the service of God's people.  
Discussion Questions
What has been your experience with so-called "neo-dispensationalist" readers of the Bible.  (These are Christians who spend most of their time trying to figure out exactly what Jesus said to avoid speculating on – the date and time of his return.  The "Left Behind" books are examples of this.)  How do you understand the promise of Jesus' return, and that in all times we are to believe that it will be soon?
The Bible presumes throughout that the future is in God's hands, which means that human worry and exertions to create security are not to be trusted (see Ecclesiastes 3 and Matthew 6:19-34).  On the other hand, some Christians in New Testament times were so convinced of this that they made no positive contribution at all to their community (see II Thess. 3).  How does one balance the absolute trust that "God will provide" with realism about the need to work and plan?
The first part of the gospel passage speaks of your "treasure."  This can be defined as the things that pull on you when you make your decisions, things you want to protect.  They do not have to be material objects!  What are those things for you

 ?
Activity Suggestions
Leaf through scripture and see if you can identify people occupied doing their ordinary work.  These are people who are often the very ones whom "the master finds alert when he comes."  God often calls just such to be great instruments for God's purposes in the world.  What is your ordinary work?  How do you focus on Christ day-to-day and so make him your first priority?   Does it help your walk of discipleship to imagine what Christ might find you doing should he return at some point today?
Closing Prayer
Lord Jesus, we recall your command to your disciples to proclaim the gospel to the whole world, and we hope to make it our own by our obedience to this calling.  We pray for all who have been affected by natural and unforeseen forces.  Help us find words to console those whose mourning includes the frustration of a disrupted life.  Let them, with us, keep our focus on the work to be done in the present, so that you may find us faithful servants and good stewards of these gifts you have given us – the lavishness of grace and the beautiful abundance of creation.  Amen.