Contributed by Matthew R. Nelson and Konor Clark (9th Grade, Walla Walla High School)
Christ Lutheran Church, Walla Walla, WA
Warm-up Question:  Describe a situation when you thought someone set a good example for others?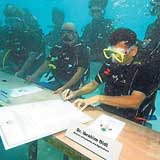 Girifushi, Maldives — To the lowest-lying nation on earth, global warming is a serious issue. Some fear that due to the melting of polar ice caps, the islands of Maldives could be under water in less than a century. At the present, the island averages only 7 feet above sea level.
To bring attention to this fact, President Mohammed Nasheed, a certified diver, and 13 other members of the Maldives cabinet dawned scuba gear and held an underwater meetingcomplete with tables and chairs in a lagoon off the island of Girifushi. Some members took scuba instruction just to be able to participate. Three officials could not attend due to health reasons and other travel responsibilities. Using hand signals to communicate the president and those present signed a document calling on all nations to cut carbon dioxide emissions.
Nasheed, representing approximately 350,000 people on 1,192 low-lying islands, has emerged as a primary voice on climate change. He has vowed to make the Maldives the world's first carbon-neutral nation in the next ten years, and has announced plans for a fund to purchase a homeland and relocate citizens should submersion of the islands become eminent.
The meeting was intended to issue a sense of urgency to nations that will be attending a U.N. climate change conference in December. Wealthy nations are rallying for emissions cuts from all countries, while poorer nations seem to feel that the industrialized nations should carry more of the burden to achieve recommended goals.
Discussion Questions
Do you think global warming and climate change are serious issues? Can it or does it effect your environment locally or regionally?
What are the obvious issues in the global warming debate? Are there hidden issues and agendas? Who benefits and who suffers with those agendas?
Have you ever done something out of the ordinary to get someone's attention? Was it effective? Why or why not?
What choices do you make that have a positive or negative impact on the world around you? On your congregation or community? Do you think your contributions and choices are recognized and make a difference?
How important is it to you to be recognized for the things you do?
Scripture Texts (NRSV) for Sunday, November 8, 2009.
(Text links are to oremus Bible Browser. Oremus Bible Browser is not affiliated with or supported by the Evangelical Lutheran Church in America. You can find the calendar of readings for Year B at Lectionary Readings.)
For lectionary humor and insight, check the weekly comic Agnus Day.
Gospel Reflection
Jesus was an attentive and flexible teacher, using his surroundings and immediate circumstances to weave what was clearly observable into a more challenging spiritual context and lesson. As he was teaching, his focus was on the scribes who expected to be treated uniquely because of their status and knowledge. They acted one way, saying long prayers, while benefiting from the offerings of the rich and the poor; everyone was expected to give to their treasury. They were public figures who expected respect for exhibiting leadership and their own attributes of faith.
But as Jesus sat near the treasury to teach, his focus was not on the obvious, the actions of the Scribes and the gifts of the rich, but on the almost invisible forgotten gift of the widow.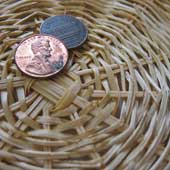 When the widow's two copper coins fell amongst the very noticeable offerings given by others ahead of her, Jesus seized the opportunity to open his disciple's eyes to the gift she had given. Certainly, when the treasury was accounted for, her coins would not be thrown away. They would be used. Giving to the treasury was expected, but for those who had next to nothing to give, it was a tremendous sacrifice in comparison to those who gave so little from their abundance. The widow's contribution counted because she sacrificed more than she could afford to.
As the United Nations addresses the issue of global warming, every contribution will count towards a better future for the world. It is often simpler to look at the more populated and industrialized nations to identify issues related to carbon dioxide emissions. At the same time, a large industrialized nation might hold itself up in front of the world saying "Look, we have reduced our emissions by 10%" while continuing to be the largest polluter and contributor to the problem.
As the international discussion continues, President Mohammed Nasheed has vowed to make the little islands of Maldives the first carbon-neutral nation in the world. Their underwater meeting might amount to just two simple coins in context of the world's voice, but their goals, if accomplished, will set a standard of disproportionate giving. It may represent a standard of sacrifice to better the future of the world; a standard that Jesus would recognize in the midst of all the pageantry and high visibility of international discussions, politics, media coverage, meetings of powerful leaders, and global actions.
Discussion Questions
Do small offerings of time, talent, or money really make a difference? Why or why not? Can you give an example? (Some Sunday School offerings might amount to only a few dollars a week, but they might be given to a homeless shelter or used to buy a jacket or blanket for someone in need.)
Are there ways that you think your congregation, community, local government, or state can impact the world both locally and globally through seemingly small actions or decisions? How does considering the future or people beyond our immediate community shape our actions differently than if we just think about immediate needs or wants?
To what actions do the gospel and our faith lead us? (As uncomfortable as they may be.)
In what ways are you challenged to live and express your faith without reward or recognition or proof that great things will happen a a result?
Activity Suggestion
Plan a 'green day' for your congregation during which ride sharing and walking to church set an example for your community — and each other. Contact local media to see if they are willing interview members of the congregation or provide local coverage. Look for other ways your group or congregation can save energy or reduce its footprint in the interest of caring for the environment and becoming healthier.
Search or study the following Web sites. You'll find ELCA statements and information on the environment and global warming:
Create a list of common ways that individuals in your congregation can help lessen their footprint and save energy and resources. Copy and distribute the list in your bulletin or hand it out after worship. Create resources for your Web site.
Does your congregation pass the offering plate through the pews during the worship service? How do you feel about this practice? What alternative ways are there for us to contribute the finances and gifts we have been blessed with? Do you think your recommendations would help or hurt the church financially? Why? Why not?
Work to involve all ages in supporting the ministries of your congregation. Be creative in providing options that are age-appropriate and interesting. Spread the word in as many ways as possible that even the smallest of gifts or contributions help support the mission of the church. Don't forget to interpret and describe what our mission and ministries are about. Learn more about youth stewardship at Stewardship 10-10-80.
Closing Prayer
Lord our God, as you know, we may not have the riches of the world, but there is one thing you have given us that goes beyond all material riches — eternal life. Lord let it be known that it's not how much we have or how much we give, it's that you have given us the great gifts of faith, love, and eternal life. Lord we thank you for your teachings and all that you have given us, even if it sometimes seems like small coins to us. Teach us to be generous with what we have, like the the story of the widow and her small coins. In your name we pray and give thanks. Amen.