Contributed by Brian Hiortdahl, Chicago, IL
Warm-up Question
Did you make any New Year's resolutions?  How are you doing so far?
Expectations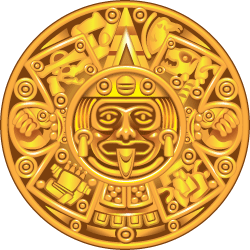 It is reported that December 22, 2012 happened.  It was the day after the "end of the world" predicted because an ancient Mayan calendar cycle expired on December 21.  The date inspired an apocalyptic movie released three years ago and plenty of "doomsday" preparations around the globe as many people expected the world to end:
Discussion Questions
 If you knew for certain the world would end tomorrow, what would you do today?
When have you expected something that did not actually happen?  How did you feel afterward?
What are you excited or worried about right now–what are you currently expecting?  How will you probably react if things turn out differently than you anticipate?
Scripture Texts (NRSV) for Sunday, January 13, 2013 (Baptism of  Our Lord)
(Text links are to Oremus Bible Browser. Oremus Bible Browser is not affiliated with or supported by the Evangelical Lutheran Church in America. You can find the calendar of readings for Year C at Lectionary Readings.)
For lectionary humor and insight, check the weekly comic Agnus Day.
Gospel Reflection
The vibe around John the Baptist was probably similar to that of last December.  Luke writes that "the people were filled with expectation, and all were questioning in their hearts concerning John, whether he might be the Messiah."  Long standing prophecy was finally (maybe, probably?) about to come true, and they would be there to see it!
John had his own expectations:  "one who is more powerful than I is coming….He will baptize you with the Holy Spirit and fire.  His winnowing fork is in his hand, to clear his threshing floor and to gather the wheat into his granary, but the chaff he will burn with unquenchable fire."  Earlier he had warned his listeners that "the ax is lying at the root of the trees; every tree therefore that does not bear good fruit is cut down and thrown into the fire."  John was expecting a Messiah armed with blades of judgment who would come and clean house.
What John got instead was hard time.  Did you notice that there are verses cut out of the middle of the gospel reading?  They inform us that Herod put John in prison.  From there, John got rumors and reports about Jesus, who didn't quite fit the profile he was expecting, so he sent two of his followers to ask him, "Are you the one who is to come, or are we to wait for another?"
Jesus' response is a summary of his ministry:  "Go and tell John what you have seen and heard: the blind receive their sight, the lame walk, the lepers are cleansed, the deaf hear, the dead are raised, the poor have good news brought to them.  And blessed is anyone who takes no offense at me." (Luke 7:19-23)
This is probably not exactly what John or the people were expecting from a Messiah.  In the way he goes about his ministry, Jesus seems to be listening not to the voices around him as much as he is focused on the voice above him:  the voice at his baptism which said, "You are my son, the Beloved; with you I am well pleased." 
Discussion Questions
 How do you imagine John responded to Jesus' answer?
What are your expectations of Jesus?  Does he meet them, disappoint them, exceed them, change them?
To what voices in your life do you most often listen?
How do you listen to the Voice that spoke love and pleasure at your baptism?  How does God's word to you compare or contrast with others' expectations of you?
Activity Suggestions
 Wash something–hands, dishes, body, clothes, whatever.  When you do so, follow Martin Luther's advice, making the sign of the cross in remembrance of your baptism.
Talk with your parents, godparents, and/or someone who was present at your baptism, and look at photos if you have them.  What do they remember most?  How have their hopes and expectations for you changed since that day?
Plan a baptism party.  (I annually host one around January 17, the anniversary of my baptism.  Yes, there will be cake.)  This Sunday, when we celebrate the Baptism of Our Lord, is a great time to do this as a group.
Closing Prayer
Thank you, loving God, for your unexpected goodness and grace to us.  Thank you for naming us your own in holy baptism and calling us to follow Jesus in lives of service and blessing to others.  Help us who are surrounded by so many voices to keep listening to yours.  Amen