Contributed by Claudia Bergman, Erfurt, Germany
Warm-up Question
How does one grow radishes?
Will Work for Food
If you were looking for an internship this summer, you might think you know what the most sought-after places were: Capitol Hill, newspapers, and fashion magazines. But think again. This year, there was a run on internships that involved living in group housing or tents, earning little or nothing, and getting your hands dirty.  Students looking for internships, career-changers, and people who love to cook now turn to farmers to show them how to turn the soil.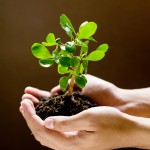 Why do people volunteer to bend their backs for hours on end to pick radishes, get a sunburn from picking weeds between tender spinach leaves, or cook lunch from scratch for 200 hungry workers every day? Apparently, it is not just about getting the foot in the door with a future employer. Many of the interns at farms are looking for their calling in life or striving for a hands-on connection to the land. Asked about his motivation, Evan Dayringer, a farm intern with a math degree from Michigan State University, said, "It felt good to have some work that was real."
The rise of Community Supported Agriculture has contributed to this run on farm internships. The more people get exposed to fresh organic vegetables, the more interested they become in learning how to grown and distribute them. An example is Angelic Organics in Caledonia, Illinois, led by the now famous Farmer John. Through its Learning Center, Angelic Organics offers volunteers an opportunity to work with the farm animals, grow vegetables, learn bread baking, help with the dishwashing at the cooking classes, develop resources, or do office work and outreach. The name of their newsletter is Let's Grow!, which summarizes what farmers and interns at farms are all about.
Discussion Questions
Does your family have a vegetable garden?
How often does your family eat fresh or home-grown vegetables?
Do you notice a difference in taste between a meal cooked from fresh organic vegetables and a TV-dinner that might have the same basic ingredients?
Do you know people who can fruits and vegetables, make their own jams, or bake their own bread? What, do you think, is their motivation?
Scripture Texts (NRSV) for Sunday, September 26, 2010 (Eighteenth Sunday after Pentecost)
(Text links are to Oremus Bible Browser. Oremus Bible Browser is not affiliated with or supported by the Evangelical Lutheran Church in America. You can find the calendar of readings for Year C at Lectionary Readings.)
For lectionary humor and insight, check the weekly comic Agnus Day.
Gospel Reflection
What a strange story! It is as if Luke envisions two worlds. The first world is similar to the one we know. It is a place where the rich and the poor, the fortunate and the underprivileged, compete for society's resources. The rich people indulge in everything that our wonderful world has to offer, while the poor people do not even have enough to heal their wounds and feed their physical hunger.
The second world, however, is totally different and seems to exist in the future end times. It is a two-layer world separated by a chasm. On the one side will be what Luke calls "Hades," a hot, fiery, and dry place where those people live who are being punished for something. Here, the rich man suffers from thirst and heat. On the other side of that world, there will be an area where father Abraham dwells. It is a place where there is an abundance of water, cool shade, loving people, and plenty of food. Lazarus, who suffered his entire earthly life, sits at the head of the table, literally "in Abraham's bosom," like a tired little boy who rests close to the one he loves. Lazarus gets to eat foods that he never had before and could not have possibly imagined. He is comforted and cared for, his pains soothed and healed.
Luke imagines there to be some kind of connection between these two parts of the end time world because in the story the rich man in Hades can still talk to Abraham, who dwells on the other side. The rich man wants Abraham to order Lazarus to serve him.. But Abraham refuses. Lazarus gets to stay in the company of the father of his faith while the rich man is left to suffer.
Luke's vision suggests Jesus who, according to New Testament tradition [e.g., 1 Peter 3:18-22], went into Hades and was resurrected from the dead. But Luke also develops a picture of the end times twhich involves a reversal of circumstances. Whoever was rich will now become poor. Whoever suffered will now be cared for and healed. Whoever was hungry will now have plenty. When the Gospel of Luke describes the end times in such a way, it follows a tradition that was widespread during the time the Gospel originated.  Jews and Christians imagined scenarios where the insufferable circumstances of the times would be turned around. These writers based their idea of the reversal at the end times on the Old Testament (the Hebrew Bible) where God is described as being the one who will return the corrupt world to the original beauty intended at creation.
What did people at Luke's time think about the future? They thought that the just would be rewarded and the unjust punished. And how would one be able to distinguish between the just and the unjust? Our story from Luke has two answers. First, the rich are in danger of being considered the unjust, especially when they are not willing to share their fortunes.  Second, whoever listens to the Scriptures and obeys (Luke says to "Moses and the prophets") will be counted among the just.
However one understands Jesus' parable of a future world split between Hades and a place in Abraham's bosom, it contains both a warning against blindness in the face of need and the promise that God's faithfulness will still our hunger and make our hurting bodies and minds whole.
Discussion Questions
Do you think  a vision of the end times where there will be a divide between the just and the unjust changed peoples' behavior in the past?  How much do you think it motivates people today?
How does this portion of the Gospel still speak to us today considering that most of us would be counted among the rich?
What encourages people to care for the poor and to follow Scripture, in your opinion?
Luke uses the image of a rich feast at the end times where everybody gets his or her fill and is healed of their sicknesses. How do you imagine the future in God?
Activity Suggestions
Split up your group in several small groups. Hand each group a sheet with one of the following texts printed out: Luke 14:7-14, Luke 15:1-7, Luke 17:20-37, Luke 18:1-8, Luke 18:18-27. Ask each group to read one of these stories (all of which are close to the one about Lazarus) and to find the characteristics of the Kingdom of God as described in them. Compare and contrast the different visions of the end times according to these stories in the Gospel of Luke.
Either together or in small groups, read the above texts about the Kingdom of God (you may also use just a selection of texts). Ask each individual to complete the following sentence: "In my opinion, the Kingdom of God will be like …"
Provide materials for artwork and ask each member of your group to create an artistic image of what they think the Kingdom of God will be like. Arrange the results on a wall or a place where they can be viewed for a few weeks, if possible by the entire congregation. If you did exercise #2, you can add these responses to your mural.
Arrange for somebody from a local feeding ministry to come and talk to your group about their reasons to feed the hungry. Find out whether your church is involved in a feeding ministry in your area. Use part of your lesson to collect ideas how your group can organize a food drive to benefit one of the feeding ministries nearby.

 
Closing Prayer
Loving God. You fill our plates and cups every day, and we thank you for that. Yet, seeing that so many of your beloved children go hungry over and over again must sadden you.
We admit
we do not share our resources as we should.
we do not use your wonderful creation to its full potential.
we do not distribute the fruits of your earth justly.
We ask you,
help us to share.
help us to work for justice.
help us to appreciate what we have by providing a feast for others.
God of plenty, make us people who love abundantly and give freely. Amen.