Contributed by John Wertz, Blacksburg, VA
Warm-up Question
A few weeks ago, a researcher posted a video which proves that fish, don't simply get caught, sometimes they do the catching.  Take a look at this video of  a fish catching a flying bird.  Do you think it is real or a fake?
http://newsfeed.time.com/2014/01/12/watch-fish-jumps-out-of-water-to-catch-bird-in-mid-flight/
Are We Running Out of Fish?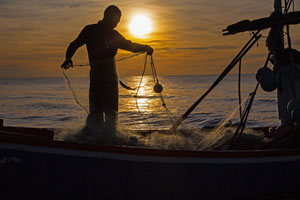 According to the U.S. Fish and Wildlife Service, over 33 million adults in the United  States go fishing during the course of a year.  For many of those individuals, fishing is a source of relaxation and entertainment, but fishing is also a vital source of food for families around the world.   A study produced by the U.N Food and Agriculture  Organization revealed that the worldwide fish harvest in 2012 amounted to nearly 90 million tons of fish.
Given the amount of fish being caught in the oceans and harvested from fish farms on a yearly basis, there is genuine concern in some areas that over the next 50 years, the world's fish population will diminish to dangerous levels.   Some groups like the World Wildlife Federation are working to raise awareness of the dangers of  poor management of fishers, overfishing and destructive fishing techniques which they claim have put over 53% of the world's fisheries at risk (http://wwf.panda.org/about_our_earth/blue_planet/problems/problems_fishing/).  Other groups, like Marine Stewardship Council  are working with fishers, retailers, processors, and consumers to encourage practices which safeguard the world's oceans and create sustainable supplies of fish and seafood.   Hopefully by raising awareness and encouraging good stewardship of the world's fish stocks, oceans, lakes and rivers,  there will be an abundant supply of fish to meet the dietary and economic needs of our ever growing world.
Discussion Questions
 If you were going on a fishing trip, where would you like to go and why?
How might your choices affect rivers, lakes, oceans and fish?  What could you do to be a better steward of these gifts.
Share examples of ways that people work together to care for creation.
Scripture Texts (NRSV) for Sunday, January 26, 2014 (Third Sunday After Epiphany)
(Text links are to Oremus Bible Browser. Oremus Bible Browser is not affiliated with or supported by the Evangelical Lutheran Church in America. You can find the calendar of readings for Year C at Lectionary Readings.)
For lectionary humor and insight, check the weekly comic Agnus Day.
Gospel Reflection
When most of us think of fishing, we probably think of a person either sitting in a boat holding a rod with a single line in the water or we think of a person standing in the edge of a stream, casting a bait covered hook into the water.  Unless you happen to be a part of a commercial fishing operation, very few people today would describe fishing as something you do with a net, but in Jesus' time things were a little different.  For Peter, Andrew and the other fisherman around the Sea of Galilee, fishing meant casting a wide, broad net and pulling in whatever the net touched.  Fishing wasn't about gathering one fish at a time.  Fishing was about  gathering as many fish as possible with the cast of a net.  When Jesus says to Peter and Andrew "Follow me, and I will make you fish for people," he is inviting them to join him in a ministry that will cast out a broad net and potentially touch the lives of countless people.
When Jesus says, "Follow me, and I will make you fish for people," he is inviting Peter, Andrew and all of God's people to join him in proclaiming the good news of God's love for the world.  When Jesus says, "Follow me, and I will make you fish for people," he is inviting Peter, Andrew and all of God's people to join him in gathering people in from a sinful and broken way of life so that they can experience the healing of a life in Christ.  When Jesus says, "Follow me, and I will make you fish for people," he is inviting Peter, Andrew and all of God's people to join him in spreading a message of hope and salvation to a world that is searching for a future.   The fishing Jesus invites us to do is not about finding the right bait to trick someone into getting close to faith, so that the church can get its hooks into them.  The fishing that Jesus invites us to do is about gathering together God's people from far and wide so they can be touched by the unconditional love, mercy and forgiveness of God.
Discussion Questions
Why do you think Jesus invited Peter and Andrew to join him proclaiming God's love to the world?
How many people do you think are touched by your ministry in the world during a week?  How many people do you think are touched by the ministry of the people in your congregation during a week or a year?
Jesus uses images from everyday life to help people understand God and God's mission to love and bless the world.  When he invited Peter and Andrew to follow him, Jesus talked about fishing because they were fisherman.  If Jesus was inviting you to follow him, what example would he use to help you understand what he was inviting you to do?
Activity Suggestions
Lay a bed sheet on the floor and place a ball in the middle of the sheet.  Invite the group to grab hold of the corners of the sheet and throw the ball into the air as high as possible using the sheet.   Now invite one person to try and match that result by themselves.  Talk about the ways that we can accomplish more when we work together.
Jesus invites Peter and Andrew to help cast God's story into the world.  Think of one way that you can share the story of God's love with the world this week.
Closing Prayer
Loving God, you call us to follow you and fish for people.  Inspire us to be your hearts and hands and voices in the world and help us to use the gifts you have given us to make your love known to the world.  Amen.