Contributed by R. Paul Henrickson, Chaplain and Dean of the Chapel, Roanoke College, Salem, VA
Warm-up Question
Go around the group and respond to the following:
Is the world more populated by sheep or wolves?
Would you rather be a sheep or a wolf?
Name a sheep; name a wolf.
Are Christians among the sheep or the wolves?
Does Christianity have any enemies?
Sheep and Wolves
I write this on June 21, 2010.  I am reminded by the New York Times, that on this day in 1964, three civil rights workers disappeared in Philadelphia, Miss. Their bodies were found buried in an earthen dam six weeks later. Eight members of the Ku Klux Klan went to prison on federal conspiracy charges; none served more than six years.  In our day, working for justice continues to have its dangerous side, however, one is more likely to be threatened with the weapon of apathy rather than with a club or a gun.
Jesus warns his disciples:  "See, I am sending you out like lambs into the midst of wolves."
In our present day, there is a full scale attack on Christianity, led by some who hold to the assumption that God does not matter and that religion is for those who have become thoughtlessly captive to "memes" .  Richard Dawkins,  who coined this word for a cultural idea, symbol, or practice goes on to say: "I doubt that religion can survive deep understanding. The shallows are its natural habitat."
Some writers have begun to describe Europe as a "post-Christian" society.  In our own country estimates about how many people attend worship suggest that less than 22% of Americans attend worship each week. ( Journal for the Scientific Study of Religion, Volume 44, Number 3, September 2005 , pp. 307-322)  Among young adults (18-29), 72% say that they are "spiritual, but not religious."  In this group, 65% never or rarely attend worship services.  (http://www.usatoday.com/news/religion/2010-04-27-1Amillfaith27_ST_N.htm)
Discussion Questions
Have you ever been threatened because of your Christian faith?
What hinders us from proclaiming the Gospel story?
Are we headed into a "post-Christian" age?
Why do you think fewer people call themselves "believers?"
Do you know people who say the are "spiritual but not religious?"
Scripture Texts (NRSV) for Sunday, July 4, 2010 (Sixth Sunday after Pentecost)
(Text links are to Oremus Bible Browser. Oremus Bible Browser is not affiliated with or supported by the Evangelical Lutheran Church in America. You can find the calendar of readings for Year C at Lectionary Readings.)
For lectionary humor and insight, check the weekly comic Agnus Day.
Gospel Reflection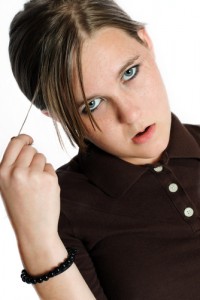 There are a few essays that I read over every three months or so to keep me from grazing too far from the Word.  When my preaching has become rather predictable (or dry), I read Stanley Hauerwas' article: "Preaching As Though We Had Enemies."  In this essay he writes, "Most of us do not go to church because we are seeking a safe haven from our enemies; we go to church to be assured we have no enemies."
In the text for this week, Jesus assures us that speaking the Gospel will be a dangerous calling.  "See, I am sending you out like lambs into the midst of wolves."  Does that cause any anxiety in your heart?  Perhaps our faith has become too tame, too domesticated to generate a real threat to those who would be our enemies.  Perhaps the weapon of apathy does not warrant a defensive response.
Imagine what Sunday morning worship be like if we arrived as those who had been wounded in the spiritual battle.  There would be prayers of comfort, songs of confident praise, a message of courage and hope, mutual conversation and consolation among the faithful, and a meal of bread and wine – rations for the week ahead.
Our own Lutheran Church (ELCA), is losing more than 200 members EACH DAY.   This is a crisis of faith and evangelism; the wolves seem to be winning the numbers game.
So, fellow sheep, what are we called to do?  Prayer followed by action; songs followed by commitment, preaching that inspires and challenges; conversation that supports and encourages – these will be the marks of the flock who wander out among the wolves.  By the power of Jesus Christ, we will not fail.
Discussion Questions
How might a local parish refocus its ministry as "sheep among the wolves?"
Where do "the sheep" get fed and protected?
What is the scariest "wolf" in your world?
What "wolf" most threatens the ministry of the church?
Activity Suggestions
Role play an encounter with a "spiritual, but not religious" friend
Make a contract with the group to invite one person to worship next Sunday
Watch the first 10 minutes of the evening news and imagine how people of faith might react to the stories
Watch the following video on YouTube: http://www.youtube.com/watch?v=mrQqDqOx3KY&feature=related
Closing Prayer
In the name of Jesus Christ we pray…Lord of Life, give us the courage to speak your word in a world of unbelief.  When we would rather "play it safe," startle us to faith; when we get bored and apathetic, astonish us with grace; when we fear that we are too weak to confront the wolves, give us courage. Help us to be fed by your word this day.   Amen