Contributed by Lindean Barnett Christenson, Bozeman, MT
Warm-up Questions
Has a parent, teacher or coach ever expected too much, or too little, from you? What was that experience like?  Have you ever expected too much, or too little, from a parent, teacher or coach? What was that like?
Not What Anyone Expected
Jeremy Lin is becoming a household name for basketball fans and for anyone who pays attention to sports media.  Now playing for the New York Knicks, Lin was captain of his high school basketball team his senior year. That team (Palo Alto High School) finished the 2005-2006 season with a 32-1 record, upsetting a nationally ranked school for the California Interscholastic Federation Division II state title.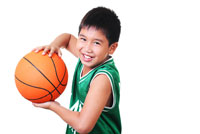 Lin was named first-team All-State and Northern California Division II Player of the Year.  Yet at 6 feet, 3 inches tall, and with a high school GPA of 4.2, Lin was offered no college basketball scholarships. He chose to attend Harvard University and had a great college basketball career there.
No one selected him in the NBA draft and before becoming a star for the Knicks, Lin was cut by two other NBA teams. Now "Lin-sanity" has swept across, not just New York, but the sports world and regular news media as well. Why? Opinions vary. Lin is the first NBA player to put up the kind of numbers he did in his first five starts – at least 20 points and seven assists per game. He is also the only NBA player who is an American of Chinese or Taiwanese descent.
Jeremy Lin has defied expectations and stereotypes and many do not know what to do when someone defies expectations in such a grand manner. From ESPN (which fired one reporter after he used a racist word in a headline) to Saturday Night Live, Lin's skill on the court and the media's reaction to it are ongoing topics of conversation.
Discussion Questions
 How would you account for all the media hype about Jeremy Lin?
Which is the bigger story – Lin's basketball skills and recent performance or the media's reaction to it? Why?
What is the difference between a stereotype and an expectation?
Scripture Texts (NRSV) for Sunday, March 4, 2012 (Second Sunday in Lent
(Text links are to Oremus Bible Browser. Oremus Bible Browser is not affiliated with or supported by the Evangelical Lutheran Church in America. You can find the calendar of readings for Year C at Lectionary Readings.)
For lectionary humor and insight, check the weekly comic Agnus Day.
Gospel Reflection
Jesus' response to Peter was more than Peter expected.  In our reading from the eighth chapter of Mark, Jesus predicts for the first time his impending betrayal, trial, execution, and resurrection. That prediction proves more than Peter can handle, so Peter pulls Jesus aside to try to set him straight, "No way! That's not how things are supposed to go!"
But it is, and Jesus sugar-coats nothing in telling Peter how it must be. Jesus' passion prediction was not what Peter expected of a Messiah, of a Savior, even after so much time spent learning from and watching Jesus. And certainly it's not what Peter was hoping would happen to his friend. Even all these years later, when we stop to think about it, death on a criminal's cross seems an unlikely ending for the Son of God. Perhaps we shouldn't be surprised when the life of faith turns out not to be easy all the time–when we are faced with difficult choices or put in uncomfortable situations because we strive to follow Jesus.
Our Lord hits us point blank, just as he did with his disciples and the crowd: "If any want to become my followers, let them deny themselves and take up their cross and follow me. For those who want to save their life will lose it, and those who lose their life for my sake, and for the sake of the gospel, will save it." As Deitrich Bonhoeffer put it, "When Christ calls a man, he bids him come and die."
If this was all we knew of the story it might make us wonder why anyone would ever want to become a follower of Jesus in the first place. Jesus doesn't just say we should deny ourselves something, like giving up chocolate for Lent. He says we should deny, or disown, our selves, meaning that his followers don't belong to themselves anymore.  We belong to him.
Jesus knows something about us, that on our own we will strive to gain the world and lose our souls in the process. We will set our minds on human things, not divine things. We prefer strength and comfort and security, over weakness, suffering, and trust.
Life with Jesus is not always what we expect it will be, unless we expect our sinful selves to be surprised, over and over again, by grace, forgiveness, and the presence of God in the most unlikely places.
Discussion Questions
 If someone were to ask you what it's like to follow Jesus, what would you say?
On a day to day basis, what do you expect God to do?
When/how have you experienced God at work in situations of weakness, loss or suffering?
Activity Suggestions
If appropriate in your context, watch the opening sketch from Saturday Night Live on February 18th together. Keep track of all the stereotypes named. Ask: which stereotypes are offensive? Are there any that are not? What makes the difference? How do stereotypes get handled at school? In your congregation?
Invite an experienced saint from your congregation to join your conversation, and ask about times they have been  surprised in following Jesus.
Closing Prayer
O God, it is not always easy to follow Jesus. Give us strong hearts and bold spirits to lose our lives in his life and death, that we may find our lives in his death and life. Bless us during this season of Lent, with faith to trust and follow your Son, Jesus Christ, our Savior and Lord, who lives and reigns with you and the Holy Spirit, one God, now and forever. Amen