Contributed by Bob Chell, Lutheran Campus Ministry at South Dakota State University, Brookings, South Dakota
Warm-up Question
As children, we sometimes misconstrue reality because we misinterpret what we see:  "Dad took me to watch firefighters train on an abandoned house. For years I thought firefighters drove around looking for run-down houses to burn and was scared they would burn down our house."  
Sometimes we are mislead:  "When I was little, my Dad told me that the tune played by the ice cream van was the ice cream man letting everyone know that he'd run out of ice cream."
What have you believed which turned out to be untrue?
Life Out of Doubt
A young woman lay dead; nearby, an abandoned truck was stuck in the mud.  The investigation was quick.  Within hours, police had suspects and by evening Greg Taylor and Johnny Beck were in jail, charged with murder.  Both were crack addicts who admitted they were only looking for their next high.  Johnny Beck was released before trial for reasons which are unclear. Greg Taylor was found guilty and sentenced to life in prison.  That was sixteen years ago.  A month ago Greg Taylor was released from prison upon the recommendation of a special innocence panel which found "clear and convincing evidence" that Gregory F. Taylor was innocent and had been convicted based on flawed evidence and unreliable testimony.
Source:  (http://www.nytimes.com/2010/02/18/us/18innocent.html)
Discussion Questions
Had this been you or someone you love, would you be grateful or bitter upon release after sixteen years?  How would you reconcile the two feelings?
Have you ever had first-hand knowledge of a news story that didn't match what you heard in the media?
Have you passed on a story you later learned was untrue? What were the consequences for the person in the untrue story you passed on?  For you?
Did you take any action upon learning the story was untrue?  What was the result? 
Scripture Texts (NRSV) for Sunday, April 11, 20110 (Second Sunday of Easter)
(Text links are to Oremus Bible Browser. Oremus Bible Browser is not affiliated with or supported by the Evangelical Lutheran Church in America. You can find the calendar of readings for Year C at Lectionary Readings.)
For lectionary humor and insight, check the weekly comic Agnus Day.
Gospel Reflection
Thomas stands in a long line of doubters stretching back to the beginning of the faith.  Abraham was skeptical that God could deliver on the promise of a son while Sarah, his wife, laughed in God's face.  Moses doubted he could accomplish what God called him to do.  Gideon demanded proof.  Elijah ran away.  Jeremiah and Job—even Jesus in the garden of Gethsemane before his arrest and crucifixion—struggled with doubt.  One theologian notes that the only people in scripture who are certain of God's will stone the prophets and crucify Jesus.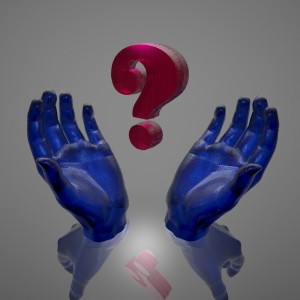 Doubt is not an enemy, but a friend.  Doubt keeps us from being a sucker for every get-rich, get-beautiful, get-saved scheme that comes along.  The danger is that, surrounded by pop-up ads and bogus invitations to wealth and intimacy, we will become cynical and cease to believe anything.
Yet, it is doubt that pushes us forward in life and faith.  Doubt is a way of life for high school and college students:  Doubting your major, doubting your current romance, doubting there will ever be a romance, doubting your career plans, doubting your faith.
Doubt is useful when it pushes us beyond the superficial to the substantive, when it pushes us to ask hard questions and look at life, and ourselves, with clear and open eyes.
Doubt is at the heart of education.  It drives the scientific method.  How does this work…what would happen if…can I prove…?
In our personal life doubt keeps us awake at night and commands our attention. It is unpleasant but useful, drawing us to attend to those things most important in our lives.  Doubt pushes us to change and grow.  It forces us to ask hard questions about faith, family, and vocation, the things which define who we are.
Doubt is not the end but the beginning.  Most of us, when plagued by doubt, try harder to figure it out, to think it through, to discern the truth—and we should.  Whom we choose as a life partner, the career we choose, the faith we embrace will shape and change the rest of our lives.
Easter isn't about happy endings, Jesus springing up three days later so we can have Easter eggs, a new outfit and time off from school or work.  Easter is about a God who stands with us, suffers with us, even dies with us.
The poet Gerhard Frost once wrote: "Doubt gnaws at faith but faith gnaws back, and faith has better teeth."  God's promise is that Jesus can and will break through the locked and shut doors of our lives, the prison of doubt we live in.  Jesus comes through the wall, breaks in, and speaks "Peace be with you."  God's peace isn't a promise that there will be no doubt, pain, struggle, indecision, or any of the other things which are part of being human, part of being in relationships. God's peace is a promise to walk with us, to strengthen us, to sustain us, to forgive us, to challenge us.
The time for hunting Easter eggs is over, but if we are hunting for God working in our lives, we need only look where we doubt.  There we will find God's Spirit moving us to growth and faith.
Discussion Questions
Recall a time when you thought you would never be happy again.  Was God at work in you and others?
How do we discern when doubt is useful and when it is useless?
If doubt is a good thing, can we be certain about anything?
Activity Suggestions
Ask several persons you love and trust if there was ever a time when they wanted to run away and leave their life behind because they were embarrassed, ashamed or in deep pain.  Ask what enabled them to survive that time and, looking back, how they see that God was at work in their lives during that time.
 Reflect on a time when you were so unhappy you wanted to quit, give up, move, and get away from doubt and pain.  What enabled you to survive?  Is there a learning there for your faith?  for your future?
Closing Prayer
God of grace and mercy, we want to believe and trust your promises.  Give us courage and perseverance to confront the doubt and pain and brokenness in our lives.  Give us, also, the wisdom to know when to let go of broken dreams and move on.  Move our hearts to forgive others and ourselves, so we may live with Easter joy.  Amen.