Contributed by Jack Saarela, Lutheran Campus Ministry, Yale University
Warm-up Question
Has trying to follow Jesus ever put you at odds with your parents wishes or values? 
Honor Thy Father?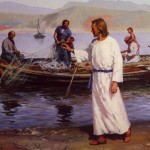 Mark tells us in his gospel that at the very beginning of his public ministry, Jesus walked on the shore of the Sea of Galilee, and saw James and John in a boat mending their fishing nets. That's the scene depicted in the painting on this page. "Immediately," (one of Mark's favorite words) Jesus invited them to be his disciples. Apparently, without a second's hesitation, they laid down their nets, and set off to follow Jesus. Then Mark inserts an interesting detail: " . . . and left their father Zebedee in the boat."
Imagine the older man sitting on the bow of the boat in the painting as Zebedee, father of James and John, and head of the small family-run fishing operation, "Zebedee and Sons".  James and John may have been excited, flattered, or expectant at the prospect of following Jesus. But I wonder how Zebedee felt, what he thought about Jesus' coming along out of the blue and calling his sons away to be his followers. Do you think Zebedee was pleased as punch to assume all the burdens and responsibilities of the family fishing enterprise on his own, solitary shoulders?
Discussion Questions
What do you think? How does Jesus look to you if you're Zebedee, left alone in the fishing boat?
Can you name any time in your life when your being a Christian disciple has led to tension within your family? Within your group of friends?

 
Scripture Texts (NRSV) for Sunday, September 5, 2010 (Fifteenth Sunday after Pentecost)
(Text links are to Oremus Bible Browser. Oremus Bible Browser is not affiliated with or supported by the Evangelical Lutheran Church in America. You can find the calendar of readings for Year C at Lectionary Readings.)
For lectionary humor and insight, check the weekly comic Agnus Day.
Gospel Reflection
In my ministry with students at the University of Florida, we used to offer a Bible study series every few years entitled, "Things We Wish Jesus Had Never Said!" We didn't have any trouble coming up with a long list of texts from the gospels containing very hard, challenging words from Jesus.
Today's gospel text was almost always among them. William Willimon, Methodist bishop and former chaplain at Duke, asks, "What is this, Jesus on a bad day?" Jesus seems to be in no mood here for compromise or halfway measures in the matter of following him. "Hate father and mother, wife and children, brothers and sisters"? . . . "Yes, [hate] even life itself"? . . . "Give up all your possessions"? And then, to top it off, "carry the cross"? Ouch!
Yes, part of the challenge of Jesus' words can be explained by the fact that he is using hyperbolic language to catch our attention. And sure, Jesus doesn't imply "hating" in the sense of an emotion, but rather a kind of detachment from family and possessions that allows us to keep them in proper perspective as secondary and tertiary loyalties in our lives, when our first love ought to be serving God and loving our neighbor.
Nonetheless, it's not at all easy to keep family commitments and pursuit of income and possessions in their proper place. My experience is that it's impossible, as are a lot of other things Jesus asks of us. Love my neighbor as myself? Turn the other cheek? Sometimes, maybe, but it's not my first instinct.
That's why I find Jesus' words later in the gospel of Luke to be such good news. In chapter 18, Jesus appears to make another set of impossible demands of a rich young man (to go sell all he has and give the money to the poor). The man is saddened, and turns away. One of the disciples then asks Jesus, "Who, then, can be saved?" Jesus replies with the good news I'm talking about: "What is impossible for mortals is possible for God." (Luke 18:26-27)
For mortals like you and me, it's virtually impossible to follow Jesus on the terms he establishes. But through the action of the Holy Spirit, God makes the impossible happen.
Discussion Questions
Can you think of other sayings of Jesus you wish he had never said? Words of his that are difficult to hear and challenge our assumptions?
Some suggest that mainline Christian churches like the Evangelical Lutheran Church in America are not growing because we fail to raise the bar for being a Christian, and settle instead for an "easy believism," practicing and living out our faith as an "optional extracurricular activity."  Do you think they are right? Why, or why not?
How do we accept the free grace of God in Jesus (the fact that God makes impossible discipleship possible for us) and yet not just sit back and "let God do it"?

 
Activity Suggestions
Closing Prayer
Lord Jesus, it's not that I don't want to "follow your more dearly and love you more dearly", it's just that it seems set up for my failure. Your demands and expectations are so high! But I believe that even my wanting to follow you is already the work of your Spirit within me. Make what seems impossible for me possible today. Amen