Contributed by Aaron Matson, Leganger Lutheran Church, Toronto, SD
Warm-up Question
Have you ever been a part of a great celebration? What were you celebrating? How did feel to be a part of such a celebration?
From Mountaintop to Spring Training
A few short months ago, the San Francisco Giants were on top of the baseball world, celebrating a World Series Championship. Winning the World Series is the dream of any baseball player from the first time he picks up a baseball and bat. It is the pinnacle, the mountain top, of achievement for a baseball player. It is an experience that can never be taken away:  the final out,  the celebration on the field and in the locker room,  the parade in front of the cheering hometown fans.
But right now, the Giants, like every other Major League Baseball team, are going through the daily grind of spring training. Like everybody else, the Giants are taking grounders, running sprints, and practicing bunting and base running. While they are hoping for another championship at the end of the season, they know that the life of a baseball player is not primarily mountaintop celebration, but the daily routine of honing his skills to be the best player he can be. The life of a baseball player is filled with ups and downs, but through the ups and downs, baseball players do what they have been trained and coached to do – play baseball.
Discussion Questions
Have you ever had to practice or rehearse for an activity in which you were  involved?
Do you ever get tired of practicing or rehearsing? Was the joy of being a part of the activity worth it?
Scripture Texts (NRSV) for Sunday, March 6, 2011 (Transfiguration of our Lord)
(Text links are to Oremus Bible Browser. Oremus Bible Browser is not affiliated with or supported by the Evangelical Lutheran Church in America. You can find the calendar of readings for Year C at Lectionary Readings.)
For lectionary humor and insight, check the weekly comic Agnus Day.
Gospel Reflection
Have you ever had a mountaintop experience? That is, have you ever had an experience where you felt the presence and love of God in a way you never had before? Maybe you felt that way at a week at camp, or at a retreat. Maybe you  had one at a conference or Bible study with a particularly engaging and insightful speaker or teacher.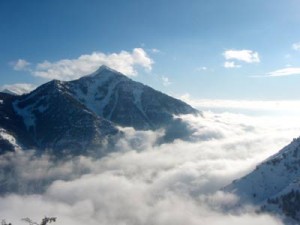 Mountaintop experiences are wonderful things. They can renew your spirit, refresh your faith, and inspire you to live a more healthy, faithful life. In the rhythm of the life of the Church, weekly worship services are meant to be mini-mountaintop experiences.  Hopefully you leave worship renewed, refreshed, and inspired—at least some of the time. Ideally, somewhere in the liturgy,  scripture readings, fellowship, hymns, or sermons you hear the Gospel preached and your faith is renewed and refreshed for the next week.
The season of Epiphany is a season of mountain top experiences, and in today's Gospel lesson, we literally see a mountaintop experience in the transfiguration of Jesus. Six days after he predicts his suffering, death, and resurrection, Jesus takes Peter, James, and John to a high mountain. Jesus is transfigured before them; that is, his appearance and very being are changed.  His clothes are a dazzling white and Moses and Elijah appear with him. A voice from heaven speaks words very similar to those uttered when Jesus was baptized, "This is my Son, the beloved, listen to him!" And then, as suddenly as the experience started, it ends; Jesus is alone again, and he tells them to tell no one what they have seen until he had risen from the dead.
And in the middle of this miraculous event, the disciples are terrified, scared stiff–as  I imagine any of us would be. This is the mountaintop experience to end mountaintop experiences, an Epiphany overload of awe and wonder and revelation. They have an experience where Jesus is revealed to be divine, the Son of God. Shown in the presence of the two biggest names in the Old Testament, Moses and Elijah, Jesus is revealed as the completion and perfection of what God had been doing throughout the Hebrew Scriptures and Israel's collective history.
In the middle of this awesome and amazing event, Peter, not knowing what else to say, proposes building dwellings for Jesus, Moses, and Elijah. As terrified as he is, he knows what a miraculous event he witnessed and he doesn't want it to end. In his mind, this is a mountaintop experience that can't be topped – and won't be, until he had seen the risen Christ.
But the experience did end; Jesus and the disciples had work to do. Jesus did not come to this world to stay on mountaintops; he came to bring God's kingdom to earth in his ministry, death, and resurrection. Like Peter, we too want to stay in mountaintop experiences.  That is understandable. Who wouldn't want to stay in the place where we can see the glory and power of Christ in amazing ways?
But the life of faith is not meant to be spent on mountaintops, it is meant to be spent in active engagement in the life of the world – in getting our hands dirty, in using our voices to speak for the oppressed, in speaking truth to power, and speaking words of compassion and love to our neighbors. Sometimes words of love need to be a kick in the pants so that others straighten up, and sometimes they need to be words of gentle understanding and comfort. But either way, they need to be words of Christ's love and compassion. Put simply, it is our work to be engaged in the world, proclaiming the Gospel by loving and serving the neighbor.
A boat in a port is safe, but that is not what boats were made for.  Jesus could have stayed on the mountaintop, but that's not what he was sent for. Life on the mountaintop is safe, but that is not what our Christian vocation is. Our vocation, our calling, is to spread the Gospel of Christ in word and deed, and to be engaged in the world in lives of love and service, so that the light of Christ shines through us.
Discussion Questions
Have you ever had a "mountaintop experience" in your faith life? Did you wish you could stay there?
Has that experience helped you to live out your faith in the daily grind of life?
What are some ways you can live out your faith and be engaged in the world?
Activity Suggestions
Review the promises that parents and sponsors make in Baptism and that people make when they affirm their Baptism (pages 228 and 236). Talk about how theses faith practices help sustain and strengthen a Christian's faith in between mountaintop experiences.
Bring newspapers or news stories from the Internet and find stories of people in your community and around the world that need us to be engaged in the world as signs of God's loving presence. Go to the ELCA Advocacy (http://www.elca.org/Our-Faith-In-Action/Justice/Advocacy.aspx) page to find some ways you can be engaged as Christ's hands and feet in the world.
Closing Prayer
Everlasting God, we thank you for all those mountaintop experiences where we have felt your presence in amazing and incredible ways. Holy Spirit, help us sustain our faith as we come back down from those mountaintops to engage the world. We pray for all those that need the help of your Church and we pray that you awaken the compassion within us so that we may bring your love and healing presence to them. Amen.