Contributed by Erik Ullestad, West Des Moines, IA
Warm-up Question
Have you been surprised by the words or actions of a stranger?
Actions Speak Louder Than Words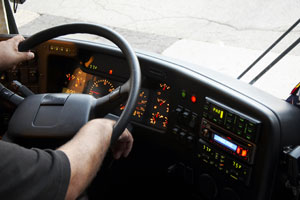 New York City Transit bus drivers are scared and upset.  In the first eight months of the year, 58 drivers were assaulted while driving their routes.  Maria Hogan is one driver who is unsure if she will be going back to work any time soon.
"I have bruises on my arms and legs," she said.  Hogan believes the rider was angry because she skipped a stop in the Fordham section of the Bronx which was closed because of construction.  When she reached the next stop, she says he punched her and left.
Many of the assaults have occurred on the Bx9 route, which runs through the Bronx.  Although MTA officials would not yet say which routes are most dangerous, the bus drivers' union said the Bx9 is one of the worst and management is not doing enough.
"That particular location is a hot spot," said Tony Aiken of the Transport Workers Union. "If you don't have the partitions there, work with police department, work with your security department. Work with anybody who is going to go out there and make us feel safe."
An MTA spokesperson offered a brief statement, "This past weekend's assault is an outrageous insult to the thousands of transit workers who serve the public every day.  We are working closely with TWU to develop barriers to protect the drivers."
Union officials said that is not good enough.
"Actions speak louder than words, not words without action," said Aiken.
Discussion Questions
Would you return to your job if you had been attacked in the workplace?
What do you think should be done to protect the bus drivers?
Scripture Texts (NRSV) for Sunday, September 25, 2011 (Fifteenth Sunday after Pentecost)
(Text links are to Oremus Bible Browser. Oremus Bible Browser is not affiliated with or supported by the Evangelical Lutheran Church in America. You can find the calendar of readings for Year C at Lectionary Readings.)
For lectionary humor and insight, check the weekly comic Agnus Day.
Gospel Reflection
Jesus has a lot to say in these verses.  As he often does, Jesus saves his most challenging words for the religious leaders.  The chief priests and elders want to know who authorized the healing and teaching Jesus has been doing.  He realizes that they are trying to trick him into answering a question that has no satisfactory answer.  So, instead, he dodges their questions about authority and tells a story.
The story is about words and actions.  A man tells his sons to go to work for him.  The first one declines, but later changes his mind and does what his father asked him to do.  The second one agrees, but decides to skip out.  Jesus indicates that the first son – the one who said "no" at first – did the will of his father.  From there, he compares the religious leaders to the second son.  They say words that sound impressive to the people, but Jesus thinks their actions aren't consistent with their words.  He even takes it a step further, indicating that the lowest-of-the-low (tax collectors and prostitutes) will get into heaven before these religious leaders.
"Actions speak louder than words" is an idea that is familiar to many people, but it can be difficult for grace-believing Lutherans to buy into.  We are wary of the notion that our salvation is dependent on our good deeds.  However, it's important to note that the people whom Jesus is scolding are not beyond the reach of God's love.  He doesn't tell the religious leaders that they will be excluded from heaven, but they may have to wait a while.  Their great failing was complacency, believing that saying the right things was a substitute for daily obedience to God.
Perhaps Jesus isn't talking about salvation; maybe he's reminding God's people to treat each other with kindness and love.  Our actions matter to God because God's people matter to God.  As followers of Jesus, the tax collectors and prostitutes had committed themselves to a new way of life.  They were, by no means, a perfect group, but they were honest about their need for a Savior.  Conversely, the chief priests and elders said a lot of impressive things, but their actions did not match their confession.  They were deeply connected with the corrupt government that made the rich richer and the poor poorer.
Jesus is calling us to a life where both our words and actions matter.  The things we say and do reflect the One who has calls us by name, gathers us into a community of faith, and sends us out to do God's work in the world.
Discussion Questions
 Why do you think Jesus is so frustrated with the religious leaders?
What is Jesus saying about words and actions in the father/sons parable?
Which is easier for you – good words or good deeds
Activity Suggestion
Think of something your congregation talks about doing as part of its mission and ministry but rarely has time for.  Create an action plan and start implementing it in future weeks.
Closing Prayer
God, help us to honor you with our lips and our lives.  Amen.