Contributed by Scott Mims, Virginia Beach, VA
Warm-up Question
  (Activity) Give each person some Play-Doh or similar material and have them create a sculpture or a symbol that represents or relates to their faith.  After a few minutes, have everyone share their creation and what it symbolizes.  Take note of how many people incorporate a cross in their sculpture.
Do you think it is easy or hard to be a Christian today?  Why?
If you had to create a single text message that shares the gospel with someone, what would it say?
Take Up Your Cross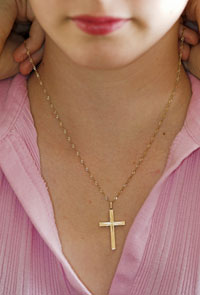 Should a person be fired for wearing a cross, especially when co-workers of other faiths are allowed to wear items symbolic of their beliefs?  Is it appropriate for Christians to refuse to provide services to homosexual couples if doing so conflicts with their personal religious convictions?  These are the issues underlying what some are calling "a watershed moment" in Great Britain.
Four Christians in England, who each claim to have lost their jobs because of discrimination against their Christian beliefs, have recently been granted a hearing by the European Court of Human Rights.  Their case has further fueled debate in England over how to appropriately balance the rights of people to practice their faith with the protection of the rights of others in society.  In recent times British courts have ruled overwhelmingly against Christians, occasionally comparing their beliefs unfavorably with secular principles.
Discussion Questions
What do

you

think it means to be a Christian?
Do you think that being a Christian is more a matter of what you believe or how you act?
Do you feel comfortable wearing jewelry or clothing that identifies you as a Christian?  If not, why not?  If so, are there places or situations where you would feel uncomfortable or that doing so would be inappropriate?
Do you agree or disagree: our overall culture is becoming increasingly indifferent, if not openly hostile, to Christianity?  Why?
What limits, if any, should there be on religious expression?  For example some religions have mandates regarding facial hair or head covering.  Should employers be able to require a shave or a bare head?
Scripture Texts (NRSV) for Sunday, September 16, 2012 (16th Sunday after Pentecost)
(Text links are to Oremus Bible Browser. Oremus Bible Browser is not affiliated with or supported by the Evangelical Lutheran Church in America. You can find the calendar of readings for Year C at Lectionary Readings.)
For lectionary humor and insight, check the weekly comic Agnus Day.
Gospel Reflection
This particular passage is often called the fulcrum or "hinge" of Mark's gospel account.  Not only is it the midpoint of the book, it also marks several important turning points in the story.  Geographically, Jesus has been working mostly in the region of Galilee, but now his ministry will lead him steadily onward to Jerusalem and the cross.  Theologically several shifts also occur.  Up to this point, Mark has focused on who Jesus is as shown by his words and his works of power.  The conclusion he hopes that we, the readers of the gospel, will reach is the same one that Peter voices – Jesus is the Messiah, the Christ.  So, from here on out the gospel will focus much more on what it means that Jesus is the Christ, and subsequently, what it means to those who call themselves Christians.  That is to say, there is a shift at this point from the invitation to follow Jesus to what discipleship – following Jesus – truly looks like.
So, what does discipleship look like?  Another important feature of this passage is that it contains the first of three instances, three "passion predictions," in which Jesus foretells what lies at the end of his journey to Jerusalem (verse 31).  Here, as in the other two instances (Mk. 9:30, 10:32-34), those closest to Jesus fail to understand what he is talking about.  Peter rather famously pulls Jesus aside, as if Jesus is the candidate and Peter the campaign manager, and begins to rebuke Jesus for saying such things.  Jesus just as famously puts Peter in his place.  "Get behind me, Satan! For you are setting your mind not on divine things but on human things."  And here is the essence of the matter, it is not the disciple's place to define what "Messiah" or "Christ" mean, for it is Jesus alone who gets to define these things.  The disciple's place is simply to get behind Jesus, to take up her or his cross, and to follow.
But what does it mean to take up one's cross?  Is it simply to deal with the problems or troubles that come your way with as much patience, determination, and faith as possible?  We often hear of "bearing our cross" in terms of such things.  Yet Jesus has something else, something deeper in mind than getting through life as best as we can.  After all, the cross that awaits Jesus in Jerusalem is not an accidental event or circumstance for him to "get through," it is a direct result of his own work to confront the powers of sin, evil, and death.  Jesus defined Messiah in terms of his identification with the outcasts, the forgotten, and the oppressed, bringing to them in word and deed the promise of God's coming kingdom.  This has important implications for all who would follow Jesus.  "Taking up the cross means being at work where God is at work in the world to relieve suffering and injustice, to rescue the weak, and to bring peace and justice to bear in the human community." (R. Alan Culpepper, Mark)  Because God has gifted each of us with a unique set of gifts, talents, abilities, and experiences, each of us has a unique opportunity to take up our cross and participate in God's redemptive work in the world.
Discussion Questions
One often hears that all you need to do in order to be a Christian is to "believe in Jesus" or to "accept him as your personal Lord and Savior." How do such statements compare with what Jesus calls us to in this passage?  Can a person follow Jesus apart from believing in him?  Can a person believe in him without following?
If you were either to paint a picture or to make a list of what it means to take up your cross and follow Jesus, what are some of the things that you would include?
How far would you be willing to go in order to be a disciple?  What things in your life right now would you be willing to give up, change, or take on in order to follow Jesus?
Even after listening to him teach and witnessing the things that he did, Jesus' disciples still had a hard time fully understanding what he was up to.  Are there ways in which Christians today misunderstand Jesus?
Activity Suggestions
Baptismal Connections    Examine together the Affirmation of Baptism service, and especially the description of our baptismal covenant (Evangelical Lutheran Worship, pg. 236; Lutheran Book of Worship, pg. 201).  How is this a description of what it means to be a disciple?  Brainstorm together some practical, every day ways you can live out these promises.  For example, what does it look like to live among God's faithful people?  How does one proclaim the good news of God in word and deed in real, actionable terms, or strive for justice and peace in all the earth?
Gifted to Serve   Use a spiritual gifts inventory, or other such instrument, to help participants identify and claim some of the ways in which God has gifted them.  Challenge them to consider how they might use their specific gifts and abilities to participate in God's redemptive work in the world.  How can using their gifts become a way of taking up their cross and following Jesus?  One such inventory can be found on the ELCA website:
http://www.elca.org/Growing-In-Faith/Discipleship/Christian-Education/Program-Planners/2005/SpiritualGifts.aspx
Closing Prayer
Gracious and loving God, in the waters of baptism you name us and claim us and make us your own.  Thank you for the gift of new life and for the invitation to experience that life in the community of your church.  Fill us with your Spirit, call deeply to our hearts, and lead us to more fully and faithfully follow Jesus.  Guide our thoughts, our words, and our actions, that we may be your hands and voice in a world so hungry to experience good news.  In Jesus' name we pray.  Amen.