Lindean Barnett Christenson, Bozeman, MT
​
Warm-up Question
In what contexts have you heard or used these phrases? What do they mean?
"Ignorance is bliss."
"I can't unsee that."
"I once was blind, but now I see."
I Can See Clearly Now

Multiple aid organizations credit intense media coverage of the refugee crisis in Syria for record-breaking contributions to their relief work in September. One photo in particular, of a Syrian child who drowned and whose body was recovered on a Turkish beach, was widely distributed and commented upon.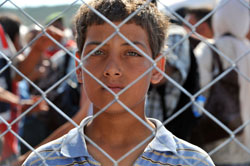 Jane Martinson, head of the media desk at the Guardian, was quoted by NPR as saying of the photo, "It really did put a human face on this awful humanitarian crisis. It has the power to change the nature of the debate on what is happening and what our reaction should be and how we should deal with it."
Violence, poverty, and political instability have forced millions of Syrians, Iraqis, and others to flee their homes, seeking safety and hope in countries that are not always prepared to welcome them. Radio, television, print and digital media have made it nearly impossible for many to remain ignorant of, or to ignore, the situation.
For more information:
Record setting donations in September 2015:
https://philanthropy.com/article/September-a-Record-Setting/233694
Consideration of media coverage of the refugee crisis:
http://www.npr.org/sections/thetwo-way/2015/09/03/437336063/image-of-dead-syrian-child-shakes-up-media-coverage-of-refugee-crisis
The work of Lutheran World Relief: https://www.kintera.org/site/c.dmJXKiOYJgI6G/b.9206825/k.D21E/Europe_and_the_Syrian_Refugee_amp_Migrant_Crisis/apps/ka/sd/donor.asp?c=dmJXKiOYJgI6G&b=9206825&en=4dIxEFPfG3JGKPMiF2IDILOsHnIKKKOpHbIFIMNmG9JKKPNqFrH
Overview of refugee/migrant crises around the world:
http://www.nytimes.com/interactive/2015/06/09/world/migrants-global-refugee-crisis-mediterranean-ukraine-syria-rohingya-malaysia-iraq.html
Discussion Questions
What do you know about the refugee crisis in Europe? How did you learn what you know?
Did you see the photo referred to above? If yes, describe your reaction.
Do you prefer to know about current events outside of your community? Why or why not?
Twenty-second Sunday after Pentecost (Some may observe Reformation Sunday)

(Text links are to Oremus Bible Browser. Oremus Bible Browser is not affiliated with or supported by the Evangelical Lutheran Church in America. You can find the calendar of readings for Year B at Lectionary Readings
For lectionary humor and insight, check the weekly comic Agnus Day.
Gospel Reflection
At first glance, the story of Bartimaeus is a straightforward account of Jesus healing a blind man, restoring his sight. Upon closer reading, in the context of Mark's whole gospel account, the healing of Bartimaeus calls to mind another healing of a blind man (Mark 8:22-26) and the healing of a bleeding woman (to whom Jesus also said, "your faith has made you well" (Mark 5:34).  The answer Bartimaeus gives to Jesus' question indicates that he had more insight into Jesus than disciples, James and John, when asked the very same question, "What do you want me to do for you?" (Mark 10:35-45).
In addition to Bartimaeus and Jesus, an anonymous crowd has a speaking part in the story. In the span of two short verses, the "many" change their tune, from sternly ordering Bartimaeus to be quiet, to calling him to "Take heart; get up, [Jesus] is calling you." What happened? Bartimaeus cried to Jesus with even more resolve, and Jesus stood still. He stopped walking out of Jericho toward Jerusalem, and told the crowd to call Bartimaeus to him. Perhaps, in seeing Jesus' pay attention to Bartimaeus and then call for him, the crowd received new eyes to really see and appreciate the humanity of Bartimaeus. Thanks to the mercy of Jesus, Bartimaeus, the blind beggar, was not the only one whose sight was restored that day.
Many commentators note that in addition to being a healing story, the story of Bartimaeus is also a call story. Jesus told Bartimaeus to go, but Mark tells us that Bartimaeus followed Jesus on the way – the way to Jerusalem, the way to the cross.
Discussion Questions
What shows you that Bartimaeus "saw" Jesus, that is, really understood him, before he received his sight?
What might have motivated the "many" to sternly order Bartimaeus to be quiet?
Describe a time when you weren't really seen. Describe a time when someone really did "see," or "get" you. What was that like?
Describe a situation where you "saw" someone, but didn't really see him/her.
Who brought you to Jesus? Of whom might Jesus be saying to you, "Call him/her here?"
How would you answer Jesus' question, "What do you want me to do for you?" Why?
Activity Suggestions
Brainstorm a list of hymns/songs that reference seeing or blindness. Use your congregation's worship books, or invite a musician, to help you.  (To help you get started: Be Thou My Vision; Open the Eyes of My Heart;  Open Our Eyes Lord, Amazing Grace; Holy, Holy, Holy, Lord God Almighty (check out verse 3)). What do you notice?
Watch this YouTube video of Paul Baloche telling the story of how Open the Eyes of My Heart was written: https://www.youtube.com/watch?v=gA9Tg2CK6ZA
Closing Prayer
Lord Jesus, it is easy to look without really seeing.  Give us grace to slow down and notice those who might be healed and uplifted by experiencing your love–and give us wisdom and compassion to be the instruments of that love.