Contributed by John Wertz, Blacksburg, VA
Warm-up Question
What is your favorite animal?  Why?
Blessing of the Animals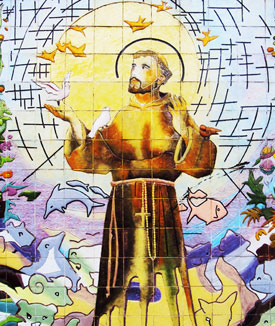 According to the Humane Society, there are over 164.6 million cats and dogs living as household pets in the United States. For many, pets are a beloved member of the family.  Today, on the Sunday closest to October 4, churches around the country will hold Blessing of the Animals services as a way for Christians to give thanks to God for the joy and love that pets bring to the lives of their owners.
The love of pets and animals is neither new nor exclusive to the United States.  People have loved and cared for animals as a part of God's creation for centuries.  One of the most famous animal lovers was St. Francis of Assisi who referred to the animals as his brothers and sisters.  Once, according tradition, Francis was once traveling with some companions and they happened upon a place in the road where birds filled the trees on either side. Francis told his companions, "Wait for me while I go to preach to my sisters the birds."   On another occasion, Francis supposedly persuaded a wolf to stop attacking some locals if they agreed to feed the wolf. Given Francis' connection to animals and the fact that the church commemorates (remembers) Francis of Assisi on October 4, the Sunday closest to October 4 seems like a perfect time to celebrate the Blessing of the Animals.
In addition to his love of animals and all of creation, Francis was known for his devotion to the poor.  Though born into a wealthy family, he gave up his inheritance to serve the poor and founded the Franciscans, a monastic order. Francis believed that it was important for his faith to bear fruit in the world, so he took a vow of poverty, worked with lepers, acted as a peacemaker, and inspired others to adopt a way of life focused on serving God and others.
Discussion Questions
Why do you think people participate in a Blessing of the Animals Service?  What do you think a Blessing of the Animals Service says about our relationship to creation?
Francis of Assisi famously said, "Go and preach the Gospel.  Use words if necessary."  Can you think of a time when you or someone else shared the Gospel—the good news about God's love for the world in Jesus Christ—without using words?
Scripture Texts (NRSV) for Sunday, October 2, 2011 (Sixteenth Sunday After Pentecost)
(Text links are to Oremus Bible Browser. Oremus Bible Browser is not affiliated with or supported by the Evangelical Lutheran Church in America. You can find the calendar of readings for Year C at Lectionary Readings.)
For lectionary humor and insight, check the weekly comic Agnus Day.
Gospel Reflection
For Francis of Assisi, it wasn't enough to study about God.  He wanted to bear the fruit of God's love by living out his faith through his actions in the world.  Francis took seriously the call to serve others.  He devoted his life to caring for the sick and those in need.  He rejected the world's obsession with stuff and chose a path of simplicity and poverty.  He cared about creation and loved the world around him.  "Go and preach the Gospel.  Use words if necessary." was not simply a slogan, it was a way of life.
For some people, there is a disconnect between what they say that they believe and how they act in their daily lives.  They may speak about the importance of loving their neighbor, but when their neighbor is in need, they turn their back.  They may talk about following Jesus' example, but somehow they never manage to move beyond fulfilling their own selfish desires.  According to our reading from Matthew, the chief priests and the Pharisees are just this type of person.  They know the story of God's relationship with God's people, but it doesn't seem to influence how they treat others and the world around them.  They appear to be more concerned about themselves than about bearing the fruit of God's love in the world.
In an effort to help the chief priests and the Pharisees understand the gap between what God does for them and their actions, Jesus shares this parable of the vineyard.  In the parable, the tenants disobey their Lord, murder his messengers, and ultimately reject and kill his son.  Upon hearing the story, the Chief Priests and Pharisees are enraged.  How could anyone act this way toward their master?  They quickly declare that these disobedient tenants should be punished and that the punishment should be death. As Jesus continues to speak, the Chief Priests and the Pharisees begin to understand that this is not a random story, but a story about them and the way they are living as God's people in the world.
Now, in fairness to the chief priests and the Pharisees, I imagine that they truly believed that they were acting faithfully and that Jesus was the one being unfaithful to God.   As we look back, however, it appears that these men failed to grasp that they, like all of God's children, are caretakers of the gifts God has given us, and that we are all called to use those gifts in God's service in the world, not simply to hoard them for themselves.
A great deal has changed in the centuries since Jesus first shared this parable, but the call for God's people remains to build our lives on the cornerstone of Jesus, to bear fruit, to live out our faith in daily life, and to do God's work with our hands.   What will the fruit you bear look like? Only you can know the answer to that question, but God has given you a variety of gifts and the key is to claim the gifts God has given you and to look for ways to use those gifts to help others know the good news of God's love.
Discussion Questions
How do you think the chief priests and the Pharisees felt when Jesus finished sharing the parable?
Instead of learning from Jesus and admitting their mistake, the chief priests and the Pharisees get more angry and more upset with Jesus.  Why do you think they refused to learn and change?
What is a cornerstone?  What does it mean to have Jesus as a cornerstone in our lives?
Name one gift or talent God has given you.  How can you use that gift in God's service in the world?
Activity Suggestions
Invite the group to identify two gifts or talents that God has given each person who is present.  Work together to discover ways that those talents can be used to bear the fruit of God's love in the world.
Make a banner or art display that depicts a tree bearing fruit.  Give each worshiper (or participant in your group) a slip of paper shaped like a piece of fruit and invite them to identify one gift or talent God has given them and write it on their fruit.  Collect all the 'fruits' and hang them on the tree.
As a group, volunteer at a local animal shelter.
Closing Prayer
Loving God, through your teaching you help us to understand more fully how you want us to live as your people in the world.  Inspire us to claim the gifts and talents you have given us and to use those blessings to bear the fruit of your love through our words and our actions.  Amen.