Chris Heavner, Clemson, SC
​
Warm-up Question
Doesn't it make you want to scream, every time someone points out horrible behavior among "Christians"?  What are the most telling criticisms you hear?
Don't you want to jerk a knot in the neck of a fellow member of the Church who gives those critics more evidence for their condemnations?  What are some examples?
Loving the Life of a Servant

One of the images which dominated the visit of Pope Francis to the U.S. was his climbing in and out of the back seat of that little black car.  If you didn't happen to see it, here is one of thousands of links – NPR: The Pope and His Car.  Most international dignitaries ride in larger vehicles.  These cars are more easily equipped by security guards with bullet proof glass.  Such cars also allow for aides to brief the dignitary on their next encounter.  But, Pope Francis decided to ride in a little car.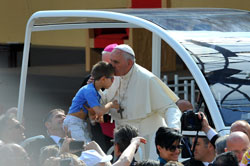 Some thought he was thumbing his nose at the hosts who wanted to treat him with honor.  Some accused him of making a show.  But he kept getting in that little car and riding around town.  There were times when the car got as much press coverage as what Francis said—which was okay, because that little car was another way he expressed his message.
"The Church is to serve." Pope Francis said.  He reminded us that Jesus calls us to be the servant of others and to be the one who goes out of our way in order to meet the needs of those so easily forgotten or overlooked.
A true mark of knowing Jesus and following Jesus is not being tempted by the bigger stage or the brighter lights.  Surely, this Pope taught us something about the good news of Jesus.
Discussion Questions
Did you think the Pope was just making a show by riding around in that little car?
If you were to be selected as an important leader, how would you respond to the temptation to be given the biggest and best of everything?  What would be the greatest temptation for you personally?
To most of God's children, you do have some big and impressive things.  How might some of these interfere with the ability of folks to see you as a servant of God?
Lectionary 32/ Twenty-Fourth Sunday after Pentecost
(Text links are to Oremus Bible Browser. Oremus Bible Browser is not affiliated with or supported by the Evangelical Lutheran Church in America. You can find the calendar of readings for Year B at Lectionary Readings
For lectionary humor and insight, check the weekly comic Agnus Day.
Gospel Reflection
These are two separate vignettes.  What joins them is the mention of "widows."  In the first, these vulnerable members of God's family are taken advantage of.  In the second, one of them is a model of faith.  Jesus' words regarding the scribes and his observations of a widow may not have occurred on the same day.  They are retold together as the conclusion to Jesus' public ministry.
These verses are the end of Chapter 12.  Chapter 13 is a discourse on the final things.  The remaining chapters are all about the Passion and Death of Jesus.  So, Mark 12:38-44 is the final act/comment of Jesus' public ministry.  Is it at the end because everything of importance has been said?  Or is this final instruction something we particularly need to remember?
One more thought to keep in mind is whether Mark 12:37b belongs with what went before or if it should be an introduction to today's appointed verses.  (Remember that the numbering of chapters and verses was added much later in the printing and reprinting of our scriptures.)  Mark 12:37b reads "The large crowd heard Jesus gladly."  The crowds loved what he was saying; maybe those who considered themselves higher and mightier than others did not.
The "scribes" or "teachers of the Law" would be akin to lawyers and judges in our day.  They didn't make the Law, but they were charged with interpreting it.  This is why Jesus argues with them so much; he  claimed to be above the Law  (Mark 3:4ff, 12:14ff).  In this vignette, they display characteristics of a rich and snobby upper class.  One could read in these verses that the scribes had profited (inappropriately) from their service to the community. Might they have gained the admiration of wealthy widows so as to lay claim to some of the widow's possessions?  (Think televangelists with jets and mansions; some things never change)
Remember that Jesus had told his followers not to seek honor (Mark 9:33) and to accept the hospitality of the first who offered rather than shopping around for a better home in which to stay (Mark 6:8-10).
The Scribes were attracted to social trappings and fancy things.  In today's readings, this is contrasted with the individual widow.  She seeks to serve; hers is an act of sacrifice.   It is also the kind of action which no one notices.  Jesus noticed – Jesus always notices – but he has to tell the disciples what had happened.
Be careful not to make too much of these copper coins being the last in this woman's pocket.  The words of Jesus are intended to ask us where we place our trust rather than to describe the actual state of affairs.
Discussion Questions
"Long robes" were the symbol sought by the scribes in Jesus' sermon.  What are the symbols of wealth and power that dominate our culture?
An old song reminded us, "O Lord, it's hard to be humble."  What are the marks of true humility?
What does Jesus' words say to our "having a new iPhone every year" culture?
Do you think it was okay for the poor widow to put her last coins in the treasury?  Was she being irresponsible? Might she have been excused from the Temple tax?  (It is often true that those with less give more.  Low income congregations have more who tithe than affluent congregations.)
Activity Suggestions
Invite five persons into a conversation about power and influence.  Find out the ways in which they discern how powerful a person is.  Is it by their clothing, job title, respect others extend to them, or something else.  Ask whether the persons named use their power for self-advancement or whether they use it to enhance the common good.
Actively explore what stands in the way of your offering to God all that you have.  What possession are you most proud of or dependent upon?  Are there "things" which stand between you and Jesus?
Closing Prayer
Humble Jesus, you made it clear that places of honor are not the thing to be most valued.  Help us to value our inclusion in your family and to forsake the false symbols of importance.  Keep our eyes focused on those who do your will and help us to see the beauty of a life lived in your service.  Amen.