Ginger Litman-Koon, Mt. Pleasant, SC
Warm-up Question
How do you see people becoming divided during the pandemic? How have you seen people coming together?
That We May Be One
The global pandemic has caused communities around the world to put social distancing and isolation measures in place. These measures have proven effective in keeping people apart, and, therefore, reducing the spread of COVID-19. Artists across the globe, however, have not allowed social distancing to squelch the unifying effect of art. Musicians began to share their musical gifts, either from their front door or through the web. One video of opera singer Maurizio Marchini performing an aria from his balcony in Italy, one of the hardest-hit countries in the world, went viral and brought joy to both his neighbors, as well as audiences across the web.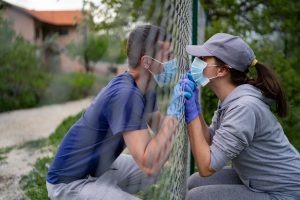 Photographers have also been employing their talents to lift people up and bring communities together. In Minneapolis, photographer Scott Streble began what he calls the Front Porch Project, to document this memorable time in our shared history. No matter what our families, homes, or lives look like right now, one thing we can share is the experience of "quarantine," as the national social-distancing efforts have been commonly termed. In New York City, the worst-hit metropolitan area in the US, artist Arina Voronova created a street-art campaign called Act of Love, showing different couples sharing a kiss while wearing surgical masks. Her goal was simply to spread love in a difficult time. Her campaign is just one of many which uses art to lift spirits and create a sense of solidarity amidst the stress and isolation of pandemic.
Discussion Questions
How have you seen unity during the pandemic?
Has your community participated in any acts of solidarity during this time? How?
What effect have these actions had on you? on those on the front lines? The community?
Seventh Sunday of Easter
(Text links are to Oremus Bible Browser. Oremus Bible Browser is not affiliated with or supported by the Evangelical Lutheran Church in America. You can find the calendar of readings for Year A at Lectionary Readings.)
For lectionary humor and insight, check the weekly comic Agnus Day.
Gospel Reflection
Protection. We all want it. We all need it. Especially with the ever-present threat of COVID-19, protection is front-and-center in our minds these days. You or your family members may have used protective coverings to go out for work, shopping, or even exercise. Wearing a face mask to the store or gloves to pump gas may feel awkward or even embarrassing. But over the last few weeks it has become necessary for the safety of self and others. 
In today's Gospel Reading from John 17, Jesus prays to God the Father on behalf of his disciples. He prays that God would grant us eternal life, and he prays that he would provide us with protection. "Holy Father, protect them in your name that you have given me," Jesus says, "so that they may be one, as we are one." I don't know about you, but just hearing these words of Jesus gives me a sense of comfort. Our Lord Jesus prayed for us, for our protection. Just that fact alone brings peace.
Jesus prays that God would protect us. He prays because he knows that we need it, and he prays because he knows God can provide it. Disciples of Jesus need protection, because we are not supposed to stay locked away behind closed doors forever. Our calling is to shine the light of Christ wherever we go – even if, for right now, that's just for a walk or to the store for a loaf of bread. Disciples of Jesus are called, equipped, and commissioned to be Christ's representatives in the world, even when the world is a little scary. And that's why we need protection. That protection may come in the form of face masks and gloves, worn to protect the most vulnerable around us, or it may come in the form of God's watchful eye, leading and guiding us through each day in safety.
But there is another facet to Jesus' prayer for our protection. He prays that the Father would protect us for a particular reason. The reason he gives is "that they may be one." Jesus implores the Father to protect us, not only from harm, but from division. Jesus' ultimate desire for his disciples is unity. Jesus wants his followers to know the loving unity that he shares with the Father and the Holy Spirit. Above all, Jesus prays that the Church would be protected from everything that pulls us apart, builds walls between us and sets us against one another. 
We, the Church, may not "feel" very united right now, since many of us cannot worship together in-person. However, there are many ways we can see how God is keeping us united. We are being united by worship – whether through online worship, drive-in church, or messages arriving through "snail mail." We are being united by service – disciples around the world are finding ways to serve those in need, whether through blood drives, food collections, community gardens, or other means. Some people are using their sewing skills to make cheery patterned or logo masks, in order to make personal protection a little less intimidating. We are also being united in prayer – pastors have received many calls, notes and emails just letting us know that we and our congregations are being lifted up in prayer at this time.
For the sake of his beloved Son, God is answering Jesus' prayer for protection. He is providing for our physical and spiritual needs through the work of very Body of Christ, the Church. May we trust more each day in God's care for us, for Jesus' sake.
Discussion Questions
Have you needed extra protection during the pandemic? Did you have what you need?
In what ways have you felt protected during this time? Have you offered protection?
Do you have any ideas of how you or our church could help provide protection to others?
Activity Suggestion
In the next to last paragraph, the gospel reflection mentions a number of ways we are being united–by service, worship, and prayer.  Do something to build  unity through service in the coming week, either by engaging in one of the actions mentioned in this Faith Lens or by doing something of your own creation.
Closing Prayer 
Sheltering God, like a mother hen, you cover your children  under the protection of your holy wings. Keep us safe, protect us, and guide your Church toward greater unity, now and always. Amen.