Kris Litman-Koon, Mt. Pleasant, SC
Warm-up Question
Have you ever been to a concert for a touring artist or band? If you've been to several, what was your first concert?
Peace Out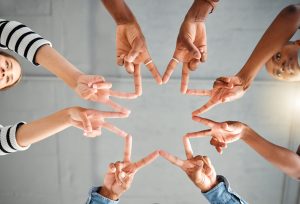 After forming in Boston more than 50 years ago, Aerosmith recently announced their farewell tour will begin later in 2023. Aerosmith is heralded as the best-selling American rock band of all time. They have more sales certifications — multi platinum, platinum, gold — than any other American group. Over the decades, Aerosmith has released numerous songs that received heavy radio airplay — including Dream On, Walk this Way, and Sweet Emotion.  The band frequently makes the short list in rankings of the best bands ever. Aerosmith even has a roller coaster dedicated to them at Disney World. 
Citing a desire to focus on his health and family, drummer Joey Kramer will not be joining Aerosmith's other founding members — Steven Tyler, Joe Perry, Tom Hamilton, and Brad Whitford — for this finale tour. In their statement announcing the tour, the band said, "It's not goodbye it's PEACE OUT!" 
Discussion Questions
Have you heard of Aerosmith previously? If so, do you enjoy their music?
What activities, if any, could you see yourself enjoying for 50+ years?
If you were saying farewell to your fans, friends,  or family, would you do something special for the occasion?  What would it be?
Seventh Sunday of Easter
(Text links are to Oremus Bible Browser. Oremus Bible Browser is not affiliated with or supported by the Evangelical Lutheran Church in America. You can find the calendar of readings for Year A at Lectionary Readings.)
For lectionary humor and insight, check the weekly comic Agnus Day.
Gospel Reflection
Chapter 17 of John's gospel takes place at the end of what scholars call "Jesus' farewell discourse." This discourse occurs during his final meal with his disciples before his arrest, and what he says during this discourse covers multiple chapters of John's gospel. Chapter 17 marks a shift, however, because Jesus is no longer speaking to the disciples. Rather, he is now praying to God, and the listener/reader hears his prayer. 
In this prayer, Jesus sounds confident that God will see him through this hour. The way that Jesus uses the term "my hour" in John's gospel has special meaning. His death, resurrection, and ascension are, though three specific events, understood as one single, cataclysmic event for both heaven and earth. To put it simply, all of existence and all of time — and beyond! — find their meaning and culmination in his hour. 
As Jesus begins his prayer in Chapter 17, he states that his hour reveals glory (quickly count how many times variations of "glory" are used in verses 1-5), though it is hard to peg down only one definition of this glory. Likewise, this hour reveals giving (quickly count how many times expressions of "giving" are used in verses 6-11), though it is hard to coherently chart what/who exactly is possessed by what/whom.
That incoherence might be the point. It's as if he wants us to respond to his hour by saying, "Okay, we understand we can never fully wrap our minds around all this." Yet, Jesus doesn't want to leave us with only a sense of bewilderment, so in verse 11 he finally reaches the petition (i.e. "the ask") portion of the prayer. Jesus asks that the Holy Father protect the ones who listen to his words so that they may be one.
Jesus wants us to know that as he leaves us in his hour, he hands us back to God. He hands us back because Jesus loves us, and in this petition we hear Jesus holding God accountable to the promises that God has made to us. Jesus assures us that our life together rests in and depends on God's care. Discord within the community will take place, yet the assurance is that God's protection (and the concord found within it) is always available to us by following Jesus' teaching to love one another. Ultimately, this farewell prayer is not a mere goodbye to the community; this prayer leaves us with peace. 
Discussion Questions
Do you think the petition for the community's protection is a suitable farewell prayer? Would you have asked for something different?
With Jesus' ascension being an aspect of his hour, how might it be that God is glorified by Jesus handing over his mission to his followers?

   
Activity Suggestions
This is the Sunday after the Ascension of Jesus, yet before the gift of the Holy Spirit at Pentecost. So our activity is attempting to keep a balloon in the air without it touching anything but our bodies. You can only tap the balloon, not hold onto it. No one can tap the balloon twice in a row. Depending on the space and the number of people, you may consider having additional balloons at play, or consider having a rule that everyone must touch the balloon before anyone can tap it a second time, or consider whether a one-on-one competition is suitable.
Closing Prayer
Loving God, you are the everlasting protection of those who listen to Jesus. Guide us in our ongoing mission of continuing his work: bearing witness to you through our embodiment of love, compassion, and dignity for every person. Amen.