Dennis Sepper, South Hill, WA

Warm-up Questions
What do you think of when you hear the word "home"?  What do you see in your mind's eye?  What feelings do you associate with the word home?
Being Home

April 16, 2016—Greece.  Pope Francis made a five-hour visit to the Greek island of Lesbos.  He was joined by the head of the Church of Greece and Orthodox Christian leader Ecumenical Patriarch Bartholomew.  On this humanitarian visit the religious leaders visited Camp Moria, a camp where refugees are awaiting deportation to Turkey.  Camp Moria was home to migrants free to come and go at will, notes NBC's Bill Neely. Now it's a detention center where some 3,000 people are held.
It is hard for most of us reading this week's Faith Lens to imagine what it would be like to leave our homes and possessions behind to go somewhere else in the country or world. Yet as noted above thousands are now refugees in our world due to war, famine or oppression in their countries.  Even here in the United States people are without a place to call home due to poverty or illness.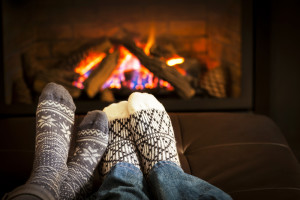 "Home" is very powerful image.  While we often think of home as a building, it is really much more than a structure.  Home is where we feel safe and nurtured by those around us no matter where we are.  Home is where we find love and are empowered to go out from home to follow Jesus and to serve our neighbor and the world.
Now we know in a sinful world home is not a comfortable place for some.  Broadening our definition of home allows us to see that there are places and people who create "home' for those who do not find it in their place of residence.
When Pope Francis left Camp Moria he took three families with him so that they could create a new home in Italy.  Francis also told the thousands of refugees that they were not alone.  Even though they were hundreds of miles away from their homeland people would be praying for them and God and Jesus would be with them.
Discussion Questions
What is the best thing you like about home wherever that might be?  Why?
What are some of the characteristics of home that make it such a powerful image?
Where are some of the places one could find "home" outside of the house where you grew up?
Sixth Sunday of Easter
(Text links are to Oremus Bible Browser. Oremus Bible Browser is not affiliated with or supported by the Evangelical Lutheran Church in America. You can find the calendar of readings for Year B at Lectionary Readings
For lectionary humor and insight, check the weekly comic Agnus Day.
Gospel Reflection
Our Gospel text takes us back before the resurrection of Jesus.  In this section of John's Gospel Jesus is preparing the disciples and other followers for his upcoming departure, arrest, and death.  Here Jesus promises that God will send the Holy Spirit who will remind them of everything Jesus told them.  Jesus also says that those who love him and keep his words will be loved by God and that the Father, Jesus, and the Holy Spirit will make their "home" with them (verse 23).  In light of that the followers of Jesus should not let their hearts be troubled or be afraid because the Father, Jesus, and the Holy Spirit will be with them to nurture them and assist them in their life of discipleship.
The Church places this text on the Sixth Sunday of Easter because on Thursday we celebrate the festival day of the Ascension of our Lord remembering how Jesus again left the disciples and ascended to heaven after his resurrection.  In that way the words of Jesus then are spoken to us now.  Within us and within our faith communities, the Father, Jesus, and the Holy Spirit reside.  They make their "home" with us.
With Jesus and the Spirit's presence we are nurtured and empowered to love and follow Jesus is lives of service and faithfulness.  When God is in our lives we need not be afraid of what the future holds and we can experience the "peace" Jesus bestows on us through the Holy Spirit.  Now that's a home no matter where we are in the world.
We should also note how this home image plays out in our other readings this week.  In the first reading Paul heads to Macedonia where he seeks out a group of women praying by a river.  The women seem to gather here regularly for prayer (could it be home for this group of faithful women?)  One of the women, a wealthy person named Lydia, listened eagerly to Paul's teaching and is moved to be baptized along with her whole household.  Out of appreciation Lydia invites Paul to come and stay at her home which Paul did.
In the second reading John of Patmos sees a vision of a new home, the holy city Jerusalem at the end of time.  A home where there is no need of moon or sun because God and Jesus (the lamb) are its light.  A home that has the river of life flowing through it and a tree of life growing nearby bearing fruit for the people and whose leaves are for healing.  This is a beautiful image of our heavenly home where there will be peace and safety.
Finally in our alternate Gospel reading, John 5:1-9, Jesus heals a person who had been ill for thirty-eight years.  For all that time this person's home was a place on the ground by the pool of Beth-zatha.  After the healing the man begins to walk away toward a new home.  It should also be noted that Jesus did this healing on the Sabbath which was against the religious rules of the day.  Jesus breaks the rule because the healing of the ill man was more important.  Jesus is showing how service to neighbor is important to the followers of Jesus.
Discussion Questions
Jesus gives another title to the Holy Spirit.  What does "the Advocate" mean to you?  What does an advocate do?
What do you think Jesus means when he says "Peace I leave you; my peace I give to you"?  How is the peace Jesus gives different than the peace the world gives?
Do you think these words of Jesus were a comfort to the disciples?  Are Jesus' words comforting or encouraging to you and your discipleship?
Activity Suggestions
As a group or as an individual think of a home or a homecoming story in the Bible (or Google it).  Read that story thinking about it says about God and Jesus and our relationship to them.  Also, think about which character in the story do you identify and why.  Share you insights with the group.
Just to get you started, here are a few example:  the Prodigal Child (Luke 15:-32); the reunion of Jacob and Esau (Genesis 33); the story of Ruth and Naomi (Ruth chapter 1); the story of Mary and Martha (Luke 10:38-42 or Luke 11:1-42)
Closing Prayer
Almighty and loving God, we thank you for the gift of your presence in our lives.  We thank you for the gift of Jesus and for sending your Holy Spirit upon us.  In the waters of baptism you came into our lives and created a home within us.  Strengthen us through the Spirit to be committed and dedicated disciples of Jesus.  Calm our troubled hearts and our fears as we boldly proclaim the Good News and serve you and our neighbors throughout the world.  In your holy and precious name we pray.  Amen.