Contributed by Jay Gamelin, pastor to Jacob's Porch, a Lutheran Campus mission to The Ohio State University, Columbus, OH.
Warm-up Question
What is the sickest you have ever been?  What did it take to get better?  If you are still feeling the effects of illness or injury, what are the steps you are taking to improve your health?
Hope and Modern Medicine
There is a correlation between an optimistic patient and the likelihood of improved health say researchers at Duke University.  Gathering data from several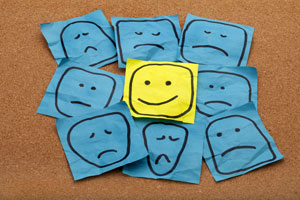 thousand patients undergoing cardiac diagnostic testing, they found that patients with a positive outlook for the coming 15 years were half as likely to die from heart disease as the most pessimistic patients.  Even after removing data from the most affected and depressed patients, a positive outlook still remained as a large factor in the continued health of the patients—for many as much as the medication they took to treat heart disease.
This research suggests that creating hopeful expectations for patients, even what may seem like unrealistic hope, can have a profound impact on the health of patients.  The study highlights the growing understanding of how a person's health is not simply an equation to solve with medicine and surgery but also something impacted by mysterious forces that stem from emotional and spiritual well-being.
In other words, it takes more than medicine to provide the best care.
Discussion Questions
Do you believe the study?  Do you think a positive attitude and hopeful outlook improve health?  Why or why not?  What evidence do you have of this in your own or in another's life?
How do you think a positive outlook affects your everyday life?
What would change for you tomorrow if a miraculous event happened in your life?  How might you see the world differently if you had a tremendous amount of hope?
Scripture Texts (NRSV) for Sunday, April 3, 2011 (Fourth Sunday in Lent)
1 Samuel 16:1-13
Ephesians 5:8-14
John 9:1-41
(Text links are to Oremus Bible Browser. Oremus Bible Browser is not affiliated with or supported by the Evangelical Lutheran Church in America. You can find the calendar of readings for Year C at Lectionary Readings.)
For lectionary humor and insight, check the weekly comic Agnus Day.
Gospel Reflection
The impossible is just that- not possible.  We are taught that there are immutable laws in the universe that define and govern the way we interact.  Following in the steps of Newton, Einstein, and Curie,  scientists are still working hard to discover the rules of the universe so that we can better understand how we interact with the world.
So what do we do when we encounter something that goes against these laws?  In today's text we see four ways to reflect on outrageous hope.  The man born blind is confronted first by the disciples.  They assume that the man's condition is a result of sin.  Next, after the man is healed, the neighbors assume that the healed man must not be the man born blind but someone else.  Third, when he is brought to the priests they assume that there is foul play involved and wish to focus on condemning the method by which the man is given vision.  All three of these find some fault, some way to explain the problem so that it makes sense in their understanding of the universe.  For them the man being blind then given vision is a problem not a solution.
Last is the man himself.  When asked he answers with sublime simplicity: "I do not know whether (Jesus) is a sinner. One thing I do know, that though I was blind, now I see."(9:25)   The man does not try to answer why he can see, he simply states the obvious, he can see.
When we encounter the unbelievable hope we have in Jesus it is so easy to try and explain it, to make sense of it, to try and reason why Jesus is or perhaps is not who we say Jesus is.  But one thing is true.  A man was blind.  Many, many women and men witnessed this.  Jesus healed this man and he could see.  Many, many women and men witnessed this and even died defending what they saw.  Even his parents!  This is what we know: it really and truly happened.
Perhaps when we try to explain everything we just make it complicated.  Perhaps living in hope and faith is not knowing and explaining but simply stating "I do not know how.  One thing I do know: He was dead and now he is risen."
May we have hope.
Quotables
Faith is, at one and the same time, absolutely necessary and altogether impossible–Stanislaw Lem
Sometimes I've believed as many as six impossible things before breakfast– Lewis Carroll
Things are only impossible until they are not–Jean-Luc Picard
Discussion Questions
What makes it difficult to believe impossible things?
What is the difference between believing and knowing?
What is the difference between us and the disciples?  How do we come to trust what others have seen?
Activity Suggestions
Faith Box:  Have a box in the room.  Put something that may seem improbable in the box.  Perhaps have a picture of Mount Rushmore and stick it in.  Or write 10 tons of rocks on a sheet of paper.  Tell the youth that Mount Rushmore or 10 tons of rocks is in the box.
Do they believe you or not?  If they do, why?  If not, why not?
What is one thing you believe but have no proof?  (Life in outer space perhaps?  Or the Loch Ness Monster, Sasquatch, whatever)  What causes you to believe this?
What we believe is often determined by the trust we put in the person making an impossible claim.  Who told you about this impossible thing?  Do the students trust this teacher?  Why or why not?
The thing in the box: do the students believe what you put in there?  Do they trust your witness?
What does this say about whether or not we trust the disciples?  What do we trust about the teachings we have learned?  What makes it hard to trust?
(DON'T SHOW THEM WHAT WAS IN THERE.  MAKE THEM LEAVE WITHOUT GETTING THE PROOF THEY DESIRE)
Closing Prayer
Jesus, you really died.  You really rose.  Help us to trust those who have told us this impossible thing.  Amen