Contributed by Jen Krausz, Bethlehem, PA
Warm-up Question
Have you ever passed out party invitations at school? What was the reaction?
Conflict at the Corner of Church and State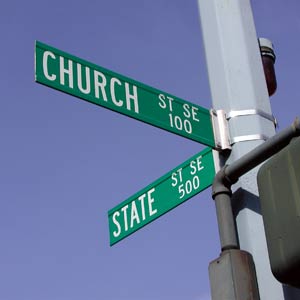 The Alliance Defense Fund, an organization devoted to promoting religious liberty, has filed a lawsuit against Pocono Mountain School district in Pennsylvania for discriminating against a fifth grade student.
The elementary school girl was told by the district superintendent that she could not hand out invitations for her church's Christmas party at school, even though school policy permits students to hand out flyers and invitations for non-religious parties and other events.
The suit contends that the school district's policies prohibit student speech simply because it is religious. According to the suit, the school district permitted other students to distribute fliers for Halloween parties, Valentine's dances, bowling clubs and sports leagues. The suit states that what the girl, a student at Barrett Elementary Center in Cresco, wanted to hand out was an invitation to a Christmas party at her church that featured face painting, snacks, ping-pong, foosball, and "cup-stacking,"
David Cortman, a  lawyer for the ADF, commented, "It's another example where schools need to be educated about the first amendment. The policies that are at the heart of this lawsuit are unconstitutional…In this case, because it was [affiliated with a church], it was denied."
Read more: http://thetimes-tribune.com/news/school-districts-ban-on-5th-grader-s-christmas-party-invitation-lands-in-federal-court-1.1115720#ixzz1G75IMAEn
Discussion Questions
What does "separation of church and state" mean to you? Do you agree that schools should ban religious "speech"? Why or why not?
Why do you think a school might not want students to "promote Christianity" in school?
Do you think that inviting friends to a church event is promoting Christianity?
If you were judging this lawsuit, how would you rule? Was this student discriminated against because of her religion?
Scripture Texts (NRSV) for Sunday, March 20 (Second Sunday of Lent)
(Text links are to Oremus Bible Browser. Oremus Bible Browser is not affiliated with or supported by the Evangelical Lutheran Church in America. You can find the calendar of readings for Year C at Lectionary Readings.)
For lectionary humor and insight, check the weekly comic Agnus Day.
Gospel Reflection
The term "born again" is almost a cliché in today's society. People who call themselves "born again Christians" are often ridiculed and looked at as simplistic or overly zealous about their faith. Abortion clinic bombers and military funeral protesters sometimes call themselves "born again Christians," which does not help anyone understand what that term really means.
In these verses, Jesus explains to Nicodemus that everyone who wants to see God's kingdom has to be born again. The word "again" can also be translated "from above." This is a spiritual birth, the beginning of a relationship with God through Christ that is meant to develop throughout our lives. It's not some kind of one-time decision for Christ, after which we can elevate ourselves above all the "non-believers." Like every label, it's been twisted, sometimes by the media and sometimes by those who call themselves "born again."
These verses also contain probably the most familiar Bible verse of all Christianity, John 3:16. This is the gospel message in about 20 words (depending on the version you read). God loved us even though not one of us was worthy of it, and Jesus was sent by God to make things right between us and God, if we will accept the free gift of forgiveness.
Discussion Questions
What is your perception of the term "born again"? Did reading these verses help you gain a different understanding of this term? Do you consider yourself "born again"?
Are you confident that you have "everlasting life" through faith in Jesus? If so, what makes you confident? If not, what needs to happen for you to have that confidence?
Do you think the media unfairly labels "born again Christians" (such as only portraying them as abortion clinic bombers or military funeral protesters)?  If you could have a meeting with reporters and editors, what would you say to them?
If you could meet with the superintendent of the Pocono Mountain School District, what would you say?
Activity Suggestions
Create a skit where a meeting such as those described in the above discussion questions takes place. Try to create as convincing a conversation as possible, one that respects the complexity of the issues and involves speaking the truth in love rather than engaging in angry confrontation.  (This could involve many different speakers, rather than simply a one-on-one conversation). If permissible, perform the skit at one of your church services or for the entire youth group during a gathering.
Closing Prayer
Lord Jesus, we know that you did not spread your message with anger and condemnation. Help us to reflect your bold yet gentle spirit and to communicate the gospel message in a world that doesn't always welcome it. In your holy name, amen.