Contributed by Scott Mims, Good Shepherd Lutheran Church, Virginia Beach, VA 
Warm Up Question
 As a group list your answers to the following: 
When you think about the world today and about your future, what are some of the things that make you most anxious or afraid? 
What are some of the things that make you most optimistic or hopeful? 
Evil at Work?
On June 2, 2010, something went terribly wrong in the life of Derrick Bird.  Bird, a taxi driver, drove his taxi down England's northwest coast on a three and a half-hour shooting spree that left 12 people dead and 25 others injured before turning his gun on himself.  Many of the shootings appear to have been completely random.  This rampage in the county of Cumbria was Britain's deadliest since 1996, and is especially shocking in a nation where such events are very rare. 
Although the actions of Derrick Bird have deeply shaken the surrounding community, the reasons behind his behavior remain guesses at best.  Like other such attacks, investigators are able to piece together possible factors, symptoms, and signs, but only after the fact.  How then can we understand such things?  Are such seemingly random yet devastating events, as one commentator put it, the acts of greatly disturbed people "gripped by uncontrollable primitive urges," or are they evidence of the forces of evil at work? 
Discussion Questions
 Do you believe in the existence of unseen evil forces at work in the world and in people's lives?  If so, what evidence is there that suggests you are right?  If not, why not?
Do you believe we have "free will?" What place does human choice play in the events of the world that we would call evil or wrong?  What are some of the circumstances, factors, or situations that might not leave people free to choose?
Regarding what makes you most anxious of fearful for the future, what part, if any, do random uncontrollable events such as terrorism or war play?
Regarding what makes you most optimistic or hopeful, did you include God on your list?  Why or why not? 
Scripture Texts (NRSV) for Sunday, June 20, 2010 (Fourth Sunday After Pentecost)
  (Text links are to Oremus Bible Browser. Oremus Bible Browser is not affiliated with or supported by the Evangelical Lutheran Church in America. You can find the calendar of readings for Year C at Lectionary Readings.) 
For lectionary humor and insight, check the weekly comic Agnus Day. 
Gospel Reflection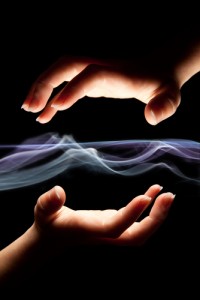 Our gospel lesson this week might well be entitled, "Dialoguing with Demons," as Jesus confronts the forces of evil at work in the life of a man in the non-Jewish territory of Gerasa. Having recognized Jesus for who he is, the "Son of the Most High God," the unclean spirits (for it turns out that there are many) submit to Jesus' command to come out of the man, begging Jesus not to send them back to the abyss but, rather, to allow them to enter into a large herd of pigs nearby.  Jesus gives them permission to do so and the pigs are destroyed.  The man, on the other hand, is made well. 
So what is the miracle here?  How we understand it may have to do with our worldview.  That the man's behavior is abnormal is not in doubt.  However, the cause behind his actions is.   For many modern readers the surprise in this story is its talk about demons and unclean spirits.  We are perhaps uncomfortable thinking in terms of unseen forces of evil being at work in people's lives.  Scientific and psychological approaches to this event are much more comfortable for us, and so it is not surprising that many modern interpreters equate the "demons" of this story with some form of mental illness.  The miracle, then, is Jesus' ability to heal a mentally ill man, restoring him completely to his right mind, something that even the wonders of our modern medical science are often unable to do. 
The surprise in this story for people from earlier times may well have been different.  For them, the existence of evil powers was not in doubt.  What is extraordinary here is the universality of Jesus' power.  Jesus has, in effect, entered enemy territory.  Yet even here, he has the power to heal, save, and to defeat the powers of darkness with a word.  Not only does Jesus' ability to defeat evil on its home turf confirm his identity as "Son of the Most High God," it also demonstrates that God's saving and healing love are for everyone – Jews and Gentiles alike. 
But there is yet another surprise in this story.  Those who witness these things and the people that they go and tell do not react with joy and thanksgiving over what Jesus has done.  Having seen the power of God at work, they all ask Jesus to leave—all except the man who was healed.  He begs Jesus that he might be with him.  Jesus instead tells the man to go back to his family, friends, and community and to share with any who will listen how much God had done for him.  "So he went away, proclaiming throughout the city how much Jesus had done for him." 
Discussion Questions
Given your discussion on the presence of evil and the two different perspectives offered in the reflections above, what do

you

think is the most important point this story makes?  If you were to share it with a friend, what would you say about it?
How do you feel about Jesus' power as God's Son to bring healing and renewed life to people? What does this gospel lesson say about Jesus' ability to deal with some of the "darkness" and the issues or problems in your own life? 
How important to your faith is it to hear what Jesus has done in the lives of other people?  In terms of being able to share the gospel with those do not know about Jesus, how important is it to begin with being able to share Jesus among ourselves?
Suggested Resource:  The Screwtape Letters by C.S. Lewis: a fun yet perceptive take on the forces of evil at work in our daily lives.  
 Activity Suggestions
Remember your baptism!  Use parts of the Affirmation of Baptism service from Evangelical Lutheran Worship to remind one another of God's saving and redeeming love in Jesus Christ, and of the Spirit's renewing power.  Notice, too, the "renunciation of the forces of evil" which begins the Profession of Faith.  You might gather around a bowl of water, blessing one another with the sign of the cross, or, if available, around the baptismal font.
Share the faith.  How have you seen God at work in your life?  In the world?  Share your personal faith stories of with one another.  Perhaps have an older member of your church or faith community through whom you see God's presence come and share their faith story.
Pray for the world.   Using newspaper our other articles that highlight situations of evil and need in your community and in the wider-world, pray together for these needs and for the lives of the people involved.
 Closing Prayer
Lord Jesus Christ, as you overcame the forces of evil and darkness and brought healing to many, so deliver us and our world from all that would overcome us. In the power of your Spirit, heal and renew us that we may with good courage and great joy share all that God has done for us.  Amen.