Mary Ellen Helms, Loveland, OH
Warm-up Question
Did it seem like there were more Christmas lights up in your area this season? Where did you notice them?

List as many sources of light as you can think of (it can be physical light or figurative light).

Where did you see other signs of light this winter season?
Extravagant Light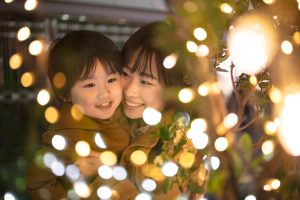 We are officially in the season of Epiphany: a season of bringing light.  This time was marked at first by the magi visiting Jesus during the first Christmas, but the whole season is set to bring to light the reign of God in our world. It might just be because it's been a long and dark couple of years, but it seemed like in my area there were more Christmas lights than ever. In the Midwest, it gets dark around 5:00 pm in December and only a little later now that we're in January. The holiday displays of light break up the dark evenings and provide literal and figurative light during these long days. 
Within an hour of my house, I visited the following light displays during the holidays: a zoo, a historic mill, a small-town display, a sculpture park, and countless neighborhood drives. I didn't make it to the amusement parks, the Christmas caves, or the nature center.  There were more than enough lights for me to see, but I just couldn't get enough of the rainbows of glow, Christmas-themed decorations, and joyful moments these attractions provided for me.
It wasn't just here that lights were in high demand.  All around the country, retailers ran out of lights. This article shares some of the big light displays all across the country.  Some people point to the need for something to do and others point back to the tradition of light displays, but there is one sure thing about these elaborate projects: "You feel a difference when there's a lot of love behind the project. It's not just a job for them" (Matt Reed from Ewing Irrigation and Landscape Products). 
I must admit, I leave my Christmas lights on my house a little longer than my neighbors do. There is something about driving home during the evenings and seeing the white twinkly lights that makes me happy to be home and gives me hope for longer days coming soon. 
Discussion Questions
What are some of the ways that you bring others joy in little ways, such as the holiday light displays did for so many this year?

Where are places in our communities that could use more light and joy? How can you be a part of bringing that to them?
Second Sunday after Epiphany
(Text links are to Oremus Bible Browser. Oremus Bible Browser is not affiliated with or supported by the Evangelical Lutheran Church in America. You can find the calendar of readings for Year C at Lectionary Readings.)
For lectionary humor and insight, check the weekly comic Agnus Day.
Gospel Reflection
John's Gospel is quite a bit different from the other stories of Jesus' life and death. Instead of starting with a story about Jesus' birth featuring the shepherds and kings and angels, John's Gospel starts with a prologue pointing to Jesus as the "Word" and "true light." John's gospel is written so that we might see God at work in the life of Jesus and that we might see how Jesus' life always points to grace and truth (John 1:14).  
It is not a surprise, then, that early in John's Gospel we see what grace looks like through Jesus' eyes. Following the baptism of John in John 1:1:29-34 and the calling of the disciples (John 1:35-50), Jesus joins the community of Cana in celebrating a wedding. Weddings were weeklong events in Jesus' time – more like a festival than a one-day celebration. Families and friends gathered and there was always a clear hierarchy – the invited and excluded, the servants and the guests, the haves and the have-nots.
During the party, something terribly embarrassing happened for the wedding hosts: the wine ran out! But Jesus was at the party and took this moment to illustrate the all-encompassing grace of God. Jesus takes something ordinary, water used for ceremonial washing, and turns it into something extraordinary – the finest of wines. Everyone in attendance got to revel in this glimpse of the extravagance of God's kingdom. 
The gospel writer then tells us that this is the first of the signs (John 2:11) which will show Jesus' glory and draw others into the kingdom. Throughout John's gospel, we find these signs that point us to how God's ways are different from the world's ways. From this story alone, we see that Jesus values hospitality (providing for others), dignity (saving the hosts from embarrassment), and abundance (we are intended not just to survive but to enjoy life with one another!)  Just as the Christmas lights we see in our communities can feel a bit extravagant, the grace of Jesus makes us feel that same sense of hope, joy, and light for the world.
Discussion Questions
What are some of the ways you show hospitality to friends in your home? To others in your church? To the outsiders in our communities?

When was the last time you received something extravagant? How did it make you feel? Have you ever been able to provide an extravagant gift to others?

How can we live into Jesus' way of hospitality, dignity, and abundance in our day-to-day lives?
Activity Suggestions
Food pantries and soup kitchens often see a surge in volunteers over the holidays and experience high need after the spirit of generosity passes.  Plan a youth group or personal outing to a facility that serves those experiencing hunger during the next few weeks.  Consider bringing something 'extravagant' to bless those who you will meet.

Read about the ELCA's commitment to accompaniment as a way of sharing dignity with those who we walk with through ELCA Global Mission.

https://www.elca.org/Our-Work/Global-Mission

. Brainstorm ways that your community can get involved with ELCA Global Mission
Closing Prayer 
God of abundance, we seek to be people who overflow with your grace and truth. Help us to draw others into you as Jesus did at the wedding in Cana. Give us generous hearts that beat for love, joy, and justice. Amen.