Contributed by Angie Larson, Clive, IA
Warm-up Question
What do you do to prepare for Christmas?
 Are You Prepared for This?
This October, like every year, stores begin their visual preparations for the Christmas shopping season.  On October 30 the Macy's department store in Philadelphia, PA had a special treat for shoppers.  In the middle of their shopping day, a choir of over 650 opera and choral singers began singing Handel's Messiah, complete with organ.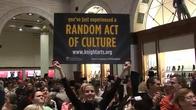 This event was birthed by The Knight Foundation, founded by Jack and Jim Knight, which provides funds for a program it calls Random Acts of Culture.   The foundation plans to fund 1000 random acts of culture over the next three years.  The vision includes getting cultural events, such as music, dance, and opera, out of concert halls, theaters, and museums into public places like Macy's, making them accessible to all. The video of the "Messiah" has already had over 5 million hits on YouTube.   The Knight's vision includes what they call the "transformative power of the arts to help people to experience life in its fullest."
Dennis Scholl, the Foundation's vice president says, "Hearing Handel or seeing the tango in an unexpected place provides a deeply felt reminder of how the classics can enrich our lives. As you'll see in our videos, the performances make people smile, dance, and grab their cameras – even cry with joy. For those brief moments, people going along in their everyday lives are part of a shared, communal experience that makes their community a more vibrant place to live." Watch the video at: http://www.youtube.com/watch?v=wp_RHnQ-jgU
Discussion Questions
How do you think you would have reacted if you were shoe shopping and people started singing all around you?
What do you think about the music chosen for this Random Act of Culture? How does this affect us as Christians?
The Knight Foundation calls the arts transformative.  Name some other things in our world that can be transformative.
One of the goals of the Knight Foundation is to take culture out to where the people are.  How could we apply this to the church and the Christian message?
Scripture Texts (NRSV) for Sunday, December 12, 2010 (Third Sunday of Advent)
(Text links are to Oremus Bible Browser. Oremus Bible Browser is not affiliated with or supported by the Evangelical Lutheran Church in America. You can find the calendar of readings for Year C at Lectionary Readings.)
For lectionary humor and insight, check the weekly comic Agnus Day.
Gospel Reflection
In the Gospel we find John the Baptist in jail.  He has heard of Jesus and proclaimed his coming, but now he doubts. John has been preparing for and expecting the arrival of the Messiah, however, Jesus still takes him by surprise.  The doubting John sends some of his followers to go ask Jesus if he is the one that they had been waiting for.  Jesus responds by asking John's messengers to bear witness to what they are seeing and hearing in Jesus' ministry.  Jesus  praises John and proclaims him as the messenger sent before him to fulfill the scriptures. To even John the Baptist Jesus came unexpectedly.  Through John's doubt Jesus reminds us that He is Lord and came to proclaim good news to the poor.
We have Christmas time expectations as we prepare. We expect that we'll receive catalogs in the mail, that Christmas music will be playing in the mall, and that we'll wrap and open some presents.  We prepare for the day; we buy the food, bake the cookies, and decorate our homes. However, we don't expect the most miraculous thing that happens.  Jesus comes to us, bringing good news.  He heals us and gives us hope.  Like the shoppers at Macy's, expecting an ordinary day then experiencing a moment of incredible beautly, we find something waiting for us as Jesus transforms the ordinary into the the extraordinary.  He brings good news to our hearts again and again, even if, like John, we already know Him.  The way has been prepared, but the path is unexpected.
Discussion Questions
John the Baptist wondered about Jesus being the Messiah even though Jesus calls him great (v.11).  What does that that mean for us as we wonder?
Jesus was known to be the Messiah through his actions.  How can we be known as Christians through our actions?
What are some ways that Jesus has been known to you unexpectedly?
Activity Suggestions
Create your own Random Act of Christians. Have your group brainstorm some ways members could bring the unexpected nature of Jesus to others outside of the church walls.  Here are some suggestions:
–          Pass out dollar bills at the mall to people with no strings attached.  See how they react and talk about grace.
–          Feed the hungry, offer to pay for someone else's meal at a fast food restaurant.
–          Sing Christmas carols to senior citizens or just to people you know are in need.
Closing Prayer
Dear Lord Jesus, as we prepare for this Christmas season, remind us of those places in which you give us the unexpected.  You came so we could have life and live it abundantly; please change our perceptions that need to be changed and renew us daily through our baptismal promises.  Help us to be continually surprised by who you are. Thank you for being present in our hearts. Amen.