(updated 08/26/09)
Contributed by Erik Ullestad
West Des Moines, IA
Warm-up Question:  What is the best meal you've ever eaten? Did you leave anything on the plate? What happened to the leftovers?
It all began with some brown bananas… sort of.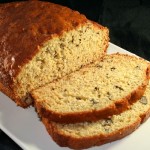 Rick Boosey and his family, after much prayer, reflection, doubts, and wrestling with discerning God's desire for their lives, opened a soup and salad shop in Bentonville, Arkansas. Part of the plan was to donate a portion of their income from the venture to feeding others. It started small, and grew into something amazing and life-giving.
A conversation with his restaurant food supplier, James Urich, revealed that the food supplier was throwing out enough fruits and vegetables to fill a 15-passenger van every week. Most of it was still perfectly healthy to eat, but restaurants and grocery stores require at least five days of guaranteed freshness on all purchased produce. Even if a pear is healthy to eat for 3-4 days, it will never be sold or eaten. Urich gave Boosey a list of his "throw aways" — food to be disposed of. It was the brown bananas on the list that first caught his eye.
After discussions with his employees and family, they decided that they could use the still-edible produce to make banana bread. The supplier donated the produce and Boosey's soup and salad shop made loaves of banana bread for a local shelter to give to people who were hungry.
Little did he know that a few loaves of banana bread for a local homeless shelter would lead to serving 5,000 free meals a week and sprouting new efforts and ministries to care for people in need.
Little by little, Boosey and Urich were able to find volunteers to provide ingredients and spend a few hours in the kitchen preparing meals. The team distributed food through local shelters and food pantries. The whole thing continued to grow in unexpected ways.
The World Garden Restaurant and World Garden Artisan Coffee Roasting now serves meals that are made almost entirely out of food that would have otherwise been thrown away. The staff is comprised largely of volunteers. In addition to the meals they serve, the World Garden sells their breads in local supermarkets and the farmers market. They are also working on the start-up of a community garden/farm. Boosey and Urich have teamed up with the Cobblestone Project, a service ministry for homeless and low-income people, to distribute food to even more people. They have hopes that their project will continue to grow, and that they will be able to inspire other communities and organizations to start similar projects across the country.
Boosey describes it as one small decision snowballing into something huge. Everyday seems to bring new calls from people and organizations stepping forward with new ideas, resources, and services to contribute. Boosey is clear that it is all God's work and nudging.
Discussion Questions
What surprised you about this article?
How much edible food do you think gets thrown out at you house? School? Favorite restaurant?
What do you think about restaurants requiring at least five days of freshness for their produce?
What might be some of the challenges of starting this kind of program in our community? How would someone get started with something like this?
Scripture Texts (NRSV) for Sunday, August 9, 2009.
(Text links are to oremus Bible Browser. Oremus Bible Browser is not affiliated with or supported by the Evangelical Lutheran Church in America. You can find the calendar of readings at Lectionary Readings.)
For lectionary humor and insight, check the weekly comic Agnus Day.
Gospel Reflection
There goes Jesus, talking about bread — again!
For the third consecutive week, we are focusing on a bread-related story from the 6th chapter of John's Gospel. Two weeks ago we read the familiar story of Jesus using five loaves of bread and two fish to feed thousands. Last week Jesus started talking about "bread coming from heaven". This week, he takes it a step further and makes the outrageous claim that HE is the bread of life that is given by God.
Jesus has chosen bread as the focus of his conversations. For some of his friends, talk of bread conjured up images of when God provided bread in the wilderness for Moses and the Israelites. For others, bread was a symbol of what was needed for their daily survival. Bread was an essential food that everyone ate multiple times a day.
(Perhaps if Jesus was speaking to 21st century American youth to get his message across, he would have talked about being the "pizza of eternal life from heaven".)
Jesus was making two points in his extended bread chat. First, he was showing people that God is a God that provides for the needs of God's people on earth. God was not only able, but WILLING to feed a multitude of hungry people with table scraps of bread and fish. Surely this same God cares about caring for people in other aspects of their life. Second, God has sent Jesus to be the bread of life not just on earth, but for eternity.
It is this second claim that gets Jesus into some trouble. It's one thing to say that God cares for people. It's much messier for him to claim that HE is the Son of God and, therefore, holds the key to salvation and eternal life. It was understandably confusing for people back then to look at Jesus, the son of Joseph and Mary, as "one who was sent from heaven". It can also be difficult for us to comprehend that one person (Jesus) can bring about eternal life for generations of believers.
The good news in this story is that, despite our doubts and questions, Jesus continues to offer himself as "bread from heaven". This bread not only satisfies our hunger here on earth, but gives us life even after our physical bodies have died. Jesus declared himself as bread from life back then, and he promises to continue offering himself as the true bread of life for the whole world. 
Discussion Questions
Why do you think Jesus spent so much time talking about bread?
How would you respond to Jesus' claims if you were among those in the story?
What are some ways that Jesus provides for your physical needs here on earth? What is our role and opportunity?
How can you take Jesus' promise of bread and share it with others? Think beyond just words…
Activity Suggestion
Baking communion bread
Ask your pastor or the worship committee if your group can make communion bread for an upcoming service. Discuss the various kinds of breads (leaven, unleavened, etc.) and decide which would be best for communion.
Consider making a few extra loaves of bread and take it to a local food pantry or shelter. You may even want to write out John 6:51 on a small piece of paper, wrap the bread in a plastic bag, and affix the paper to the bag with a twisty tie. What a great way to share the bread of life with those who are hungry! Learn more about the work and ministries of the World Garden Restaurant and World Garden Artisan Coffee Roasting.
Closing Prayer

 
God, thanks for providing for our physical needs here on earth. We also thank you for sending Jesus to be our eternal bread. Help us to tell others about your sacrificial love for the whole world. May we find new ways to feed your people in the days ahead. Amen.