Erin Haligowski, Dayton, OH
Warm-up Question
Who are the people in your life who have had the most tremendous influence on who you are as a person and how you live your life and faith? What is it that makes/made those people influential?
With Joy and Freedom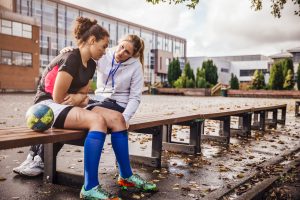 Pastors, teachers, grandparents, aunts and uncles, and coaches: so many people significantly influence our life and faith as we are "becoming" and growing into who God created us to be. It takes a special kind of love, engagement, and patience to shapepeople over a long period of time.
For fans of college basketball, this year's March Madness tournament was truly madness. Upsets and underdogs, buzzer-beaters and overtime – and underneath all the chaos, some truly inspiring stories – especially if you're willing to dig a little. Take, for example, NCAA Division II Women's Basketball, and the undefeated Eagles of Ashland University (Ashland, Ohio). The 2017 National Champions had built for themselves a 73-game winning streak under the leadership of head coach Robin Fralick – the fifth longest win streak in NCAA basketball history, any division, men's or women's.
As they went into their Final Four matchup, Coach Robin Fralick told the girls to "play with joy and freedom," and in that game, that is exactly what those girls did. They played an incredible game that led them to back-to-back National Championship games. And then, in a heartbreaking loss to Central Missouri, the historic winning streak and second-in-a-row perfect season came to an end.
In the post-game press conference, Coach Robin Fralick had these words to say:  "We talked in the locker room after the game; one game doesn't define us. Our purpose is bigger than winning and losing. Being good at basketball doesn't make you a role model. Being good at basketball gives you a platform to impact. I'm proud of them." These words are so characteristic of Coach Fralick, who focuses as much on character as she does on basketball fundamentals and winning.
Read More about the Ashland University Women's Basketball team here:
Discussion Questions
Have you had a teacher or coach that truly inspired you?
How did that person inspire you to grow as a person beyond skills or knowledge?
In what ways do you see Jesus as a selfless teacher or coach, inspiring you to grow in faith?
Fourth Sunday of Easter
(Text links are to Oremus Bible Browser. Oremus Bible Browser is not affiliated with or supported by the Evangelical Lutheran Church in America. You can find the calendar of readings for Year B at Lectionary Readings
For lectionary humor and insight, check the weekly comic Agnus Day.
Gospel Reflection
In today's gospel lesson, Jesus claims to be the "good shepherd," who sacrificially leads his sheep and lays down his life for them. He cares for the sheep, and contrasts himself against the hired hand, who runs away because he doesn't care for the sheep. The love of the "good shepherd" is the love of one who knows his sheep intimately beyond their "perceived" value of providing a livelihood. Jesus says, "I know my own [sheep] and my own [sheep] know me."
If you know anything about sheep, you know they are actually pretty dumb animals. They have small brains, and need to be "kept" by a shepherd or penned up so that they don't wander away into dangerous situations. That said, the one thing sheep can do is recognize the voice of their shepherd and follow it. As sheep in Jesus' flock, we may not always make the right choices, but we can rest assured that we will recognize Jesus' voice and follow it.
And, better yet – there is some really good news in here! Jesus refers to us as sheep – and he knows sheep. He doesn't love us or save us based on our intelligence or usefulness or skill set. He loves and saves us because he knows us, and the ones he knows are the ones he loves.
In this Easter season, we see Jesus' sacrificial love lived out through his death and resurrection, and also through this promise: "I am the good shepherd. I know my sheep and my sheep know me, just as the Father knows me and I know the Father; and I lay down my life for the sheep." (vs. 14-15)
Discussion Questions
How does viewing Jesus as the Good Shepherd help you to understand Jesus' sacrificial love?
What stands out to you in this passage?
What connections can you make between the people you named earlier and Jesus, as our good shepherd? How are those people living as God's image through their inspiration in your life?
Activity Suggestions
Have students write letters of affirmation and thanks to the people they named earlier in the lesson who have inspired them. Encourage them to deliver them in person or mail them (if the person is still living).
Sing the silly camp song "I Just Wanna Be a Sheep" (https://www.youtube.com/watch?v=tpYgYoNGM38) and talk about what it means to be a sheep in Jesus' flock.
Use a concordance to find other references in the bible to "sheep" or "shepherd" and talk about what connections you see in the use of that imagery throughout scripture.
Closing Prayer
Jesus, thank you for being our Good Shepherd and for guiding us with your loving voice. Please continue to guide us, and help us to follow you together. Watch over us. Protect us. Lead us. Help us to show your sacrificial love and care to those around us, so that everyone may come to know you as their Good Shepherd. In your holy name, amen.