On June 17, 2015, a white man named Dylann Roof entered a historic Black church in Charleston during a prayer meeting and opened fire, killing 9 people and wounding 3 more. Roof did not leave his motive in this shooting to our imaginations. He overtly and explictly espoused white supremacist beliefs and targeted the people of Mother Emanuel Church because of their race and commitment to civil rights.
He drew pictures of a white Jesus in his journal in prison.
I felt my stomach sink when I found out that Roof was raised in an ELCA church. 
I imagine that the church Roof grew up in was full of good and faithful people. From what I know, many people there are horrified about what Roof did. Our church may not have taught him white supremacy directly, but like many of our churches and beloved institutions, it did not do enough to teach him to resist it. His formation within the ELCA was not enough to teach him to recognize the image of God in the people who would become his victims. As a board member for the Euro Descent Lutheran Association for Racial Justice(EDLARJ), I have had the opportunity to witness the stories of our siblings of color in the ELCA through our partnerships with the many ethnic specific and multi-cultural ministries within our church. Many of the stories of people of color within the ELCA include painful interactions with white church members. As much as we want to hope that racism is something relegated to the past, the truth is that it is widespread and ongoing.
Many of us who are white grew up with the idea that talking about race is impolite or "too political." We prefer to focus on things we consider "spiritual" in church and ignore the daily lived realities of our siblings of color. Talking about racism is uncomfortable. It is easy to feel defensive as a white person when we are asked to examine our own biases or be honest about the racism our country was built on. But our lack of courage in confronting these issues and our refusal to dismantle racism has real consequences. White supremacy has a body count. Even though we did not pull the trigger on June 17, our complacency as white people has made us complicit, and we have blood on our hands. The Emmanuel Nine is a part of that.
The ELCA has called for June 17 to be a day of Commemoration for the Mother Emanuel Nine, recognizing Clementa C. Pinckney, Cynthia Marie Graham Hurd, Susie Jackson, Ethel Lee Lance, Depayne Middleton-Doctor, Tywanza Sanders, Daniel L. Simmons, Sharonda Coleman-Singleton, and Myra Thompson as martyrs. This commemoration is one step in a process of unlearning our own biases and tearing down corrupt, racist systems. On June 17 we are to remember these victims and to be in prayer, as the Emmanuel 9 were when they were slaughtered.
Rabbi Abraham Heschel who organized alongside Dr. MLK during the Civil Rights Movement has been quoted as saying that when he marched, he felt like his legs and feet were praying. Prayer begins with reflection but true prayerfulness leads to action. Our prayers should lead us into accountability, reparations, and reconciliation. This might look like attending an anti-racism training, getting involved in an issue campaign affecting people of color, or giving financial support to the memorial set up to be built in remembrance of the Emanuel 9.
God asks that we love our neighbor, and love requires justice. Because white supremacy was created for and benefits white people, it is the responsibility of white people to take on the work of unlearning the racism we have internalized as part of our socialization in a racist society. We must actively pursue racial justice, and as white people we have a particular role; to remember, to repair, to right wrongs. Let June 17 be a day we recommit ourselves to this struggle and to loving our Black siblings and in word and deed.
God of All, it is your will for people to be whole and free. We give you thanks for the life and witness of the Emmanuel 9. Grant that their faithfulness may be an example for all of us as we work towards an end to racism in our churches and communities. Remove the barriers that stand in the way of our collective liberation. Put an end to white supremacy and other systems of oppression. Connect us with one another and empower us to build a world where all people are safe and loved. In the name of your Child, Jesus Christ, who lives and liberates with you and the Holy Spirit, one God, now and forever. Amen.

Bio:
Elle Dowd (she/her/hers) is a bi-furious recent graduate of the Lutheran School of Theology at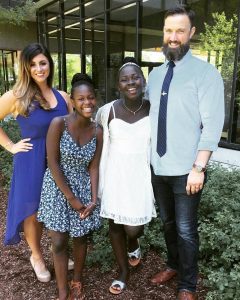 Chicago, an intern at St. Luke's Lutheran Church in Logan Square, and a candidate for ordained ministry in the Evangelical Lutheran Church in America.
Elle has pieces of her heart in Sierra Leone, where her two children were born, and in St. Louis where she learned from the radical, queer, Black leadership during the Ferguson Uprising.
She was formerly a co-conspirator with the movement to #decolonizeLutheranism and currently works as a community organizer with the Faith and Justice Collective and SOUL, writes regularly for the Disrupt Worship Project, and facilitates workshops on gender and sexuality and the Church in both secular conferences and Christian spaces. Elle is a board member of the Euro Descent Lutheran Association for Racial Justice, an organization that partners with ethnic-specific and multi-cultural ministries in the ELCA.