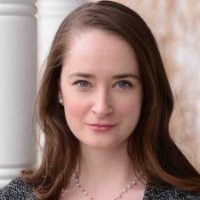 Bio: Katrina Buchanan, a native of Erie, PA, and a graduate of Robert Morris University in  Pittsburgh, PA, is the current Lutheran Volunteer Corps volunteer serving in Chicago, IL, as the ELCA's Justice for Women program assistant.
On August 15, 2017, the ELCA released a statement confirming its commitment to confronting racism and anti-Semitism in response to the events that took place in Charlottesville, VA, during the "alt-right" rally.
Shortly after the release of the ELCA's statement, Justice for Women program director Dr. Mary Streufert asked me to take it a step further by putting together a report on the rampant sexism that the alt-right espouses, especially found in the comments made about Heather Heyer in the wake of her murder. I knew this is what I wanted to do for my service year with the Lutheran Volunteer Corps (LVC), but I wasn't prepared for how emotionally taxing the task would be.
Although I tried to stay objective and detached, it was impossible as I read through hundreds of ad hominem attacks on Heyer and those who sought to protect mourners at her funeral. I scoured social media, various news sites, and the websites of the groups in the alt-right to try to get a better idea of what the alt-right is, why it exists, and why it's dangerous on multiple levels. My disgust deepened as I researched background information about the various organizations and groups, women's roles in the movement, and how these groups view and treat women.
I've struggled with how I've wanted to write this personal reflection on researching that report. As I wrote my report, I grappled with feelings of incredulity, hatred, despair, anger, and sadness. I understood why, but still couldn't accept that such things could not only exist, but also flourish. More than two months later, I still haven't found peace in this struggle, but I think that's the point. As we say in LVC, I have to do the internal work so that I can do the external work.
There isn't an easy answer to this question of how to create unity where hatred, prejudice, and intolerance is so deeply ingrained. As I flounder to find the words that I need, the words of the prayer of Saint Francis come to me instead, which is how I will leave you:
Lord, make me an instrument of your peace:
where there is hatred, let me sow love;
where there is injury, pardon;
where there is doubt, faith;
where there is despair, hope;
where there is darkness, light;
where there is sadness, joy.
O divine Master, grant that I may not so much seek
to be consoled as to console,
to be understood as to understand,
to be loved as to love.
For it is in giving that we receive,
it is in pardoning that we are pardoned,
and it is in dying that we are born to eternal life.
Amen.