As a Christian, I believe that we are all created in the image of God. Racism and white supremacy are heretical and demonic lies as they serve to say that some people are better than other people. The truth is that we are ALL one body in Christ and that body is hurt by white supremacy and racism. We are ALL hurt by these evils.
A big part of my faith journey as a European Descent Lutheran is to root racism and white supremacy out of myself and to do my part to move us towards the Kingdom of God.  A few years ago, a friend on a similar journey encouraged me to learn about the history of my hometown regarding race. Below is my reflection on a slice of history from my hometown of Rockdale–a small community in Central Texas. It involves the life and death of my Texas history teacher and serves as a stark example of how racism and white supremacy harm all of us.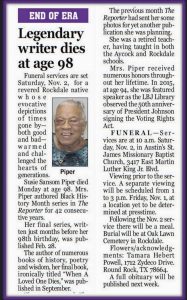 Recently, Susie Piper, my middle school Texas history teacher died at the age of 98.  She led a remarkable life and was an amazing teacher. She is one of the reasons I learned early on that white supremacy is a lie and I am so thankful for that lesson.  I reached out to her a few years ago and to tell her she and Ms. Petty (a black woman who was my most excellent high school biology teacher) were the best teachers I had from Rockdale.  I had some exchanges with Ms. Piper and Emzy Jerome Hebert (her son).  We gave each other a few books and I got a history lesson that I sure don't remember ever hearing in school.
I learned from Jerome and Ms. Piper that when school integration happened Ms. Piper had been the principal of the Aycock School.  The black school that was shut down.  I learned that teachers who were black women were required to have master's degrees and teachers who were black men were required to have PhDs in order to teacher at the newly integrated school in Rockdale.  Ms. Piper was put in charge of "the hopeless kids" in study hall in the newly integrated school.  She said that they were put in "the black room" which had no windows.  I suspect that they wanted her to give up and quit – but that was not in her nature.  She told me "It was always my philosophy that everyone counted and everyone could learn."  Somewhere along the way people wised up and put her in the classroom where I benefitted from her excellence in teaching and I am grateful for that.  She was a prolific writer and noted historian.  She was the keynote speaker at the Lyndon Baines Johnson presidential library on the 50th anniversary of the voting rights act.  I am so mad and sad about the injustices she went through.  I  don't even have the words for this.   Mourn maybe the loss of the gifts and treasures we don't have because other Susie Pipers were put in charge of study hall rather than the classroom. I'm angry about her and others' mistreatments. Denying people's gifts and not giving them a chance to shine really hurts all of us.  I don't know what happened to move Ms. Piper from study hall to the classroom.   I would like to hear that story too.  I suspect it took some honest accounting of the situation and some bravery.  Let's have more of that please.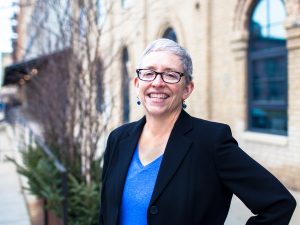 Shari is a European descent Lutheran living in Minneapolis with her wife and two sons. She sells houses and dismantles white supremacy in the Lutheran Church. She is on the board of the European Descent Lutheran Association for Racial Justice and the Minneapolis Synod anti-racism table.