By Kathryn Mary Lohre
Is there no balm in Gilead? Is there no physician there?
Why then has the health of my poor people not been restored?
Jeremiah 8:22
On May 24, the National Council of the Churches of Christ in the USA hosted a memorial service for lives lost to COVID-19. In a time of physical distancing, the church ecumenical gathered online for "A Time to Mourn," drawing thousands together to remember and lament. Grounded in our hope in the resurrection, the Rev. Elizabeth A Eaton, presiding bishop of the Evangelical Lutheran Church in America, declared, "The body of Christ is COVID-positive."
The very next day, a black man named George Floyd was killed by police in Minneapolis, Minnesota. Onlookers to his arrest quickly became protestors to his death, filming it for all the world to see. The footage of a white police officer kneeling on the neck of a black man on the street until he became lifeless went viral. In their public statement, "Lynching Justice in America," the officers of The United Church of Christ, asked "Is this how white supremacy prays? The original pandemic of our nation – structural racism and white supremacy – has reasserted once again itself as the deadliest virus among us.
Thus, as the country passed the grim marker of more than 100,000 lives lost to COVID-19 last week, the death of one man became the focus of our national attention. George Floyd's last words, "Please, I can't breathe," are a stark reminder that a severe respiratory virus is not the only illness plaguing us. But we need to be clear in our diagnosis. This it is not about two unrelated ailments: COVID-19 and racism. Rather it is about how the coronavirus, as an acute disease, is aggravating many of our society's underlying conditions in these, and other ways:
Stay-at-home orders have exacerbated gender-based-violence.
Private health care systems have magnified economic injustice, as those who cannot afford it have limited access and quality of care.
Under-resourced public education systems have provided unequal opportunities for remote learning during school shut-downs, and contributed to food insecurity in many families.
Disproportionate rates of infection and death from COVID-19 in communities of color have exposed racialized health disparities, including pre-existing conditions.
The classification of "essential workers" has laid bare the racialized hierarchies of labor in our society, and our dependence on low or no-wage migrant workers.
The return of wildlife to urban areas has revealed our addiction to habits of consumption, travel, and transit that gravely contribute to climate injustice.
Unchecked discriminatory police practices targeting black and brown bodies, compounded by racist criminal justice systems have led to several killings of unarmed black and brown people during the COVID-19 pandemic, including not only George Floyd, but also Dreasjon (Sean) Reed, Breonna Taylor, and Ahmaud Arbery, and others unnamed, and delayed or denied justice for their killers.
None of these conditions are new since the onset of COVID-19. They are more severe. We, the people of the United States, are very ill. We, the ecumenical family in the United States are very ill. "If one member suffers, all suffer together with it" (I Corinthians 12:26). Whether we are experiencing the symptoms, or contributing to them, none of us are well. You know that, you have seen it, and you have reached out in love and solidarity with us. For this, we give thanks to God for the continued accompaniment of the ecumenical family on the pilgrimage of justice and peace.
Every day since George Floyd's death, protestors have taken to the streets in cities across the country. Risking arrest and violence, and COVID-19, they are demanding justice – undeterred by those with evil, ulterior motives. Like they prophet Jeremiah, they are crying out, "Black lives matter!" Our churches – our clergy and lay people – are amongst them, and also supporting them with service, care, and sanctuary in our communities. The protestors are enraged by the death of George Floyd, yes, but their rage is also pointing to the 401 years of anti-black structural racism and white supremacy undergirding it, and creating barriers justice. We are at a tipping point as a nation. We feel this whether we are watching and working from self-quarantine, or seeing and joining in with our bodies in the streets.
The status quo has been weakened by COVID-19, and it is susceptible. The question we are wrestling with is, what role will the churches have in treating the underlying conditions – of making lasting change for building racial justice and dismantling white supremacy? The African Methodist Episcopal Church, for one, has been clear: "White supremacist business as usual, is no longer acceptable." This is work we must engage within our churches, but also together, ecumenically. The Act Now to End Racism initiative of the National Council of Churches will be vital in these next steps, including its recently adopted work focused on white supremacy.
United in Christ, and by the power of the Holy Spirit, we must undertake a comprehensive and aggressive treatment plan against structural racism and white supremacy, even and especially while we flatten the curve and seek treatment for COVID-19. Our life together in Christ depends on it because if you can't breathe, I can't breathe.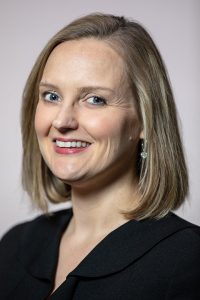 Kathryn Mary Lohre serves as Assistant to the Presiding Bishop and Executive for Ecumenical and Inter-Religious Relations & Theological Discernment for the ELCA