Shoulder to Shoulder is a national coalition-based campaign of religious denominations and faith-based organizations and communities that are committed to ending discrimination and violence against Muslims in the United States by equipping, connecting, and mobilizing faith leaders to effectively take action. The ELCA is a founding member of Shoulder to Shoulder and has supported the work of the campaign since 2010.
By Dr. Catherine Orsborn
Like many of you, we started 2020 with a lot of plans. We were excited to engage (in person!) with people across the country through our Faith Over Fear trainings and through our annual Ramadan campaign. In February, we started to get a little concerned about Coronavirus, but figured that things would surely be "back to normal" by the time Ramadan rolled around. As slowly (then quickly) new information and recommendations emerged, we realized we were facing a future with much greater uncertainty than any of us could have imagined.
In mid-March, our team gathered on Zoom and we asked one another, how in the world do we plan for the future in a time like this? Do we just abandon our plans for a bit (we joked for a few minutes about taking a "spring break")? Or is it possible to find meaningful ways to connect across lines of difference and to address discrimination and bias, even while we're physically distancing from one another? We think that it is. Thus, we took to the task of designing a plan for interfaith engagement during Ramadan that allows for meaningful social connection across physical distance.
As Priya Parker has argued in her book The Art of Gathering, the purpose (rather than category) of a gathering is the most important place to begin planning any meaningful coming-together. This is true as much for a virtual space as it is for an in-person event. In rethinking our Ramadan plans, we asked ourselves WHY people find interfaith Iftars meaningful, and how can we recreate that experience in a virtual space? While certainly, people learn things from the "front of the room" content at many Iftar events, we mostly have heard from people in our networks that it is the one-on-one or small group conversations and connections that really make an interfaith Iftar experience worthwhile to them.
So instead of trying to pivot every large interfaith Iftar to a virtual one, we thought, why not focus on just connecting households to one another for more intimate conversations over a meal? We designed a matching system and a guidebook, with ideas for how to make these encounters fun and meaningful, and launched our Welcome to my Table initiative for Ramadan 2020.

The staff and Executive Committee of Shoulder to Shoulder joined the family of Shoulder to Shoulder co-founder Dr. Mohamed Elsanousi for a virtual Iftar in his home as part of this initiative. We gathered on Zoom, watched presentations from Dr. Elsanousi's school-age children, and shared some of our own experiences with fasting with one another. I held my infant daughter on my lap throughout. It was brief and it was meaningful to be let inside someone's home in this way.
We've started to hear stories of others who gathered through this initiative, including two interfaith couples (one Muslim and one Catholic in each couple) from different parts of the US, who found the experience incredibly enriching and uplifting, saying, "We discussed travel, food, immigration to the US, our jobs, how the pandemic is affecting our lives and the world. The time flew and by the end I realized we forgot to talk about Ramadan!…I've been trying to see the silver lining in everything in this pandemic and this was definitely a blessing" (Linden, Wisconsin).
Another household pairing reported that they found it to be a great opportunity for their teenagers to connect with each other and share about their remote learning experiences, while others were able to use the time to share about commonalities and differences between Lent and Ramadan observances. Many noted that they'll continue to stay in touch with their household "match," whether virtually or- someday- in person.
We are also finding that this moment is ripe for uplifting the incredible stories of American Muslims responding to the challenges that Coronavirus has created, whether it is providing essential medical care or responding to food insecurity. As interfaith partners looking to help change false and negative narratives about Muslims and Islam, this is an opportunity not only to connect across lines of religious difference, but also to help tell a different story.
We are learning as we go– this is a brand new reality for all of us to navigate, but we're committed to continuing the work of reaching across lines of difference, even when it's a little more complicated. We are all aware that Zoom fatigue is real, and we know that we cannot move every single thing we were planning to do in-person to a virtual event- we'll burn out. But if we are asking questions around purpose and goals of our initiatives and events, and we are intentional in engagement with one another, I think we'll continue to find meaning and connection in these complex times.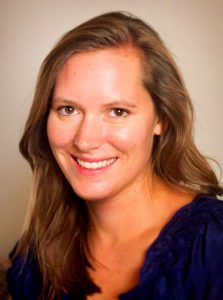 Dr. Catherine Orsborn serves as the Executive Director of Shoulder to Shoulder