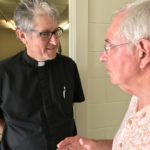 Hurricane Harvey hit the Gulf Coast area of the United States on August 26, 2017, as a Category 4 with winds of 130 mph, threatening millions of people with multiple days of heavy rain, winds, and rising tides. More than a month after Harvey made landfall, over 830,000 households have registered for FEMA assistance.
Just last week, the Lutheran Disaster Response – US team spent the week in Texas meeting with the Southwestern Texas Synod, Gulf Coast Synod, Upbring, and several individuals and congregations. We learned that individuals and congregations are overwhelmed. They are overwhelmed with the reality of just how much work is required to recover from a disaster such as Harvey, but they are also overwhelmed with the response of the community. Beverly Davis, Director of Congregational Care at Christ the King in Houston said it best, "People are overwhelmed with the process, but they are also overwhelmed with love of the church, the neighbor, and the stranger."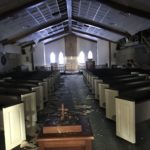 And though people are tired and overwhelmed, communities across Texas are continuing to take care of each other. "One of our biggest blessings has been the people that have come to help," a member of Holy Cross in Rockport said. Members of other churches and schools from across the state came down to lend a hand in cleaning out members homes in Rockport where, according to Pastor George Haynes, pastor of Holy Cross, over 43% of the homes were destroyed or declared uninhabitable.
In the midst of a strong local response by individuals and congregations,  the groundwork has been laid for the extended long-term recovery work of disaster case management, emotional and spiritual care, volunteer coordination and construction management.  Lutheran Disaster Response is working with two of the Texas Synods across the impacted areas of Texas. We anticipate working in the Dickinson and Rockport areas in partnership with Upbring (Lutheran Social Services of the South). With the support of Lutheran Disaster Response, a coordinator will be working to help facilitate volunteers and material donations in the region.
As a church, we're standing by our neighbors who have been affected as they begin the long road to recovery. Your gifts ensure that our church will be able to provide help and hope for those whose homes have been devastated or who have been otherwise affected by these hurricanes for years to come. Together, we can help provide immediate and long-lasting support.
---
 Be a part of the response:
Pray
Join us in prayer and partnership, and to help spread the word in your congregation. You can find additional resources for worship here.
Give
We invite you to stand by all the communities impacted by the recent hurricanes. Your gifts to Hurricane Relief ensure that our church will be able to provide help and hope for those affected by this disaster for years to come.
Additional Ways to Give
Checks or money orders can be sent to:
Lutheran Disaster Response
P.O. Box 1809
Merrifield, VA 22116-8009

Write "Hurricane Response" on your check memo line.
———————–
Give by phone at 800-638-3522
Connect
To learn more and Stay connected to the latest events and our response to this and other disasters: